Super refractory status epilepticus in a patient with insulinoma
Dear Sir,
Hypoglycemia is a medical emergency which presents with behavioural abnormality, altered sensorium and seizures. In the developing countries because of poor health infrastructure and delayed treatment, seizures may become refractory to treatment. We report a patient with super refractory status epilepticus (SRSE) due to insulinoma and emphasise the importance of following treatment guidelines of management of status epilepticus (SE).
Case report
A 13 years old girl developed generalised tonic–clonic convulsions during sleep. She was treated with IV diazepam, phenytoin and midazolam. Since the seizures did not respond for 30 h, she was referred to our hospital. She was comatose, febrile, dehydrated, with her heart rate was 128/min and blood pressure 80/60 mmHg. She was having generalised tonic–clonic seizure. Her blood sugar was 34 mg/dl which was treated with 25% dextrose. Her seizures stopped within half an hour. She also had seizures 3 and 9 months back for which she was receiving phenytoin tablets 200 mg daily.
Her haemoglobin was 13.2 g/dl and total leukocyte count 13,300/mm
3
with 84% neutrophils. Serum sodium was 137 meq/l, potassium 4.1 meq/l, calcium 8.7 mg/dl, creatinine 1.1 mg/dl, bilirubin 0.8 mg/dl and transaminase were normal. Her EEG after seizure cessation showed theta slowing. Cranial MRI showed T2 hyperintensity involving basal ganglia, more on the left side (Fig. 
1
a). Her CSF was normal. Initially hypoglycaemia was attributed to starvation and infection. She was prescribed ceftriaxone 500 mg and clindamycin 600 mg and levetiracetam 500 mg twice daily. She was given sugar solution through naso-gastric tube. Her blood sugar levels were stable for 2 days, but from the third day blood sugar levels were below 50 mg/dl on several occasions. During hypoglycemia, her serum insulin was 8.6 (8.9–28.4) miU/ml. Her C-protein level was 7.5 (0.5–3.2) ng/ml. Computerised tomography of abdomen revealed a mass in the tail of the pancreas (Fig. 
1
c).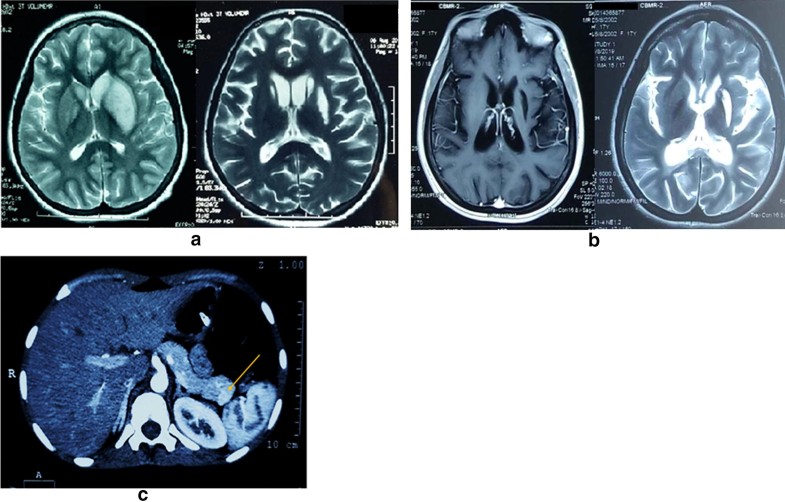 The patient regained consciousness on the fourth day of hospitalisation. She underwent resection of pancreatic tumor on 16th August, 2014. The histopathology of tumor showed well defined neuroendocrine tumor of pancreas. The patient was free of seizure for 2 years, however, two attempts to taper her antiepileptic drugs in the third year failed, hence she is on levetiracetam 500 mg twice daily. At 2 years follow up, she had mild cognitive dysfunction (Mini Mental State Scale score 23), and had mild hemiparesis with marked spasticity, but was independent for activities of daily living (modified Rankin Scale was 2). Her repeat MRI showed persistence of T2 hyper intensity in left lentiform nucleus, gliosis in parieto occipital and corpus callosum; and generalised cerebral and cerebellar atrophy (Fig. 1b).
Discussion
To best of our knowledge, this is the first report of SRSE due to hypoglycaemia caused by insulinoma. Hypoglycemia and SRSE responded to resection of insulinoma. Hypoglycaemia has been reported to result in refractory SE lasting more than 1 h that did not respond to any antiepileptic drug including benzodiazepine; however, SRSE due to hypoglycaemia or insulinoma has not been reported [1, 2]. In a patient with SE, hypoglycaemia is generally attributed to sepsis or starvation which responds to antibiotics and glucose administration. The diagnosis of hypoglycemia is by neuroglycopenic and sympathetic symptoms. Hypoglycemia with increased c-peptide level and serum insulin level in absence of anti-diabetic drugs are consistent with insulin secreting tumor. It has been reported that 12% of 60 consecutive patients of insulinoma presented with generalized tonic–clonic seizure, and 20–60% of insulinoma patients are initially misdiagnosed as neurological disorders of which 30% are diagnosed to have seizures. Abdominal CT scan and MRI localize insulinoma in 50–70% patients [3].
Hypoglycemia-induced brain damage is attributed to energy failure and release of aspartate, whereas in hypoxia, the neuronal damage is secondary to glutamate excitotoxicity which causes preferential neuronal necrosis of cerebral cortex, basal ganglia and hippocampus. White matter involvement includes centrum semiovale, corona radiata, internal capsule and splenium of the corpus callosum. In hypoglycaemia, white matter is involved earlier and more frequently than gray matter. Thalamus, brain stem, and cerebellum are invariably spared, which may help to differentiate it from hypoxia, and hypoxia often involves thalamus. [4] The MRI changes following hypoglycaemia are usually bilateral, though asymmetric and rarely unilateral [5]. The prognosis in these cases varies between complete recovery and persistent vegetative state. Failure of lesions to regress on follow-up imaging is also associated with poor prognosis.
The management of SE includes maintenance of airway, blood pressure and circulation, monitoring blood glucose and treating with glucose thiamine and intravenous antiepileptic drugs. Omission of glucose measurement resulted in poor response of SE. Hypoglycaemic seizure will respond to glucose supplementation and not to antiepileptic drug; reliance on antiepileptic drugs only perpetuates seizures to refractoriness. In our patient, however, the antiepileptic drug could not be withdrawn as seizures recurred after 2 years possibly due to neuronal damage as a result of prolonged hypoglycaemia and hypoxia following SRSE. Her repeat MRI study revealed persistence of T2 hyper intensity and cortical atrophy. This patient highlights the importance of checking the blood sugar in a convulsing patient. The seizures due to hypoglycaemia respond to glucose rather than antiepileptic drugs.
Notes
Acknowledgements
We thank Mr. Shakti Kumar for secretarial help.
Compliance with ethical standards
Conflict of interest
There is no conflict of interest to declare.
Copyright information
© Belgian Neurological Society 2019