This is a preview of subscription content, log in to check access.
Access options
Buy single article
Instant unlimited access to the full article PDF.
US$ 39.95
Price includes VAT for USA
Subscribe to journal
Immediate online access to all issues from 2019. Subscription will auto renew annually.
US$ 99
This is the net price. Taxes to be calculated in checkout.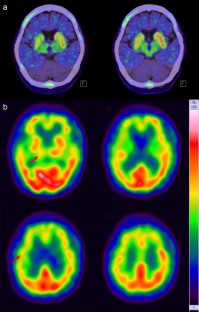 References
1.

Djaldetti R, Ziv I, Melamed E (2006) The mystery of motor asymmetry in Parkinson's disease. Lancet Neurol 5:796–802

2.

Mehanna R, Jankovic J (2013) Movement disorders in cerebrovascular disease. Lancet Neurol 12:597–608

3.

Pareés I, Pujadas F, Hernández-Vara J, Lorenzo-Bosquet C, Cuberas G, Munuera J et al (2011) Reversible hemichorea associated with extracranial carotid artery stenosis. J Neurol Sci 300:185–186

4.

Calabresi P, Di Filippo M, Ghiglieri V, Tambasco N, Picconi B (2010) Levodopa-induced dyskinesias in patients with Parkinson's disease: filling the bench-to-bedside gap. Lancet Neurol 9:1106–1117

5.

Kim JS, Lee KS, Lee KH, Kim YI, Kim BS, Chung YA et al (2002) Evidence of thalamic disinhibition in patients with hemichorea: semiquantitative analysis using SPECT. J Neurol Neurosurg Psychiatry 72:329–333

6.

Aquino CC, Fox SH (2015) Clinical spectrum of levodopa-induced complications. Mov Disord 30:80–89
Ethics declarations
Ethical approval
The institutional review board at Seoul St. Mary's Hospital approved this case report (KC18ZESI0477). We confirm that we have read the Journal's position on issues involved in ethical publication and affirm that this work is consistent with those guidelines. The patients have consented to the submission of the case report to the journal.
Conflict of interest
The authors declare that they have no competing interest.
Additional information
Publisher's Note
Springer Nature remains neutral with regard to jurisdictional claims in published maps and institutional affiliations.
Electronic supplementary material
Below is the link to the electronic supplementary material.
Video segment 1. Initially, the patient showed marked asymmetric akinetic rigidity that appeared as dystonic posture. She could not unfold her hand at will or on examiner's command. She did not demonstrate any sign of tremor. Video segment 2. After uptitrating levodopa dosage, the patient experienced sudden occurrence of right hemichorea. Video segment 3. After reducing the dopamine dosage, the patient's hemichorea completely resolved. (WMV 46857 KB)
About this article
Cite this article
Yoo, S., Kim, J. Contralateral levodopa-induced hemichorea in a patient with severe asymmetric Parkinson's disease. Acta Neurol Belg (2019). https://doi.org/10.1007/s13760-019-01115-5
Received:

Accepted:

Published: