A systematic review comparing the diagnostic value of 14-3-3 protein in the cerebrospinal fluid, RT-QuIC and RT-QuIC on nasal brushing in sporadic Creutzfeldt–Jakob disease
Abstract
Background
Sporadic Creutzfeldt–Jakob disease (sCJD) is a human prion disease that is a relatively common differential diagnosis in dementia patients. Therefore it needs a good diagnostic tool. Brain autopsy is the golden standard for the diagnosis of CJD; however, a less invasive technique is 14-3-3 protein measurement in the cerebrospinal fluid (CSF). In this systematic review, we compared the diagnostic value of the 14-3-3 protein measurement to the newer RT-QuIC test and a variant of RT-QuIC where nasal brushing is used to collect the samples.
Methods
The search via MeSH terms and quality assessment was carried out by two individual researchers.
Results
In 14-3-3 and RT-QuIC the sensitivity was comparable, respectively, 88% and 86%. Specificity however was higher in RT-QuIC 99.5% compared to 80% in 14-3-3. Nasal brushing showed the best results with a sensitivity of 97% and a specificity of 100%.
Conclusion
Nasal brushing, despite being the best diagnostic tool according to the data, needs more study since there has only been a few studies regarding the technique. It is safe to say that due to the high specificity, RT-QuIC is superior to 14-3-3 testing.
Keywords
CJD 
Prion 
Nasal brushing 
RT-QuIC 
14-3-3 
Introduction
The most common prion disease in human patients is Creutzfeldt–Jakob disease (CJD). CJD is a neurodegenerative disease that affects the central nervous system. Because of the destruction, the brain atrophies, acquires a spongiform-like structure and an accumulation of the prions in the central nervous system occurs. A prion is a misfolded protein. The incidence of CJD is one in every million persons. CJD is characterized by a rapid progression. The first symptoms include myoclonus, visual or cerebellar disturbance, pyramidal, extra-pyramidal dysfunction and akinetic mutism. Usually death will occur within 2 years after the diagnosis. The survival depends strongly on the type of CJD. There are some very promising trials searching for a therapy that will delay the progression of the disease.
There are four known types of CJD. Variant CJD (vCJD) is most probably caused by the consumption of prion-infected beef meat and causes bovine spongiform encephalopathy (BSE), more commonly known as 'mad cow disease'. A second type is caused by iatrogenic contamination due to instruments used in surgery on infected brains or meninges. Routine sterilization with heat, proteases or ionizing radiation is not thorough enough to disinfect the instruments from prions. Prions can also be transmitted through blood transfusions and human pituitary-derived hormone therapy when talking about vCJD. Familial CJD (fCJD) is the second most prevalent form of CJD which accounts for 15% of the known cases of CJD. fCJD is autosomal dominant and caused by a range of mutations in the prion protein gene (PRNP) that is located on chromosome 20. The last and most commonly prevalent form of CJD is sporadic CJD (sCJD), which accounts for 85% of all cases. The etiology of sCJD remains unknown up to this day. There are six molecular subtypes of sCJD, which can be traced back to the genotype of codon 129 of the PRNP. This heterogeneity of the subtypes is caused by the influence of methionine (M) and/or valine (V) polymorphism at codon 129 of the PRNP and the glycoform type 1 or 2 of the prion protein in CJD (PrPCJD) [1].
sCJD is a common differential diagnosis of rapidly progressive dementia and a wide array of neurodegenerative diseases. This is why it is important to find the most effective way to diagnose CJD. When the clinical diagnosis of CJD is suspected based on the typical symptoms, further investigation is needed to exclude or confirm the suspicion. At present clinical practice, most used methods include electroencephalography (EEG), MRI of the brain and the analysis of cerebrospinal fluid (CSF) for specific biomarkers, for which the standard for CJD is 14-3-3 protein. In 80% of the patients, the EEG shows generalized periodic sharp wave pattern, which consists of triphasic periodic complexes at one per second [2]. Diffusion-weighted MRI images show high signal intensity in the basal ganglia, specifically in the cingulate cortex, the striatum, nucleus caudatus and the putamen [3]. Furthermore, we can look at the different biomarkers in the cerebrospinal fluid, of which 14-3-3 is most commonly used at the present and the only one approved by the WHO [2, 4]. Sensitivity and specificity of these diagnostic tools are not high enough to confirm CJD in patients with certainty and to date the only way to obtain certainty of the diagnosis is brain biopsy. More sensitive and specific diagnostic tests are needed to confirm CJD with certainty in living patients. Thus we looked into the techniques RT-QuIC on CSF and on nasal brushing, which are able to show the existence of prion protein in the brain tissue. They are very promising and need further investigation to prove their effectiveness.
Quaking induced conversion (QuIC) is a detection method that exploits the conversion of PrPc to PrPsc in vivo and replicates it in an accelerated in vitro format. Recently an adaptation of the technique has incorporated thioflavin T (ThT) and recombinant PrP in the mixture, which in now known as real-time QuIC (RT-QuIC) [5, 6]. The recombinant PrP (recPrp) is used as a substrate to multiply the smaller amounts of PrP seeds that are extracted from the CSF to a detectable level. The next step is to add ThT as a fluorescent dye. Because of the addition of ThT we are able to see the aggregation of PrP in real time through the analysis by a fluorescent reader.
With the nasal brushing technique we collect olfactory epithelium from the nasal cavity. The olfactory epithelium obtained during the procedure is then further investigated using the RT-QuIC method to determine if there are prions present in the neurons from the olfactory epithelium [7]. RT-QuIC can also be used on the CSF of a patient.
The aim of this study was to further investigate the sensitivity and specificity of RT-QuIC on CSF and olfactory epithelium in sCJD and to compare this to the sensitivity and specificity of the currently used biomarkers to diagnose sCJD.
Methods
Eligibility criteria
The objective of the study was to compare the sensitivity and specificity of the currently used diagnostic marker 14-3-3 to RT-QuIC on CSF and on olfactory epithelium in sCJD patients. Herefore, we performed a literature review. We included studies comparing RT-QuIC to other diagnostic tests and other forms of prion diseases, not studies that solely focused on RT-QuIC or solely on the diagnosis of sCJD. The primary goal was to obtain studies with reliable information about the sensitivity and specificity concerning the diagnosis of sCJD. We also considered that diagnosis with 14-3-3 biomarker is more familiar and studied than RT-QuIC. Thus the 14-3-3 studies had to have tighter inclusion criteria than the RT-QuIC studies. We only included studies that have an element based on sCJD. Studies only performed on animal testing were excluded since we were specifically searching for human studies. These groups of patients had to be sufficiently large to be included and these patients had to be previously diagnosed or suspected with sCJD. Further, we only included studies that researched the sensitivity and/or specificity of the diagnostic techniques in question. Due to the nature of the review, studies other than case–control studies were not eligible for the review.
Search strategy
Medical Subject Headings (MeSH terms) included: Creutzfeldt - Jakob disease, Sporadic Creutzfeldt - Jakob disease, RT-QuIC, 14-3-3 proteins, biomarkers and cerebrospinal fluid. Electronic databases included: TRIP database (https://www.tripdatabase.com/), PubMed (http://www.ncbi.nlm.nih.gov/pubmed/), PMC: PubMed Central (http://www.ncbi.nlm.nih.gov/pmc/), Cochrane Library (http://www.cochranelibrary.com/), Medline Plus (https://www.nlm.nih.gov/medlineplus/), Google Scholar (http://scholar.google.be/). In addition we reviewed articles listed in the reference lists. We searched these electronic databases from inception to February 2017.
First we studied the existing guidelines and existing protocols for the diagnosis of CJD. The WHO diagnostic criteria were considered most useful. After this step, we researched synthesis using the TRIP database and found one article (4). Later we used CEBAM to search for systematic reviews, but none seemed to exist that were useful for our study. The last step was to look for primary studies in databases like PubMed and Google scholar.
The search was based on the PICO used in this systematic review. PICO stands for population, intervention, comparison and outcome.
Population: Suspected of sCJD or histologically diagnosed through biopsy.
Intervention: RT-QuIC of CSF and nasal brushing.
Comparison: 14-3-3 protein test in CSF.
Outcome: The sensitivity and specificity toward each of the extracted techniques.
Data management was performed with Endnote X7 in order to manage records and data throughout our review.
Selection process
We entered all articles in our reference manager and duplicates were manually removed. The references were screened for relevance in two stages. First we selected articles based on title and abstract, while the second phase consisted of reading the full text article. This selection process was executed independently by EM and OB. One article was not available in a free full text online. Therefore we wrote the authors to obtain a copy. The other full texts were accessed by the electronic library of the University of Antwerp.
If there were any disagreements between the two team members concerning the inclusion or exclusion of an article, discussion resulted in a consensus.
Two investigators independently collected and extracted data from each article using a data extraction form. The extracted data were based on PICOS format, including population, intervention, comparison, outcome and study type. Population characteristics included sporadic Creutzfeldt–Jakob disease, intervention and comparison (14-3-3 protein and RT-QuIC on CSF or on nasal brushing) and study type (case–control study). We also included trial information (year of publication, short summary, duration and country) and number of participants per group.
If the data were not available in numbers, we read the data off the graphs. If multiple results were reported, we chose the one with the best p value.
Two authors independently assessed the quality of the individual articles using QUADAS 2 guidelines and checklists to assess potential bias in the studies and to evaluate its generalizability. If one of the domains of the QUADAS 2 guidelines or the checklist were high or unclear, we classified the article as having an overall risk of bias.
Data analysis
Results were presented in a schematic and clear way. If possible the gravity of the patients' disease and symptoms, which had a positive test for sCJD were presented and these were compared to patients with a negative test. To analyze the data we used a 2 × 2-table of the patients' data using the false positives (FP), false negatives (FN), true positives (TP) and true negatives (TN). Using this table we found the sensitivity, specificity, positive and negative predictive values and likelihood ratios. If these values were already given in the study in question, we still calculated the searched values using our own 2 × 2-table. Further, we have used Excel to show our results in a well-ordered manner to summarize the outcomes. If the values were not given, we used the given sensitivity and specificity.
Results
The original search yielded 121 articles; through additional search we found another 3. Thus we had 124 articles to start with. After removal of duplicates, 110 records were left, so 14 articles were removed. After abstract review we assessed 41 full-articles for eligibility, so 69 records were excluded based on the abstract. These articles were then subjected to the QUADAS 2 quality assessment. 21 articles were then included in the systematic review of which 2 were only used in the introduction. Eventually 19 were part of the qualitative synthesis; see Fig. 1 for more details.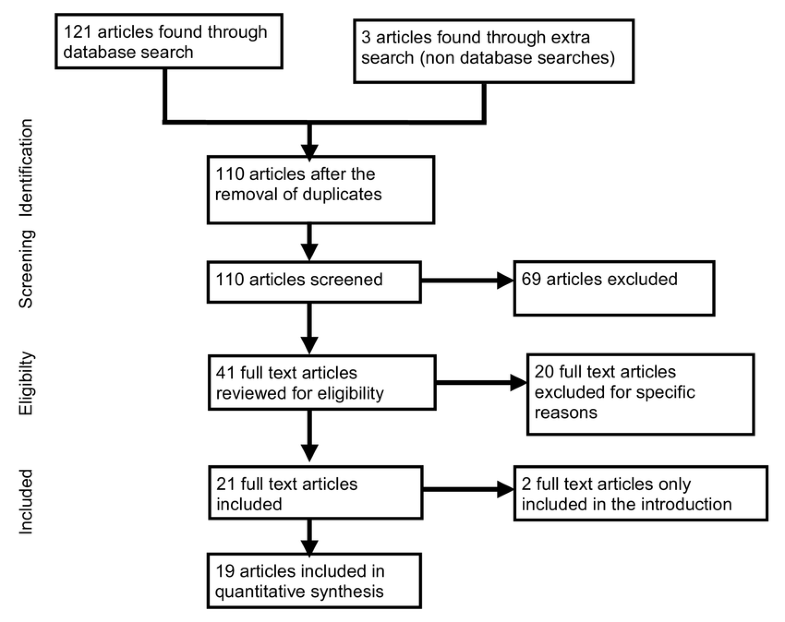 In this section, we will describe the results we found in the 19 articles included in the quantitative systematic review. When false and true negatives/positives were not given, we used the sensitivity and specificity that were given in the article. When this happened, we did not have enough data to calculate these values ourselves. We also could not incorporate the positive and negative likelihood ratio, positive and negative predictive value and diagnostic odds ratio. When true and false positives/negatives were given, we calculated the sensitivity, specificity, positive and negative predictive value, the positive and negative likelihood ratio and the diagnostic odds ratio to see if they matched the given values. All true positives were confirmed by pathology.
Discussion
The research for articles and guidelines was performed in a very detailed way as described above. We only included the studies that seemed the most relevant, which we see as a strength of this study. As these studies did not compare 14-3-3, RT-QuIC on CSF and on nasal brushing to each other, it was always tested on different patients. There was no study comparing all three methods on the same patients. This is a limit to our systematic review. As RT-QuIC on nasal brushing is still a very new technique in the diagnosis of CJD, there were not as many studies to be found as about 14-3-3 or RT-QuIC on CSF. Thus there was not much data to be found.
To compare both tests in sensitivity and/or specificity, we calculated the mean values for these in both tests. The results showed a similar sensitivity. However, the specificity was significantly higher in RT-QuIC on CSF. RT-QuIC on nasal brushing showed the highest specificity. This result however was only the conclusion of two studies and RT-QuIC on nasal brushing needs further investigation to be able to estimate its value in the diagnosis of sCJD.
Notes
Funding
No financial support was offered nor accepted for this systematic review.
Compliance with ethical standards
Conflict of interest
A possible conflict of interest is that one of the authors is now editor-in-chief of this journal (Patrick Cras, PhD, MD).
Ethical approval
This article does not contain any studies with human participants or animals performed by any of the authors.
Informed consent
An informed consent was not needed here, as this is a systematic review.
Copyright information
© Belgian Neurological Society 2018