Abstract
In this work, a modified cloud point extraction method based on the micellar features of a surface-active ionic liquid (SAIL) was developed. Mixture of a nonionic surfactant (Triton X-114) and a surface-active ionic liquid, 1-hexadecyl-3-methylimidazolium chloride (C16MeImCl), was used as an extracting phase for pre-concentration of cadmium ions prior to the determination by flame atomic absorption spectrometry. According to the obtained results, by using this route, the extraction efficiency of the investigated analyte was improved. On the other hand, more reproducible measurements were established. These features could be attributed to the enhancement effect of the SAIL on the extraction efficiency and its influence on the completeness and ease of separation of the extracting phase from the aqueous phase at the last step of the extraction process. Comparison of the obtained results against those acquired by using the same procedure in the absence of SAIL showed the advantages of the proposed method. Under the optimal conditions, the calibration curve of Cd2+ was linear in the range of 1–500 μg L−1 with correlation coefficient of 0.9999 and a detection limit of 0.6 μg L−1. The relative standard deviation for eight replicate measurements of 100 μg L−1 Cd2+ was 0.8%. To show the validity and application of the suggested procedure, it was applied successfully for the determination of cadmium ions in various real water samples.
This is a preview of subscription content, log in to check access.
Access options
Buy single article
Instant unlimited access to the full article PDF.
US$ 39.95
Price includes VAT for USA
Subscribe to journal
Immediate online access to all issues from 2019. Subscription will auto renew annually.
US$ 199
This is the net price. Taxes to be calculated in checkout.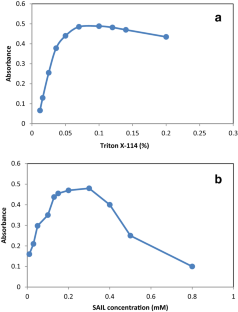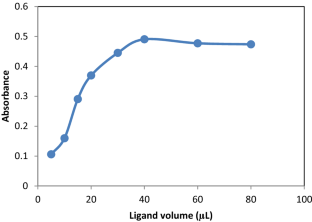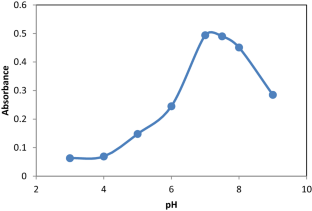 References
1.

E.K. Paleologos, D.L. Giokas, M.I. Karayannis, Trends Anal. Chem. 24, 426 (2005)

2.

S. Gao, X. Yang, W. Yu, Z. Liu, H. Zhang, Talanta 99, 875 (2012)

3.

A. Gong, X. Zhu, Talanta 131, 603 (2015)

4.

M. Tuzen, O.D. Uluozlu, D. Mendil, M. Soylak, L.O.R. Machado, W.N.L. dos Santos, S.L.C. Ferreira, Food Chem. 245, 380 (2018)

5.

M. Tuzen, O.Z. Pekiner, Food Chem. 188, 619 (2015)

6.

H. Zeng, Y. Wang, J. Kong, C. Nie, Y. Yuan, Talanta 83, 582 (2010)

7.

M. Tuzen, T.G. Kazi, D. Citaka, M. Soylak, J. Anal. At. Spectrom. 28, 1441 (2013)

8.

H. Bai, Q. Zhou, G. Xie, J. Xiao, Talanta 80, 1638 (2010)

9.

Q. Zhou, H. Bai, G. Xie, J. Xiao, J. Chromatogr. A 1188, 148 (2008)

10.

M. Amde, J. Liu, Z. Tan, D. Bekana, Talanta 49, 341 (2016)

11.

E. Bağda, M. Tüzen, Food Chem. 232, 98 (2017)

12.

Y. Fan, S. Liu, Q. Xie, Talanta 119, 291 (2014)

13.

J.M. Padró, M.E. Marsón, G.E. Mastrantonio, J. Altcheh, F. García-Bournissen, M. Reta, Talanta 107, 95 (2013)

14.

P. Singla, O. Singh, S. Chabba, R.K. Mahajan, J. Mol. Liq. 249, 294 (2018)

15.

A. Bera, H. Belhaj, J. Mol. Liq. 224, 177 (2016)

16.

A. Pal, A. Yadav, J. Mol. Liq. 251, 167 (2018)

17.

B. Delgado, V. Pino, J.L. Anderson, J.H. Ayala, A.M. Afonso, V. González, Talanta 99, 972 (2012)

18.

V.G. Rao, S. Mandal, S. Ghosh, C. Banerjee, N. Sarkar, J. Phys. Chem. B 117, 1480 (2013)

19.

V.G. Rao, S. Ghosh, C. Ghatak, S. Mandal, U. Brahmachari, N. Sarkar, J. Phys. Chem. B 116, 2850 (2012)

20.

V.G. Rao, S. Mandal, S. Ghosh, C. Banerjee, N. Sarkar, J. Phys. Chem. B 116, 8210 (2012)

21.

V.G. Rao, C. Banerjee, S. Ghosh, S. Mandal, J. Kuchlyan, N. Sarkar, J. Phys. Chem. B 117, 7472 (2013)

22.

J. Łuczak, J. Hupka, J. Thöming, C. Jungnickel, Colloids Surf. A 329, 125 (2008)

23.

H. Ma, H. Ke, T. Wang, J. Xiao, N. Du, L. Yu, J. Mol. Liq. 240, 556 (2017)

24.

C. Jungnickel, J. Łuczak, J. Rankeb, J.F. Fernández, A. Müller, J. Thöming, Colloids Surf. A 316, 278 (2008)

25.

R. Vanyúr, L. Biczók, Z. Miskolczy, Colloids Surf. A 299, 256 (2007)

26.

P.D. Galgano, O.A. El Seoud, J. Colloid Interface Sci. 345, 1 (2010)

27.

M.A. Rather, G.M. Rather, S.A. Pandit, S.A. Bhat, M.A. Bhat, Talanta 131, 55 (2015)

28.

A.C. Davis, P. Wu, X. Zhang, X. Hou, B.T. Jones, Appl. Spectrosc. Rev. 41, 35 (2006)

29.

K. Dong, S. Zhang, D. Wang, X. Yao, J. Phys. Chem. A 110, 9775 (2006)

30.

J.L. Manzoori, A. Bavili-Tabrizi, Anal. Chim. Acta 470, 215 (2002)

31.

R. Golbedaghi, S. Jafari, M.R. Yaftian, R. Azadbakht, S. Salehzadeh, B. Jaleh, J. Iran. Chem. Soc. 9, 251 (2012)

32.

M. Chamsaz, M. Eftekhari, A. Atarodi, S. Asadpour, M. Ariani, J. Braz. Chem. Soc. 23, 1630 (2012)

33.

S. Candir, I. Narin, M. Soylak, Talanta 77, 289 (2008)

34.

S. Sadeghi, N. Sarrafi, J. Iran. Chem. Soc. 15, 1913 (2018)
Acknowledgements
Support of this work by Arak university research council is acknowledged.
About this article
Cite this article
Bamdad, F., Raziani, A. Application of surface-active ionic liquids in micelle-mediated extraction methods: pre-concentration of cadmium ions by surface-active ionic liquid-assisted cloud point extraction. J IRAN CHEM SOC 17, 327–332 (2020). https://doi.org/10.1007/s13738-019-01770-8
Received:

Accepted:

Published:

Issue Date:
Keywords
Separation methods

Extracting phase

Triton X-114

Mixed micelle

Pre-concentration

Atomic absorption spectroscopy