Abstract
A 61-year-old woman was referred to our hospital due to right chest pain. A huge, 13-cm-diameter tumor was detected in the right lower lobe. For diagnostic and treatment purposes, pneumonectomy was performed, and the tumor was diagnosed as advanced pulmonary synovial sarcoma (SS) with pleural metastasis, according to immunohistochemistry analysis. Due to recurrence with brain metastases, treatment sequence composed of radiosurgery, doxorubicin, eribulin, and pazopanib was selected. The patient died after a considerably long survival of 29 months after the first visit. This case suggests that multimodal treatment may provide prolonged survival even for patients with advanced SS.
This is a preview of subscription content, log in to check access.
Access options
Buy single article
Instant access to the full article PDF.
US$ 39.95
Price includes VAT for USA
Subscribe to journal
Immediate online access to all issues from 2019. Subscription will auto renew annually.
US$ 99
This is the net price. Taxes to be calculated in checkout.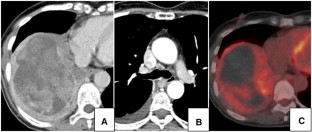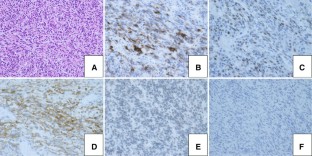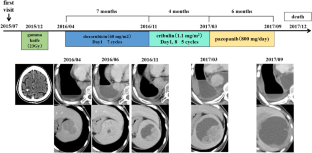 References
1.

Ogura K, Higashi T, Kawai A (2017) Statistics of soft-tissue sarcoma in Japan: report from the bone and soft tissue tumor registry in Japan. J Orthop Sci 22:755–764

2.

Travis WD, Travis LB, Devesa SS (1995) Lung cancer. Cancer 75:191–202

3.

Schöffski P, Chawla S, Maki RG et al (2016) Eribulin versus dacarbazine in previously treated patients with advanced liposarcoma or leiomyosarcoma: a randomised, open-label, multicentre, phase 3 trial. Lancet 387:1629–1637

4.

Graaf WTA, Blay JY, Chalwa S et al (2012) Pazopanib for metastatic soft-tissue sarcoma (PALETTE): a randomised, double-blind, placebo-controlled phase 3 trial. Lancet 379:1879–1886

5.

Bae S, Crowe P, Gowda R et al (2016) Patterns of care for patients with advanced soft tissue sarcoma: experience from Australian sarcoma services. Clin Sarcoma Res 6:11

6.

Savina M, Le Cesne A, Blay JY et al (2017) Patterns of care and outcomes of patients with METAstatic soft tissue SARComa in a real-life setting: the METASARC observational study. BMC Med 15:78

7.

Sinha S, Peach AHS (2010) Diagnosis and management of soft tissue sarcoma. BMJ 341:c7170–c7170

8.

Guillou L, Coindre J, Gallagher G et al (2001) Detection of the synovial sarcoma translocation t(X;18)(SYT;SSX) in paraffin-embedded tissues using reverse transcriptase-polymerase chain reaction: a reliable and powerful diagnostic tool for pathologists. A molecular analysis of 221 mesenchymal tumors fixed in different fixatives. Hum Pathol 32:105–112

9.

Thway K, Fisher C (2014) Synovial sarcoma: defining features and diagnostic evolution. Ann Diagn Pathol 18:369–380

10.

Doyle LA, Vivero M, Fletcher CD et al (2014) Nuclear expression of STAT6 distinguishes solitary fibrous tumor from histologic mimics. Mod Pathol 27:390–395

11.

Terry J, Saito T, Subramanian S et al (2007) TLE1 as a diagnostic immunohistochemical marker for synovial sarcoma emerging from gene expression profiling studies. Am J Surg Pathol 31:240–246

12.

Smith TA, Machen SK, Fisher C et al (1999) Usefulness of cytokeratin subsets for distinguishing monophasic synovial sarcoma from malignant peripheral nerve sheath tumor. Am J Clin Pathol 112:641–648

13.

James AW, Shurell E, Singh A et al (2016) Malignant peripheral nerve sheath tumor. Surg Oncol Clin N Am 25:789–802

14.

Kawai A, Araki N, Sugiura H et al (2015) Trabectedin monotherapy after standard chemotherapy versus best supportive care in patients with advanced, translocation-related sarcoma: a randomised, open-label, phase 2 study. Lancet Oncol 16:406–446

15.

Pervaiz N, Colterjohn N, Farrokhyar F et al (2008) A systematic meta-analysis of radomized controlled trials of adjuvant chemotherapy for localized resectable soft-tissue sarcoma. Cancer 133:573–581

16.

Ferrari A, De Salvo GL, Dall'Igna P et al (2012) Salvage rates and prognostic factors after relapse in children and adolescents with initially localized synovial sarcoma. Eur J Cancer 48:3448–3455

17.

Yetisygit T, Arpaci E, Seber ES et al (2013) Salvage treatment experience in advanced synovial sarcoma: a multicenter retrospective analysis of the Anatolian society of medical oncology. Asian Pac J Cancer Prev 14:5185–5188
Acknowledgements
We would like to appreciate Dr. Kei Kushitani (Research Associate of Department of Pathology, Institute of Biomedical & Health Sciences, Hiroshima University), and Dr. Mayumi Kaneko (Director of Department of Pathology, Hiroshima City Asa Citizens Hospital) for them expertise regarding the pathological sarcoma diagnosis.
Ethics declarations
Conflict of interest
No author has any conflict of interest to disclose.
Informed consent
Informed consent was obtained from the patient.
Additional information
Publisher's Note
Springer Nature remains neutral with regard to jurisdictional claims in published maps and institutional affiliations.
About this article
Cite this article
Kagawa, Y., Kitaguchi, S., Konishi, H. et al. Primary advanced pulmonary synovial sarcoma treated with a multidisciplinary approach. Int Canc Conf J (2020). https://doi.org/10.1007/s13691-020-00399-2
Received:

Accepted:

Published:
Keywords
Synovial sarcoma

Multimodal therapy

Doxorubicin

Eribulin

Pazopanib

Radiosurgery