Abstract
Purpose of Review
Understanding the molecular mechanisms and heterogeneity of asthma has allowed the discovery of two distinct endotypes based on the mechanisms driving the underlying airway inflammation: eosinophilic asthma, a subtype of T2-high asthma, and neutrophilic asthma, a subtype of non-T2 asthma or T2-low asthma. In this review, we highlight the current knowledge about the immunopathology of these distinct subtypes and their clinical and therapeutic implications.
Recent Findings
The intricate interplay of immune pathways has been recently evaluated in both eosinophilic and neutrophilic asthma. The delineation of signaling molecules and cytokines in the eosinophilic pathway has led to the identification of biomarkers that can guide in diagnosing and prognosticating patients and the advent of several targeted biologic therapies. However, the mechanisms of neutrophilic asthma are still not well understood and constitute an unmet need and a therapeutic challenge especially that patients with this type of asthma are often characterized by severe and refractory disease.
Summary
The understanding of the heterogeneity of asthma profiles and the fundamental inflammatory pathways driving airway inflammation helped in stratifying the disease into distinct endotypes and phenotypes. Recognizing the diverseness of the disease helped in understanding the varying response to treatment options and accounting for the shift in treatment paradigms from a "one size fits all" approach to targeted personalized medicine mostly in eosinophilic asthma. Knowledge gaps exist in the understanding of the pathophysiology of neutrophilic asthma with further studies needed to elucidate its pathogenesis and to develop more effective therapy to target this subgroup of patients with more resistant disease.
This is a preview of subscription content, log in to check access.
Access options
Buy single article
Instant access to the full article PDF.
US$ 39.95
Price includes VAT for USA
Subscribe to journal
Immediate online access to all issues from 2019. Subscription will auto renew annually.
US$ 99
This is the net price. Taxes to be calculated in checkout.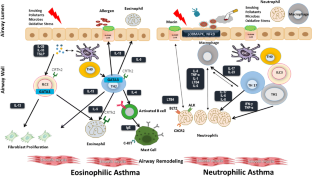 References
Papers of particular interest, published recently, have been highlighted as: • Of importance •• Of major importance
Ethics declarations
Conflict of Interest
Sara M. Assaf and Nicola A. Hanania declare no conflict of interest.
Human and Animal Rights and Informed Consent
This article does not contain any studies with human or animal subjects performed by any of the authors.
Additional information
Publisher's Note
Springer Nature remains neutral with regard to jurisdictional claims in published maps and institutional affiliations.
This article is part of the Topical Collection on Lung Transplant
About this article
Cite this article
Assaf, S.M., Hanania, N.A. Eosinophilic vs. Neutrophilic Asthma. Curr Pulmonol Rep (2020). https://doi.org/10.1007/s13665-020-00244-0
Keywords
Endotypes

Phenotypes

Eosinophilic asthma

Neutrophilic asthma

Biomarkers

Targeted therapies