Beyond PD-1 Immunotherapy in Malignant Melanoma
Abstract
For many years, the standard therapy for malignant melanoma was based mainly on surgical resection. Unfortunately, this treatment is curative only in the early localized stage of this malignancy. The metastatic stage of malignant melanoma still remains a huge therapeutic challenge. Despite the many new therapeutic options that have become available over the last years, there is a constant need for safer and more effective treatment modalities. There has been a dynamic development of various anti-cancer immunotherapies directed against new molecular targets. A number of clinical trials are currently being conducted to confirm their effectiveness and safety. In this review of the literature, we summarize the contemporary knowledge on promising new immunotherapies beyond the currently available treatment options for malignant melanoma, including oncolytic immunotherapy, selective inhibitors of indoleamine 2,3-dioxygenease, anti-PD-(L)1 (programmed death ligand 1) drugs, immune checkpoint protein LAG-3 antibodies, inhibitors of histone deacetylase (HDAC) and inhibitors of B7-H3.
Keywords
Atezolizumab 
Epacadostat 
Immunotherapy 
Indoximod 
LAG3 inhibitors 
Malignant melanoma 
Oncolytic immunotherapy 
Talimogene laherparepvec 
Abbreviations
AE

Adverse events

BRAF

B-Raf proto-oncogene

CTLA4

Cytotoxic T-lymphocyte associated protein 4

DLTs

Dose-limiting toxicities

GM-CSF

Granulocyte macrophage-colony-stimulating factor

HDAC

Inhibitors of histone deacetylase

IDO1

Indoleamine 2,3-dioxygenase 1

IDO2

Indoleamine 2,3-dioxygenase 2

IFN-γ

Interferon gamma

LAG-3

Lymphocyte activation gene 3

MEK

Mitogen-activated protein kinase

ORR

Overall response rate

PD1

Programmed cell death protein 1

PDL-1

Programmed death ligand 1

SAE

Serious adverse event

T-VEC

Talimogene laherparepvec

Tregs

Tumor-associated regulatory T cells
Introduction
Malignant melanoma is one of the most fatal skin tumors with a consistent increase of incidence reported over the last 3 decades [1]. The data from the World Health Organization (WHO) show that every year 132,000 new cases of this neoplasm are diagnosed around the world [2]. For years, prognosis for patients with unresectable stage III–IV tumors was poor. Responses to systemic therapy, with the exception of the small group of patients reacting well to high doses of interleukin 2 (IL-2), were unsatisfactory [3, 4]. During the last years, significant progress has been made in the development of new targeted therapies and immunotherapies [5], which has given hope to patients with advanced stage malignant melanoma and markedly changed the future directions of progress in contemporary oncology. Although new treatments have already been introduced with many studies confirming their effectiveness, other therapeutic options are still needed for this group of patients.
In this review, we have presented current trends in the development of therapy for malignant melanoma and its future potential impact on the survival of patients with this tumor.
Methods
For the purpose of this report, the PubMed and ClinicalTrials.gov database were searched (Fig.
1
). Articles were included for analysis if they concerned the following malignant melanoma treatments: oncolytic immunotherapy (e.g., talimogene laherparepvec and other oncolytic viruses), selective inhibitors of indoleamine 2,3-dioxygenease (e.g., epacadostat, indoximod), anti-PD-(L)1 (programmed death ligand 1) (e.g., atezolizumab), immune checkpoint protein LAG-3 (lymphocyte-activation gene 3) antibodies (e.g., relatlimab, eftilagimod alpha, LAG525), selective histone deacetylase (HDAC) inhibitors (e.g., entinostat), B7H3 inhibitors (e.g., enoblituzumab) and selected combinations of the above-mentioned therapies with other medications. The research data had to be published and available before 31 December 2018. Reports were excluded if they contained a description of current standard therapy of advanced melanoma, such as: checkpoint inhibitors—anti-PD1 antibodies (nivolumab and pembrolizumab), anti-CTLA-4 (cytotoxic T-lymphocyte-associated protein 4) immunoglobulin (ipilimumab) and targeted therapy (BRAF inhibitor, MEK inhibitor) unless these therapies were used in combination with previously mentioned drugs. Additional articles were included manually during investigation of papers' references if they were found relevant for current review. This article is based on previously conducted studies and does not contain any studies with human participants or animals performed by any of the authors.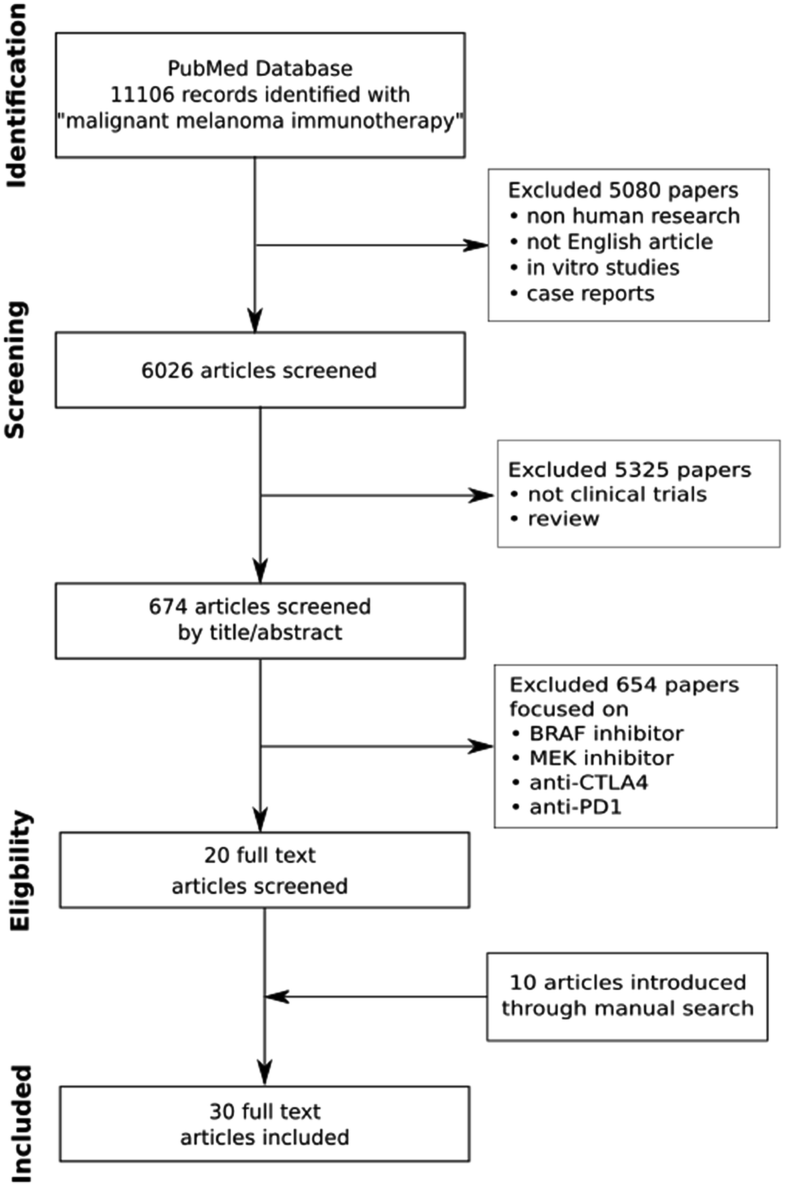 Conclusions
In recent years, poor efficacy of the treatment of malignant melanoma has led to the continuation of research to better understand how to stimulate the anti-cancer immune response. As stated before, many clinical trials are still ongoing. The simplified action mechanisms of drugs that were considered in this review are presented in the Fig. 
2
below, and the summary of the discussed drugs is shown in Table 
3
.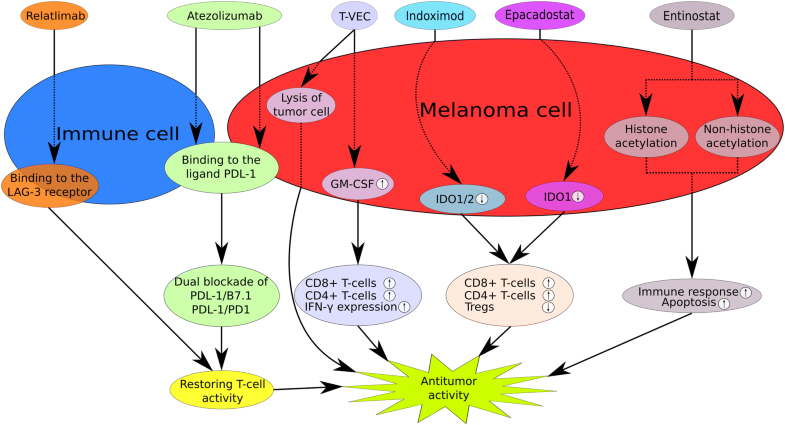 Table 3
Summary of different immunotherapies being currently developed
Drug

Mechanism of action

Comments

References

Atezolizumab

Binding to the PD-L1 and further blocking its interaction with PD1 and B7.1

Restoring T-cell activity

Atezolizumab can act synergistically with MEK inhibitors

Continued investigation of this drug in combination with other immunotherapies is required

Enoblituzumab

Direct binding to B7-H3 over-expressed on tumor cells and cancer stem-like cells

The drug is currently being tested in combination with pembrolizumab for patients with B7-H3-expressing melanoma

NCT02475213 trial

Entinostat

Histone and non-histone acetylation. Increase of immune response and apoptosis

Entinostat plus pembrolizumab achieved manageable safety profile

Reinforcing of inflammation in the neoplasm microenvironment could improve retreatment with an anti-PD-L1 in patients with malignant melanoma

[35]

Epacadostat

Selective inhibition of IDO1 resulting in restoration of CD8 + T cells, proliferation of CD4 + T cells and reduction of Tregs

Epacadostat was generally well tolerated and might enhance activity of ipilimumab

Monotherapy with epacadostat did not show marked clinical activity

The attempt of simultaneous usage of epacadostat and pembrolizumab did not meet the primary end point

Combinations with other immunotherapies are currently under investigation

IMP321—eftilagimod alpha

Stimulation of antigen-presenting cells and induction of sustained immune responses

The addition of eftilagimod alpha might improve the objective response rates as compared with PD1 inhibitor monotherapy

Clinical trials for patients with malignant melanoma are still ongoing

NCT02676869 trial

Indoximod

Indirect suppression of IDO1 and more selective inhibition of IDO2 resulting in an increased number of CD8+ T cells, CD4+ T cells and a decrease of Tregs

Indoximod was generally well tolerated

Antitumor activity as monotherapy was unsatisfactory

Further investigations of combination of indoximod with other immunotherapies are pending

[27]

LAG525

Antibody-dependent cell cytotoxicity and T-cell stimulation

This monoclonal antibody is currently being tested to assess its safety and efficacy

LAG525 has potential to change the tumor microenvironment to be more favorable for immune response

NCT02460224 trial

Relatlimab

Binding to the LAG3 receptor and restoring T-cell activity

Simultaneous administration of relatlimab and nivolumab was well tolerated and effective

Safety profile was similar to nivolumab monotherapy

[34]

T-VEC

Selective infection and lysis of tumor cells, increase of GM-CSF production as well as induction of local and distant tumor specific immune response

T-VEC has a favorable safety profile and good efficacy in patients with unresectable malignant melanoma without distant metastases

T-VEC can also be successfully combined with other immunotherapies to improve their efficacy
We hope that novel treatment modalities for advanced malignant melanoma can lead to marked changes in this neoplasm therapy and significant improvement of the survival rate of patients with malignant melanoma.
Notes
Acknowledgements
Funding
No funding or sponsorship was received for this study or publication of this article.
Authorship
All named authors meet the International Committee of Medical Journal Editors (ICMJE) criteria for authorship for this article, take responsibility for the integrity of the work as a whole, and have given their approval for this version to be published.
Disclosures
Adam Reich has worked as a Consultant or Speaker for AbbVie, Bioderma, Celgene, Chema Elektromet, Eli Lilly, Galderma, Janssen, Leo Pharma, Medac, Menlo Therapeutics, Novartis, Pierre-Fabre and Trevi and participated as Principal Investigator or Subinvestigator in clinical trials sponsored by AbbVie, Drug Delivery Solutions Ltd, Galderma, Janssen, Kymab Limited, Leo Pharma, Menlo Therapeutics, MetrioPharm, MSD, Novartis and Trevi. Piotr Kluska and Dominika Kwiatkowska have nothing to disclose.
Compliance with Ethics Guidelines
This article is based on previously conducted studies and does not contain any studies with human participants or animals performed by any of the authors.
Data Availability
Data sharing is not applicable to this article as no data sets were generated or analyzed during the current study.
Open Access
This article is distributed under the terms of the Creative Commons Attribution-NonCommercial 4.0 International License (http://creativecommons.org/licenses/by-nc/4.0/), which permits any noncommercial use, distribution, and reproduction in any medium, provided you give appropriate credit to the original author(s) and the source, provide a link to the Creative Commons license, and indicate if changes were made.