Abstract
Angular spectra of the unusual superspiky events produced in 24Mg-Ag/Br interactions at 4.5 A GeV/c are analyzed by the method of continuous wavelet transform in different scale for the ring-like structures which could indicate either the production of Cherenkov gluons or the occurrence of Mach shock waves in excited nuclear matter. The analysis is based on the assumption that the presence of abovementioned effects would be manifested by excess of particles at some characteristic pseudorapidities. The irregularities are revealed in the wavelet pseudorapidity spectra in the scale pseudorapidity region. These irregularities are interpreted as the preferred pseudorapidities of groups of emitted particles.
This is a preview of subscription content, log in to check access.
Access options
Buy single article
Instant access to the full article PDF.
US$ 39.95
Price includes VAT for USA
Subscribe to journal
Immediate online access to all issues from 2019. Subscription will auto renew annually.
US$ 99
This is the net price. Taxes to be calculated in checkout.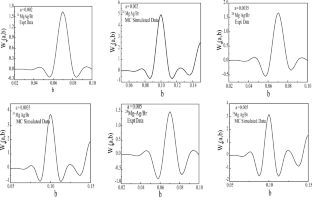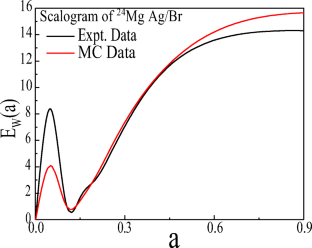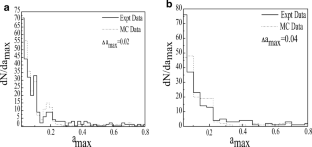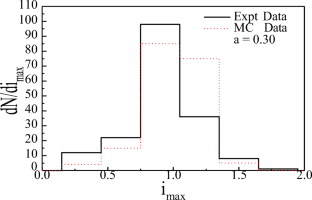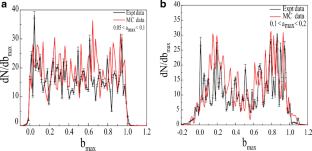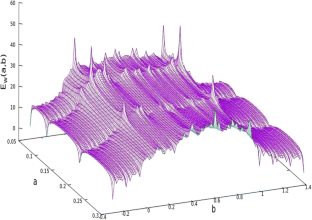 References
1.

I.M. Dremin et al., Yad. Fiz. 52, 840 (1990) [Sov. J. Nucl. Phys.52 536 (1990)] [Sov. J. Nucl. Phys. 52 536 (1990)]; Mod. Phys. Lett. A 5 1743 (1990).

2.

N.M. Agababyan et al., NA22 Collab. Phys. Lett. B. 389, 397 (1996)

3.

A.B. Apanasenko et al., Pis'ma v ZhETF30, 157 (1979)

4.

Peschanski R. 1992 XXII Int. Symp. On Multiparticle Dynamics(1992 Santiago di Compostella, Spain)

5.

P.K. Haldar, S.K. Manna, P. Saha, IJPAP50, 156–160 (2012)

6.

G. Roland, NA49 Collab. Nucl. Phys. A. 638 91c (1998)

7.

M.L. Cherry et al., KLM Collab. Acta Phys. Pol. B.29, 2129 (1998)

8.

Daubechies I Ten Lectures on Wavelets (CBMS-NSF Re- gional Conf. Ser. in Applied Math., 61) (Philadelphia, Pa.: SIAM, 1992)

9.

Meyer Y. Wavelets: Algorithms and Applications (Philadelphia, Pa.: SIAM, 1993)

10.

N.M. Astaf'eva, Usp. Fiz. Nauk166, 1145 (1996) [Phys. Usp. 39 1085 (1996)]

11.

I.M. Dremin, O.V. Ivanov, V.A. Nechitaílo, Usp. Fiz. Nauk (2001)

12.

Carruthers P, In Proc. of a NATO Adv. Study Inst. on Hot and Dense Nuclear Matter, Bodrum, Turkey, 1993 (NATO ASI Series, Ser. B, Vol. 335, Eds W Greiner, H Stücker, a Gallmann) (New York: Plenum Press, 1994) p. 65

13.

P. Lipa, M. Greiner, P. Carruthers, in Proc. of the Cra- cow Workshop on Multiparticle Product. Soft Physics and Fluctuations, Cracow, Poland, 1993, ed. by A. Bialas et al.. (World Scientific, Singapore, 1994), p. 105

14.

M. Greiner et al., Z. Phys.69, 305 (1996)

15.

N. Suzuki, M. Biyajima, A. Ohsawa, Prog. Theor. Phys.94, 91 (1995)

16.

D. Huang  Phys. Rev. D56 3961 (1997).

17.

Huang Zheng et al. Phys. Rev. D54 750 (1996).

18.

B K Nandi et al. (WA98 Collab.), in Proc. of the 3rd In- tern. Conf. on Physics and Astrophysics of Quark-Gluon Plasma, Jaipur, India, 1997 (Eds B C Sinha, D K Sri- vastava, Y P Viyogi) (New Delhi: Narosa Publ. House, 1998) p. 12.

19.

S.KManna  , P.k Haldar  ,P   Mali  , A. Mukhopadhyay , G. Singh  IJMPE 27 1 (2018) DOI: 10.1142/S021830131850009X.

20.

A.V. Apanasenko, N.A. Dobrotin, I.M. Dremin, et al., JETP Lett30, 145 (1979)

21.

K.I. Alexeeva et al., Izvestia An SSSR 26 572. J. Phys. Soc. Japan17, A-III 409 (1962)

22.

N.V. Maslennikova et al., Izvestia AN SSSR 36, 1696 (1972)

23.

N. Arata, Nuovo Cim 43A, 455 (1978)

24.

I.M. Dremin, A.M. Orlov, M.I. Tretyakova, Proc 17 ICRC v.5 149 (1981). JETP Lett.40, 320 (1984)

25.

I.A. Marutyan et al., Yad Fiz 29, 1566 (1979)

26.

M. Adamus et al., NA22 Collaboration. Phys. Lett. B.185, 200 (1987)

27.

D. Ghosh et.al. Physical Review C, 56 2879 (1997).

28.

B. W. Silwerman  Density Estimation for Statistics and Data Analysis, Monographs on Statistics snd Applied Probability. London: Chapman and Hall, 1986.

29.

V. Uzhinsky et al., JINR, P1-2001-119. Dubna, (2001).

30.

 J.Fedorisˇin  , S. Voka´l   // JINR  Preprint   E1-2007-4. Dubna, 2007.

31.

E.A De Wolf,  I.M.Dremin W.kittel  Phys. Rep. 270 1(1996).

32.

I.M.Dremin et al., Sov. J. Nucl. Phys.52 840 (1990).

33.

EMU-15 Collaboration, Chernavskaya O.D. et al., Proc. 24th ICRC, Rome, 1996, V.1, p.68.

34.

EMU-15 Collaboration, Chernavskaya O.D. et al., Proc. 28th International conference on high energy physics, Warsaw, 1996.

35.

N.M.Astafyeva,I.M. Dremin , K.A. Kotelnikov; Pattern recognition in high multiplicity events//hep- ex/9705003v1,7 May,1997

36.

M. K. hosh , P. K.Haldar,S. K. Manna,A. Mukhopadhyay, G.Singh  Nuclear Physics A 858 67-85 (2011).

37.

P. K.Haldar ,S. K. Manna,P. Saha ,D. Ghosh IJMPE Vol.20, No.9 2027-2038 (2011).

38.

P. K.Haldar ,S. K. Manna  Canadian Journal of Physics,89(6): 713-721, 10.1139/p11-043 (2011).

39.

D.Ivanenko, V.Gurgenidze  DAN SSSR 67 997 (1949) ;W. Czyz,S. Glashow, Nucl. Phys., 20 309 (1960).

40.

I.M.Dremin , Int. J. Mod. Phys. A 22 3087 (2007) ; I.M.Dremin , Acta Phys. Polon. B Proc. Suppl.1 641 (2008).

41.

I.M.Dremin, Nucl. Phys. A 785 365 (2007) ;I.M. Dremin  Phys. At. Nucl.74 487 (2011) . arXiv:0910.0099v3[hep- ph]. 
Acknowledgements
The authors express their deepest gratitude to Prof. D. Ghosh of Deepa Ghosh Research Foundation, Kolkata 700 031, India, and Prof. Argha Deb of Jadavpur University, Kolkata 700032, India, for all kind of supports and encouragement.
Ethics declarations
Conflict of Interest
The authors declare that they have no conflict of interest.
Additional information
Publisher's Note
Springer Nature remains neutral with regard to jurisdictional claims in published maps and institutional affiliations.
About this article
Cite this article
Saha, P., Subba, N., Ahmed, A. et al. Wavelet Analysis of Produced Pions in 24Mg-Ag/Br Interactions at 4.5 A GeV/c. Braz J Phys (2020). https://doi.org/10.1007/s13538-020-00736-z
Keywords
Unusual events

Ultra-relativistic nucleus-nucleus collisions

Wavelet analysis

Pseudorapidity

Ring-like events