Facile construction of calix[4]pyrrole-templated gold nanoparticles: computational insights and application for efficient reduction of 4-nitrophenol
Abstract
Herein, we report a simple one-pot synthesis of water-dispersible gold nanoparticles (AuNPs) by using meso-tetra(methyl) meso-tetra hydrazide-functionalized calix[4]pyrrole (ECPTH) as both reducing and stabilizing template. The characterization of ECPTH-AuNPs has been carried out by UV-Vis spectroscopy, transmission electron microscope, X-ray diffraction (XRD), dynamic light scattering (DLS), and zeta potential techniques. The spherical shaped nanoparticles are highly stable with an average size of 8 ± 2 nm. The mechanistic insights rendered by the computational study have suggested that ECPTH can successfully cap the Au via utilizing the hydrazide arms. The nanoparticles functioned as an effective heterogeneous catalyst for the 4-nitrophenol reduction and ECPTH as capping ligand enhances the catalytic activity via a synergistic effect. This work contributes a new catalytic pathway for the degradation of hazardous and toxic pollutants using highly efficient and cost-effective supramolecular-functionalized nanocatalyst.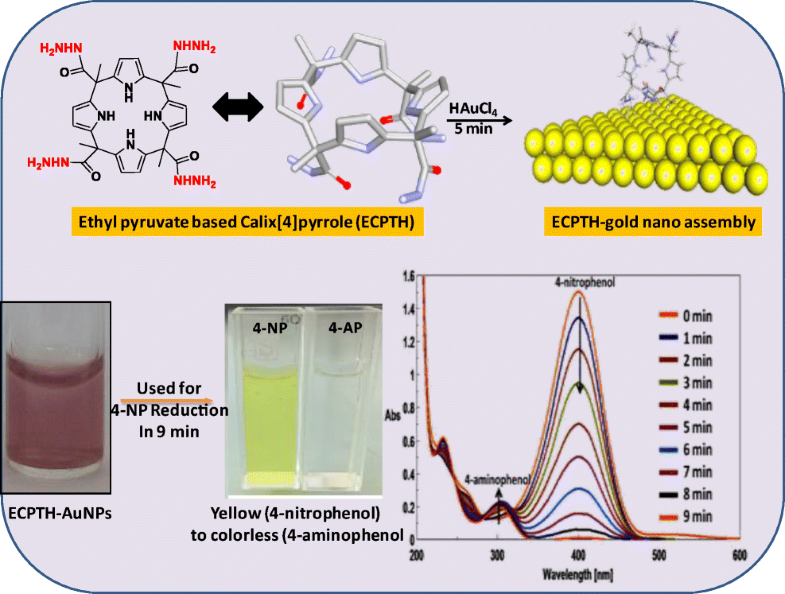 Keywords
Gold nanoparticles 
Calix[4]pyrrole 
Catalytic reduction 
4-Nitrophenol 
Computational modeling 
Notes
Funding information
The authors thank the financial assistance provided by DST-SERB, New Delhi, through the project scheme SERB REF. No EMR/2016/001958. The authors, Anita Kongor and Mohd Athar, gratefully acknowledge the financial assistance provided by the Department of Science & Technology (DST)—Innovation in Science Pursuit for Inspired Research (INSPIRE), New Delhi. One of the authors, Manthan Panchal, gratefully acknowledges the Human Resource Development Group—Council of Scientific & Industrial Research (CSIR), New Delhi, for Research Associate fellowship (File No. 09/70 (0064) 2K19 EMR-I). The authors also acknowledge Central Salt & Marine Chemicals Research Institute (Bhavnagar), Oxygen Healthcare-Ahmedabad (O2h), Sophisticated Analytical Instrument Facility (Panjab University), and Gujarat Forensic Sciences University (Gandhinagar), for providing instrumental facilities and UGC Infonet & Information and Library Network (INFLIBNET) (Ahmedabad) for e-journals.
Copyright information
© Springer Nature Switzerland AG 2019