Abstract
Lignocellulosic biomasses are considered the most suitable feedstocks for sustainable bioenergy generation in the future owing to their versatility, availability, and low cost. Pretreatment is considered an essential step for removing lignin and solubilizing hemicellulose to increase the sugar yield of cellulase hydrolysis of pretreated biomass because pretreatment may disrupt the crystalline structure of cellulose. To investigate the effect of ultrasound on ionic liquid-hydrochloric acid pretreatment with rice straw, this study adopted an hydrochloric acid–catalyzed process in 1-butyl-3-methylimidazolium chloride and 1-allyl-3-methylimidazolium chloride aqueous solutions under ultrasound irradiation to treat the rice straw at a medium-low temperature. The effects of temperature, acid concentration, and time on the production of reducing sugar were studied; moreover, the benefits of ultrasound during pretreatment were also explored according to the changes of enzymatic saccharification, components, morphology, crystallinity, and chemical structure. The results showed that temperature, acid concentration, and time have significant effects on enzymatic hydrolysis, and the production of reducing sugar, cellulose conversion, and delignification was increased by 20.13–28.96%, 31.69–35.23%, and 18.06–19.33%, respectively. On the other hand, the results of Scanning Electron Microscopy (SEM), X-ray diffraction (XRD), and Fourier Transform Infrared Spectroscopy (FTIR) analysis also demonstrate that ultrasound can promote the destruction of morphology, chemical structure, and crystallinity of rice straw in the hydrochloric acid–catalyzed process in ionic liquid aqueous solutions. (1) Temperature, acidity, and processing time had significant effects on the sugar yield of rice straw pretreated with US-IL-HCl. (2) Compared with treatment without ultrasound, the sugar yield, cellulose conversion rate, and delignification increased in ultrasonic-assisted pretreatment samples. (3) Ultrasound-assisted pretreatment can further improve the damage of the surface morphology and chemical structure of rice straw, reduce the crystallinity of cellulose, and improve the enzymatic hydrolysis effect.
This is a preview of subscription content, log in to check access.
Access options
Buy single article
Instant unlimited access to the full article PDF.
US$ 39.95
Price includes VAT for USA
Subscribe to journal
Immediate online access to all issues from 2019. Subscription will auto renew annually.
US$ 99
This is the net price. Taxes to be calculated in checkout.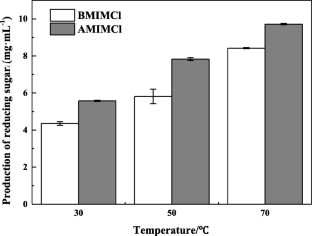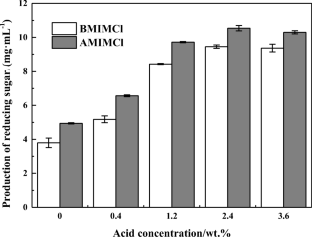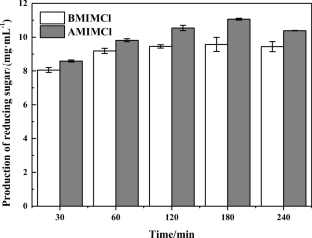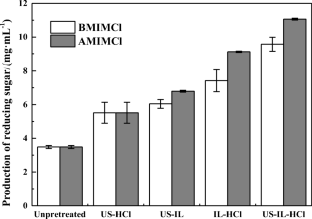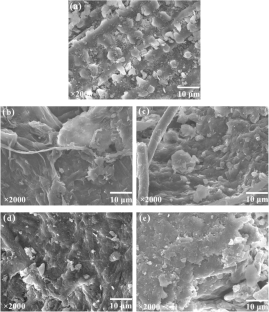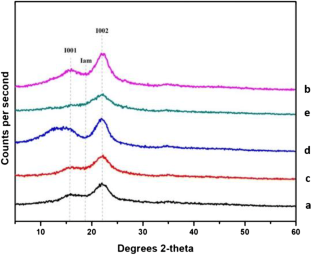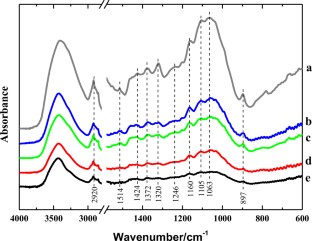 References
1.

National Development and Reform Commission, Ministry of Agriculture, Ministry of Finance, The notice on issuing the implementation plan of comprehensive utilization of crop straw in 12th Five-year. http://www.mof.gov.cn/zhengwuxinxi/zhengcefabu/201112/t20111221_617842.htm

2.

Li XG, Wang SX, Duan L, Hao J, Li C, Chen YS, Yang L (2007) Particulate and trace gas emissions from open burning of wheat straw and corn stover in China. Environ Sci Technol 41:6052–6058

3.

National Energy Administration, Biomass 13th Five-year plan. http://www.gov.cn/xinwen/2016-12/05/content_5143612.htm

4.

Sun N, Rahman M, Qin Y, Maxim ML, Rodriguez H, Rogers RD (2009) Complete dissolution and partial delignification of wood in the ionic liquid 1-ethyl-3-methylimidazolium acetate. Green Chem 11:646–655

5.

Chang K-L, Chen X-M, Wang X-Q, Han Y-J, Potprommanee L, Liu J-y, Liao Y-L, Ning X-a, Sun S-y, Huang Q (2017) Impact of surfactant type for ionic liquid pretreatment on enhancing delignification of rice straw. Bioresour Technol 227:388–392

6.

Chang KL, Chen XM, Han YJ, Wang XQ, Potprommanee L, Ning XA, Liu JY, Sun J, Peng YP, Sun SY, Lin YC (2016) Synergistic effects of surfactant-assisted ionic liquid pretreatment rice straw. Bioresour Technol 214:371–375

7.

Swatloski RP, Spear SK, Hobrey JD, Rogersj RD (2002) Dissolution of cellulose with ionic liquids. J Am Chem Soc 124:4974–4975

8.

Qing Q, Hu R, He YC, Zhang Y, Wang LQ (2014) Investigation of a novel acid-catalyzed ionic liquid pretreatment method to improve biomass enzymatic hydrolysis conversion. Appl Microbiol Biotechnol 98:5275–5286

9.

Zhang ZY, O'Hara IM, Doherty WUS (2012) Pretreatment of sugarcane bagasse by acid catalysed process in aqueous ionic liquid solutions. Bioresour Technol 120:149–156

10.

Wang G, Zhang SP, Xu WJ, Qi W, Yan YJ, Xu QL (2015) Efficient saccharification by pretreatment of bagasse pith with ionic liquid and acid solutions simultaneously. Energy Convers Manag 89:120–1260

11.

Pang ZQ, Dong CH, Pan XJ (2016) Enhanced deconstruction and dissolution of lignocellulosic biomass in ionic liquid at high water content by lithium chloride. Cellulose. 23:323–338

12.

Luo J, Fang Z, Smith RL (2014) Ultrasound-enhanced conversion of biomass to biofuels. Prog Energy Combust Sci 41:56–93

13.

Yang CY, Fang TJ (2015) Kinetics for enzymatic hydrolysis of rice hulls by the ultrasonic pretreatment with a bio-based basic ionic liquid. Biochem Eng J 100:23–29

14.

Ninomiya K, Kohori A, Tatsumi M, Osawa K, Endo T, Kakuchi R, Ogino C, Shimizu N, Takahashi K (2015) Ionic liquid/ultrasound pretreatment and in situ enzymatic saccharification of bagasse using biocompatible cholinium ionic liquid. Bioresour Technol 176:169–174

15.

Karimi M, Jenkins B, Stroeve P (2014) Ultrasound irradiation in the production of ethanol from biomass. Renew Sust Energ Rev 40:400–421

16.

Miller GL (1959) Use of dinitrosalicylic acid reagent for determination of reducing sugar. Anal Chem 31:426–428

17.

Chang KL, Han YJ, Wang XQ, Chen XM, Qiu XS, Leu SY, Liu JY, Peng YP, Liao YL, Potprommanee L (2017) The effect of surfactant-assisted ultrasound-ionic liquid pretreatment on the structure and fermentable sugar production of a water hyacinth. Bioresour Technol 237:27–30

18.

Shi SL. Pulp to analysis and detection. Beijing: China Light Industry Press; 2006. 1–380 p. (in Chinese)

19.

Xu F, Chen L, Wang A, Yan Z (2016) Influence of surfactant-free ionic liquid microemulsions pretreatment on the composition, structure and enzymatic hydrolysis of the water hyacinth. Bioresour Technol 208:19–23

20.

Segal L, Creely JJ, Martin JA, Conrad CM (1959) An empirical method for estimating the degree of crystallinity of native cellulose using the X-ray diffractometer. Textile Research J 29:786–794

21.

Badgujar KC, Bhanage BM (2015) Factors governing dissolution process of lignocellulosic biomass in ionic liquid: current status, overview and challenges. Bioresour Technol 178:2–18

22.

Zhao H, Jones CL, Baker GA, Xia S, Olubajo O, Person VN (2009) Regenerating cellulose from ionic liquids for an accelerated enzymatic hydrolysis. J Biotechnol 139:47–54

23.

Li C, Wang Q, Zhao ZK (2008) Acid in ionic liquid: an efficient system for hydrolysis of lignocellulose. Green Chem 10:177–182

24.

Zhou N, Zhang YM, Gong XW, Wang Q, Ma Y (2012) Ionic liquids-based hydrolysis of Chlorella biomass fermentable sugars. Bioresour Technol 118:512–517

25.

Zhang Q, Zhao M, Xu QQ, Ren HG, Yin JZ (2019) Enhanced enzymatic hydrolysis of sorghum stalk by supercritical carbon dioxide and ultrasonic pretreatment. Appl Biochem Biotechnol 188:101–111

26.

Dong SJ, Zhang BX, Gao YF, Hu XM (2015) An Efficient process for pretreatment of lignocelluloses in functional ionic liquids. Int J Polym Sci 2015:978983 6 pages

27.

Montalbo-Lomboy M, Grewell D (2015) Rapid dissolution of switchgrass in 1-butyl-3-methylimidazolium chloride by ultrasonication. Ultrason Sonochem 22:588–599

28.

Sorn V, Chang KL, Phitsuwan P, Ratanakhanokchai K, Dong CD (2019) Effect of microwave-assisted ionic liquid/acidic ionic liquid pretreatment on the morphology, structure, and enhanced delignification of rice straw. Bioresour Technol 293:121929

29.

Li L, Yang DR, Liu DT, Yang F (2014) Influence of combined pretreatment of quadrol and anhydrous ionic liquid microemulsion on the physicochemical property of masson pine. J Appl Polym Sci 131:1–9

30.

Ninomiya K, Kamide K, Takahashi K, Shimizu N (2012) Enhanced enzymatic saccharification of kenaf power after ultrasonic pretreatment in ionic liquid at room temperature. Bioresour Technol 103:259–265

31.

Li LY, Niu K, Liu CG, Bai F (2013) Effect of ionic liquid pretreatment on lignocellulosic biomass from oilseeds. CIESC J 64:104–110
Additional information
Publisher's note
Springer Nature remains neutral with regard to jurisdictional claims in published maps and institutional affiliations.
About this article
Cite this article
Zhang, W., Liu, J., Wang, Y. et al. Effect of ultrasound on ionic liquid-hydrochloric acid pretreatment with rice straw. Biomass Conv. Bioref. (2020). https://doi.org/10.1007/s13399-019-00595-y
Received:

Revised:

Accepted:

Published:
Keywords
Ultrasound

Ionic liquid

Rice straw

Hydrochloric acid

Lignocellulose