A study of the suitability of three commercial bioaugmentation products for use in grease traps
Abstract
Three bioaugmentation products, coded as BFL, FF and Gnz, were investigated for their ability to degrade waste-cooking fats and their suitability in relation to their microbial composition. The remaining fat was determined gravimetrically and bacteria present were identified using biochemical and molecular approaches. Screening of hydrolytic enzymes was also performed. Bacillus spp. dominated; however, FF product also contained 2 Pseudomonas spp. and 1 fungus. 16S rRNA sequencing confirmed most of the results obtained by the API system. Closely related Bacillus subtilis and Bacillus amyloliquefaciens were distinguished using SDS-PAGE and FAME profiles. The highly saturated fat was a challenge for the bacteria, while the FF, containing the fungus, performed 94% degradation. On the other hand, the soft fat was up to 94% degraded by FF and BFL, while Gnz did not perform any degradation. The enzymatic activity of the bacterial isolates varied even among the same bacterial species and corresponded with the overall degradative ability of each product, which increased with increasing diversity of the microbial population. Lipase activity indicated substrate specificity and preference for short-chain fatty acids. The BFL product having the greatest number of Bacillus species showed good potential and the highest lipolytic activity, although the FF product was eliminated when safety and regulatory issues were considered. The study demonstrated that careful consideration must be given to the microbiological composition of bioaugmentation products and the methods used to ensure robust identification of the microbes present.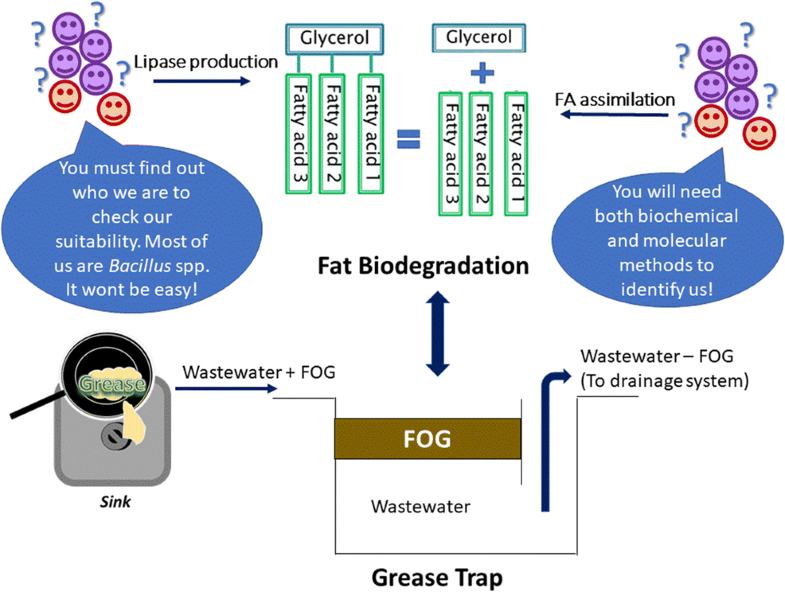 Keywords
Bacillus
Bioaugmentation 
Biodegradation 
Enzymes 
FOG 
Identification 
Notes
Acknowledgements
This was a collaborative project between Dublin City University, Ireland and Mr. Ciaran Gillen from BioFuture Ltd, Dublin, Ireland, who provided us the products and important information on FOGs and regulations.
Funding information
The project was funded by the Irish EPA (Environmental Protection Agency) under the Science, Technology, Research & Innovation for the Environment (STRIVE) Programme 2007–2013.
Compliance with ethical standards
Conflict of interests
The authors declare that they have no competing interests.
Copyright information
© Springer-Verlag GmbH Germany, part of Springer Nature 2019