The optimization of in-situ tar reduction and syngas production on a 60-kW three-staged biomass gasification system: theoretical and practical approach
Abstract
In order to develop more efficient biomass thermochemical conversion technology, a 60-kW three-staged biomass gasification system was constructed, and pinewood was used as material to investigate the effect of key influential factors on gasifier operation. Results show that the tar yield in pyrolysis stage was around 43,023 mg/Nm3, which was mainly consisted of primary tar compounds, such as acids, furans, and phenols. Sum of phenols compounds account for about 50.1% of total tar compounds. With the increase of excess air coefficient, the temperature of char-bed was improved, which benefited the reduction reactions in char bed. At ER = 0.35, the operation of the gasifier achieved an optimization value: gasification efficiency, carbon conversion rate, and tar yield were 76.77%, 81.91%, and 99 mg/Nm3 respectively. Subsequently, a 3D CFD (computational fluid dynamics) model of the throat section was built. Six kinds of air injection styles were designed and simulated. Results show that tangential air blow with reasonable angle (θ = 30° in this work) improves the flow field in the furnace and eliminate flow stagnation zone near the wall, which benefits the tar cracking in the throat section.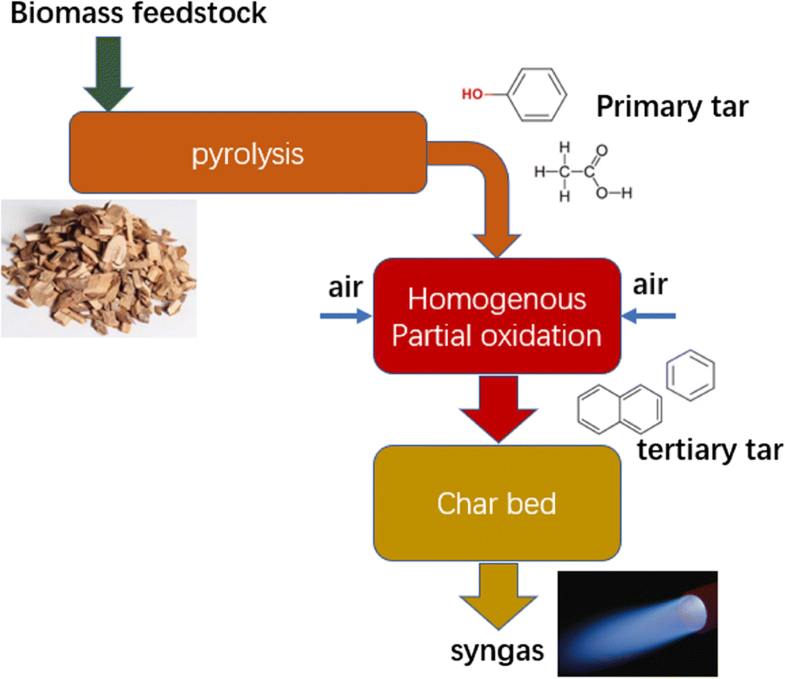 Keywords
Biomass 
Tar 
Gasification 
Excess air coefficient 
CFD 
Notes
Funding information
This work was supported by Science Foundation of Nanjing Institute of Technology (YKJ201813) and the National Natural Science Foundation of China (51706094).
Copyright information
© Springer-Verlag GmbH Germany, part of Springer Nature 2019