Synthesis of fluorescent carbon quantum dots (CQDs) through the mild thermal treatment of agro-industrial residues assisted by γ-alumina
Abstract
Carbon deposits are well known to cover the γ-alumina surface when exposed to high temperatures in the presence of carbonaceous feedstocks by means of coking and/or fouling mechanisms. Herein, it is demonstrated that this phenomenon, which is extremely undesirable when γ-alumina is used as a catalyst or an adsorbent material, can be successfully exploited for the production of fluorescent carbon-based quantum nanodots (CQDs) under mild conditions of temperatures (250–300 °C) and time (30 min) by using residual biomasses as a carbon source. Specifically, four agro-industrial residues including sugar beet pulp (SBP), grape marc, tomato peels and seeds, and olive pomace have been successfully tested for the synthesis of biomass-based CQDs. Different techniques including UV–vis spectroscopy, fluorescence spectroscopy (PL), X-ray photoelectron spectroscopy, Raman spectroscopy, and transmission electron microscopy (TEM) have been applied for the characterization of the as-prepared SBP-based CQDs. Results highlight that the obtained carbon dots exhibit excellent solubility in both water and organic media. In addition, TEM investigations show that such nanoparticles disclose a rather uniform spherical morphology and a narrow size distribution in the range of 2–4 nm. The typical excitation dependent PL emission behavior of carbon-based quantum dots was also observed by PL analysis. Unlike other currently available bottom-up synthesis routes, a high-value by-product is obtained during the synthesis of biomass-based CQDs assisted by γ-Al2O3, i.e., the residual thermally treated biomass, which can be further valorized as a high-quality solid biofuel exhibiting a lower oxygen-to-carbon ratio and, hence, a higher calorific value than the parent biomass. The innovative finding of the present work is that a catalyst can be used to produce CQDs from the volatile matter that is driven off the biomass by heating, which opens up new possibilities of valorization for the off-gas substream coming from other biomass conversion process, like for example slow pyrolysis and carbonization.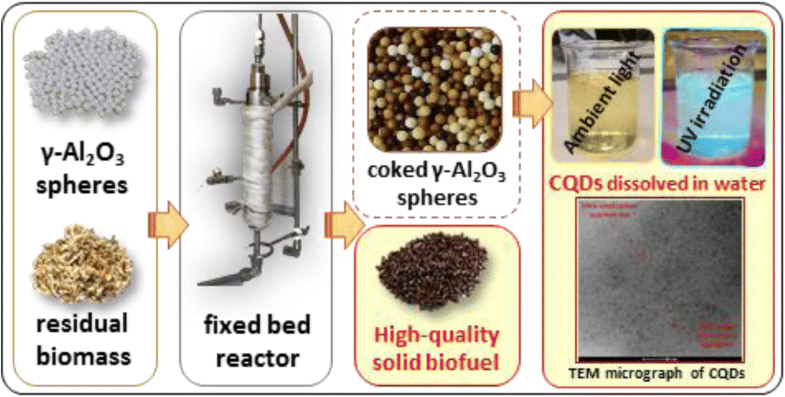 Keywords
Biomass-based carbon dots 
γ-Alumina catalyst 
Agro-industrial residues 
Dry thermal synthesis 
Fixed-bed reactor 
Notes
Acknowledgments
The author is grateful to Professor Giuliana Gorrasi (University of Salerno) for providing expertise and access to UV–visible spectrophotometer.
Copyright information
© Springer-Verlag GmbH Germany, part of Springer Nature 2019
corrected publication 2019