A review of recent research and developments in fast pyrolysis and bio-oil upgrading
Abstract
The depletion of fossil fuels and the negative impacts of their extraction and combustion on the environment have encouraged scientists and industrial stakeholders to explore the development of alternative, renewable energy resources such as bio-oil, which can be produced from biomass by fast pyrolysis. The main disadvantages of crude bio-oils derived from fast pyrolysis are their poor quality caused by the presence of water and oxygen compounds, high viscosity, instability during storage, and their low heating value and high acidity (corrosiveness). To overcome these shortcomings and improve the properties of bio-oils, several techniques have been proposed. The present review provides an in-depth survey of recent studies in the field of fast pyrolysis of biomass and bio-oil upgrading. Different methods and various processes, including novel techniques such as those making use of plasma reactor and microwave-assisted approach, the use of algae as biomass, and pyrolysis under supercritical conditions, are reviewed to explore and critically assess the proposed improvements. We also examine recent advances in the field of bio-oil upgrading, focusing on chemical and catalytic processes such as the combination of fast pyrolysis, bio-oil upgrading utilizing zeolite and nonzeolite catalysts, and computational simulation methods. Finally, we assess recent progress in the improvement of the properties of the ultimate product and review the pros and cons of pyrolysis and upgrading techniques for bio-oils. We conclude with a section examining future challenges, perspectives, as well as the commercial feasibility/viability of fast pyrolysis and bio-oil upgrading.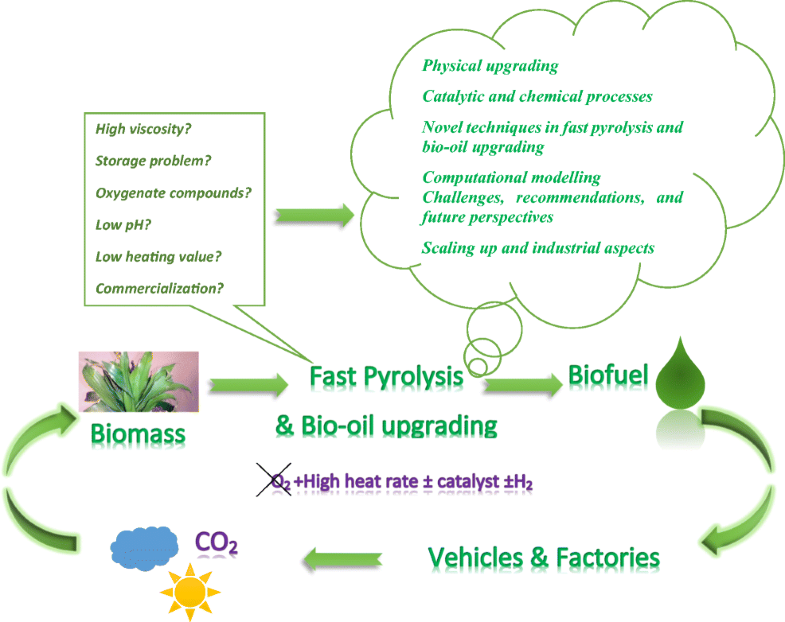 Keywords
Fast pyrolysis 
Bio-oil upgrading 
Biomass 
Catalytic upgrading 
Physical property improvement 
Novel techniques 
Abbreviations
AF

Ash factor

AEDM

Activation energy distribution model

AHCs

Aliphatic hydrocarbons

BDEs

Bond dissociation energies

BEP

BrØnsted-Evans-Polanyi

BGAB

Blue-green algae blooms

BTX

Benzene, toluene, xylene

BTEX

Benzene, toluene, ethylbenzene, and xylenes

CFD

Computational fluid dynamics

CFP

Catalytic fast pyrolysis

CNFs

Carbon nanofibers

CPD

Chemical percolation devolatilization

DAEM

Distributed activation energy model

DBD

Dielectric barrier discharge

DDO

Direct hydrodeoxygenation

DFT

Density functional theory

DNP

Double numerical plus polarization

ESP

Electrostatic precipitator

FCC

Fluid catalytic cracking

FP

Fast pyrolysis

FWO

Flynn-Wall-Ozawa

GGA

Generalized gradient approximation

HDO

Hydrodeoxygenation

HDT

Hydrotreating

HHV

Higher heating value

ICP

Integrated catalytic pyrolysis

IIFB

Internally interconnected fluidized bed reactor

JSC

Jatropha seedshell cake

KAS

Kissinger-Akahira-Sunose

KMC

Kinetic Monte Carlo

LHV

Lower heating value

LHSV

Liquid hourly space velocity

MAHs

Monocyclic aromatic hydrocarbons

MAP

Microwave-assisted pyrolysis

MFC

Mass flow control

MW-FA

Microwave-assisted pretreatment in the presence of formic acid

NCGs

Noncondensable gases

NT

Nonthermal

OOC

Oxygenated organic compounds

PAHs

Polycyclic aromatic hydrocarbons

PAW

Projector-augmented wave

PO

Pyrolysis oil

PR

Plasma reactor

RPBE

Revised Perdew-Burke-Ernzerhof

SCF

Supercritical fluid

SPE

Solid-phase extraction

TOF

Turnover frequency

UDF

User-defined functions

VASP

Vienna ab initio simulation package
Notes
Acknowledgements
This research did not receive any specific grant from funding agencies in the public, commercial, or not-for-profit sectors.
Copyright information
© Springer-Verlag GmbH Germany, part of Springer Nature 2018