Neutron Diffraction Analysis and Electromagnetic Properties of Ultrasonic Wet-Magnetic Separated NixZn1−xFe2O4 Nano-powders
Abstract
Nano-sized ferrite powders less than 50 nm were prepared through combustion reaction followed by pulverizing and separating through ultrasonic-wet magnetic classification processes to study the electromagnetic properties of the nano-sized ferrites for developing an high performance electromagnetic interference filter. Neutron diffraction analysis of the ferrites prepared at 10 MPa of oxygen pressure shows that the final phase is Ni0.33Zn0.67Fe2O4 (χ2 = 1.48), which lattice parameter is 0.8412(2) nm. The residual magnetization, maximum magnetization, coercive force, susceptibility and Curie temperature of Ni0.33Zn0.67Fe2O4 particles are 0.88 Wb/m2 kg, 7.749 Wb/m2 kg, 1292 A/m, 0.068 m3/kg, and 413.93 K, respectively. Finally, the nano-sized ferrite particle less than 50 nm with more than 99% purity were obtained. The increasing frequency reduced complex permeability which real value (μr0) shows the maximum value at the less than 0.5 GHz. The dielectric constants of the powders are εr′ = 5.7 and εr″ = 2.5. The nano-sized Ni0.33Zn0.67Fe2O4 ferrite absorber works effectively in the range of 3–5 GHz.
Graphical Abstract
Typical FESEM image of Ni
0.33
Zn
0.67
Fe
2
O
4
nano-powders.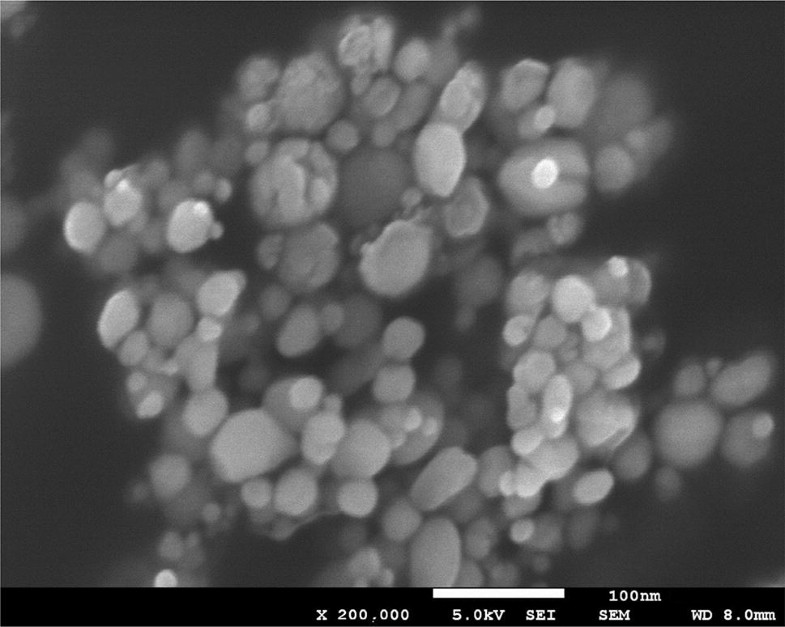 Keywords
Nano-sized nickel-zinc ferrite 
Nano-powder 
Neutron diffraction 
Magnetization 
Notes
Acknowledgements
The present research was supported by the research fund of Dankook University in 2018. The author thanks Professor S. S. Kim at Chungbuk National University for his valuable discussion and experimental help.
Copyright information
© The Korean Institute of Metals and Materials 2018