Abstract
In order to investigate the detailed zoogeographical history of brown bears (Ursus arctos) in Bulgaria and their relationships with populations in neighboring regions of Europe and Asia, the amplified product length polymorphism (APLP) method for the mitochondrial DNA (mtDNA) haplogrouping was applied to ancient bone remains. The results showed that haplogroups for 12 of 31 samples (38.7%) were successfully classified using the APLP method, although partial sequences of the mtDNA control region were determined with PCR product-direct sequencing for only 6 samples (19.4%). Even among 25 samples, of which nucleotide sequences could not be determined, the APLP method successfully classified haplogroups of 6 samples (6/25, 24.0%), indicating an advantage of the APLP method. In Bulgaria, although both the Balkan/Italian lineage of mtDNA (clade 1b) and the Eastern European lineage (clade 3a1) have been identified from modern bears as reported in other studies, all bear remains examined in the present study had APLP haplogroup W. The mtDNA phylogenetic analysis showed that the ancient Bulgarian brown bears had clade 1b. This indicates that clade 1b was originally distributed in Bulgaria, whereas those with clade 3a1 could have entered from Romania to Bulgaria. In addition, the APLP and phylogenetic analysis of recent skin samples from Turkey showed that they have mtDNA of the Middle Eastern/Turkish lineage (referred to clade 7a). Therefore, Bulgaria on the Balkan Peninsula might have been located between two distribution borders: one is between clades 1b and 3a1, and the other is between clades 1b and 7.
This is a preview of subscription content, log in to check access.
Access options
Buy single article
Instant access to the full article PDF.
US$ 39.95
Price includes VAT for USA
Subscribe to journal
Immediate online access to all issues from 2019. Subscription will auto renew annually.
US$ 99
This is the net price. Taxes to be calculated in checkout.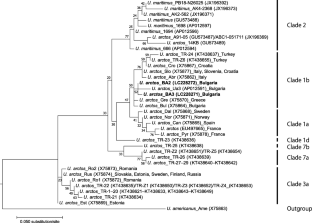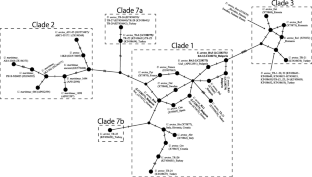 References
Ashrafzadeh RM, Kaboli M, Naghavi M (2016) Mitochondrial DNA analysis of Iranian brown bears (Ursus arctos) reveals new phylogeographic lineage. Mamm Biol 81:1–9. https://doi.org/10.1016/j.mambio.2015.09.001

Barnes I, Matheus P, Shapiro B, Jensen D, Cooper A (2002) Dynamics of Pleistocene population extinctions in Beringian brown bears. Science 295:2267–2270. https://doi.org/10.1126/science.1067814

Bon C, Caudy N, de Dieuleveult M, Fosse P, Philippe M, Maksud F, Beraud-Colomb É, Bouzaid E, Kef R, Laugier C, Rousseau B, Casane D, van der Plicht J, Elalouf J-M (2008) Deciphering the complete mitochondrial genome and phylogeny of the extinct cave bear in the Paleolithic painted cave of Chauvet. Proc Natl Acad Sci U S A 105:17447–17452. https://doi.org/10.1073/pnas.0806143105

Calvignac S, Hughes S, Hänni C (2009) Genetic diversity of endangered brown bear (Ursus arctos) populations at the crossroads of Europe, Asia and Africa. Divers Distrib 15:742–750. https://doi.org/10.1111/j.1472-4642.2009.00586.x

Calvignac S, Hughes S, Tougard C, Michaux J, Thevenot M, Philippe M, Hamdine W, Hänni C (2008) Ancient DNA evidence for the loss of a highly divergent brown bear clade during historical times. Mol Ecol 17:1962–1970. https://doi.org/10.1111/j.1365-294X.2008.03631.x

Çilingir FG, Akın Pekşen Ç, Ambarli H, Beerli P, Bilgin CC (2016) Exceptional maternal lineage diversity in brown bears (Ursus arctos) from Turkey. Zool J Linnean Soc 176:463–477. https://doi.org/10.1111/zoj.12322

Clement M, Posada D, Crandall KA (2000) TCS: a computer program to estimate gene genealogies. Mol Ecol 9:1657–1659. https://doi.org/10.1046/j.1365-294x.2000.01020.x

Davison J, Ho SYW, Bray SC, Korsten M, Tammeleht E, Hindrikson M, Østbye K, Østbye E, Lauritzen S-E, Austin J, Cooper A, Saarma U (2011) Late-Quaternary biogeographic scenarios for the brown bear (Ursus arctos), a wild mammal model species. Quat Sci Rev 30:418–430. https://doi.org/10.1016/j.quascirev.2010.11.023

Ersmark E, Baryshnikov G, Higham T, Argant A, Castaños P, Döppes D, Gasparik M, Germonpré M, Lidén K, Lipecki G, Marciszak A, Miller R, Moreno-García M, Pacher M, Robu M, Rodriguez-Varela R, Guerra MR, Sabol M, Spassov N, Storå J, Valdiosera C, Villaluenga A, Stewart JR, Dalén L (2019) Genetic turnovers and northern survival during the last glacial maximum in European brown bears. Ecol Evol 2019:1–15. https://doi.org/10.1002/ece3.5172

Hagelberg E (1994) Mitochondrial DNA from ancient bones. In: Herrmann B, Hummel S (eds) Ancient DNA. Springer-Verlag, New York, pp 195–210

Hänni C, Laudet V, Stehelin D, Taberlet P (1994) Tracking the origins of the cave bear (Ursus spelaeus) by mitochondrial DNA sequencing. Proc Natl Acad Sci U S A 91:12336–12340. https://doi.org/10.1073/pnas.91.25.12336

Hirata D, Abramov AV, Baryshikov GF, Masuda R (2014) Mitochondrial DNA haplogrouping of the brown bear Ursus arctos (Carnivora: Ursidae) in Asia, based on a newly developed APLP analysis. Biol J Linn Soc 111:627–635. https://doi.org/10.1111/bij.12219

Hirata D, Mano T, Abramov AV, Baryshnikov GF, Kosintsev PA, Vorobiev AA, Raichev EG, Tsunoda H, Kaneko Y, Murata K, Fukui D, Masuda R (2013) Molecular phylogeography of the brown bear (Ursus arctos) in northeastern Asia based on analyses of complete mitochondrial DNA sequences. Mol Biol Evol 30:1644–1652. https://doi.org/10.1093/molbev/mst077

Hofreiter M, Serre D, Rohland N, Rabeder G, Nagel D, Conard N, Münzel S, Pääbo S (2004) Lack of phylogeography in European mammals before the last glaciation. Proc Natl Acad Sci U S A 101:12963–12968. https://doi.org/10.1073/pnas.0403618101

Kimura M (1980) A simple method for estimating evolutionary rate of base substitutions through comparative studies of nucleotide sequences. J Mol Evol 16:111–120. https://doi.org/10.1007/BF01731581

Kovachev G (1986) Animal bone materials from prehistoric settlement hill near Kazanlak city (report in Bulgarian)

Leigh JW, Bryant D (2015) Popart: full-feature software for haplotype network construction. Methods Ecol Evol 6:1110–1116. https://doi.org/10.1111/2041-210X.12410

Leonard JA, Wayne RK, Cooper A (2000) Population genetics of ice age brown bears. Proc Natl Acad Sci U S A 97:1651–1654. https://doi.org/10.1073/pnas.040453097

Lichardus-Itten M, Demoule JP, Perniceva L, Grebska-Kulova M, Kulov I (2002) The site of Kovačevo and the beginnings of the Neolithic period in Southwestern Bulgaria. The French-Bulgarian excavations 1986–2000. In: Lichardus-Itten M, Lichardus J, Nikolov V (eds) Beiträge zu jungsteinzeitlichen Forschungen in Bulgarien. Dr. Rudolf Habelt GmbH, Bonn, pp 99–136

Lindqvist C, Schuster SC, Sun Y, Talbot SL, Qi J, Ratan A, Tomsho LP, Kasson L, Zeyl E, Aars J, Miller W, Ingólfsson Ó, Bachmann L, Wiig Ø (2010) Complete mitochondrial genome of a Pleistocene jawbone unveils the origin of polar bear. Proc Natl Acad Sci U S A 107:5053–5057. https://doi.org/10.1073/pnas.0914266107

Masuda R, Amano T, Ono H (2001) Ancient DNA analysis of brown bear (Ursus arctos) remains from the archeological site of Rebun Island, Hokkaido, Japan. Zool Sci 18:741–751. https://doi.org/10.2108/zsj.18.741

Miller CR, Waits LP, Joyce P (2006) Phylogeography and mitochondrial diversity of extirpated brown bear (Ursus arctos) populations in the contiguous United States and Mexico. Mol Ecol 15:4477–4485. https://doi.org/10.1111/j.1365-294X.2006.03097.x

Miller W, Schuster SC, Welch AJ, Ratan A, Bedoya-Reina OC, Zhao F, Kim HL, Burhans RC, Drautz DI, Wittekindt NE, Tomsho LP, Ibarra-Laclette E, Herrera-Estrella L, Peacock E, Farley S, Sage GK, Rode K, Obbard M, Montiel R, Bachmann L, Ingólfsson Ó, Aars J, Mailund T, Wiig Ø, Talbot SL, Lindqvist C (2012) Polar and brown bear genomes reveal ancient admixture and demographic footprints of past climate change. Proc Natl Acad Sci U S A 109:E2382–E2390. https://doi.org/10.1073/pnas.1210506109

Ministry of Environment and Waters (2007) Action plan for the brown bear in Bulgaria, Sofia

Nikolov V, Petrova V, Hristova T, Leshtakov P (2014) Prehistorical and protohistorical ritual complex at Hausa near Kapitan Andreevo, Svilengrad region. (Via Diagonalis road). In: Gurova M (ed) Archaeological discoveries and excavations in 2013. National institute of archaeology with museum (Bulgarian Academy of Sciences), Sofia, pp 68–70

Norwark C, Domokos C, Dutsov A, Frosch C (2014) Molecular evidence for historic long-distance translocations of brown bears in the Balkan region. Conserv Genet 15:743–747. https://doi.org/10.1007/s10592-014-0570-7

Raduncheva A (1996) The temple centre near Dolnoslav village, Plovdiv distr. and some aspects of the rituals at the end of the Chalcolithic Epoch. New Bulgarian University & Archaeological Inst. and museum at the Bulg. Acad. Sciences. Annuary of the Departmernt of Archaeology, Sofia

Rauer G, Spassov N, Spiridonov G, Nyholm ES, Nyholm K-E, Camarra JJ, Mertzanis G, Boscagli G, Osti F, Sorensen OJ, Swenson JE, Kvam T, Frackowiak W, Gula R, Perzanowski K, Ionescu O, Hell P, Find'o S, Clevenger AP, Purroy FJ, Cienfuegos JN, Quesada CN, Sandegren F, Bjarvall A, Franzén R, Söderberg A, Wabakken P, Huber D (1999) Brown bear conservation action plan for Europe (Ursus arctos). In: Servheen C, Herrero S, Peyton B (eds) Bears status survey and conservation action plan. IUCN/SSC Bear and Polar Bear Specialist Groups. IUCN, Gland and Cambridge, pp 55–122

Spassov N (1990) Note on the colouration and taxonomic status of the bear (Ursus arctos L.) in Bulgaria. Historia Naturalis Bulgaria 2:62–64

Spassov N (1997) Evidences for a late Pleistocene isolation and a separate taxonomic status of the Mediterranean brown bear and the conservation value of the Balkan bear population. Historia Naturalis Bulgarica 7:109–113

Spassov N (2003) The Brown bear in the southern Balkans. In: Krystufek B, Flajsman B, Griffiths H (eds) Living with bears. A Large European Carnivore in a Shrinking World. Ekoforum, Ljubljana, pp 229–244

Spassov N, Iliev N, Karastoyanova N, Chohadjiev S (2015a) The remains of wild and domestic animals from the late Chalcolithic tell settlement of Hotnitsa (Northern Bulgaria). Archaeologia Bulgarica ХІХ 2:1–21

Spassov N, Spiridonov G, Ivanov V, Assenov L (2015b) Signs of the bear life activities and their utilization for the monitoring of the bear (Ursus arctos L.) in Bulgaria. Historia Naturalis Bulgarica 22:73–83

Spiridonov G, Spassov N (2015) Brown bear (Ursus arctos L.). In: Golemanski V (еd) Red data book of Bulgaria, Vol. 2. Animals. Bulgarian Academy of Sciences and Ministry of Environment and Waters, Sofia, p. 153 (in Bulgarian and English)

Taberlet P, Bouvet J (1994) Mitochondrial DNA polymorphism, phylogeography, and conservation genetics of the brown bear Ursus arctos in Europe. Proc Biol Sci 255:195–200. https://doi.org/10.1098/rspb.1994.0028

Tamura K, Stecher G, Peterson D, Filipski A, Kumar S (2013) MEGA6: molecular evolutionary genetics analysis version 6.0. Mol Biol Evol 30:2725–2729. https://doi.org/10.1093/molbev/mst197

Todorova H, Vajsov I (1993) The Neolithic epoch in Bulgaria. Nauka i Izkustvo Publ. House, Sofia (in Bulgarian)

Valdiosera CE, Garcia N, Anderung C, Dalen L, Cregut-Bonnoure E, Kahlke RD, Stiller M, Brandstrom M, Thomas MG, Arsuaga JL, Gotherstrom A, Barnes I (2007) Staying out in the cold: glacial refugia and mitochondrial DNA phylogeography in ancient European brown bears. Mol Ecol 16:5140–5148. https://doi.org/10.1111/j.1365-294X.2007.03590.x

Yotzova A, Alexandrov S, Hristova T, Ivanov G (2012) The late bronze age settlement Baley (north-West Bulgaria). Stratigrap Feat Archaeol 53:7–26
Acknowledgments
We thank Dr. H. Tsunoda (Center for Environmental Science in Saitama) for the helpful support.
Funding
This study was supported in part by the Joint Research Project (between Japan and Bulgaria) Grant from the Japan Society for the Promotion of Science (JSPS), a JSPS KAKENHI Grant (No. 15H04410), and a JSPS Fellowship (Research Project No. 14J02026).
Additional information
Publisher's note
Springer Nature remains neutral with regard to jurisdictional claims in published maps and institutional affiliations.
Communicated by: Jan M. Wójcik
About this article
Cite this article
Mizumachi, K., Spassov, N., Kostov, D. et al. Mitochondrial haplogrouping of the ancient brown bears (Ursus arctos) in Bulgaria, revealed by the APLP method. Mamm Res (2020). https://doi.org/10.1007/s13364-020-00482-2
Received:

Accepted:

Published:
Keywords
Ancient DNA

APLP method

Balkan Peninsula

Molecular phylogeny

Mitochondrial DNA

Ursus arctos