Collision-Induced Unfolding Reveals Unique Fingerprints for Remote Protein Interaction Sites in the KIX Regulation Domain
Focus: Honoring Carol V. Robinson's Election to the National Academy of Sciences: Research Article
Abstract
The kinase-inducible domain (KIX) of the transcriptional coactivator CBP binds multiple transcriptional regulators through two allosterically connected sites. Establishing a method for observing activator-specific KIX conformations would facilitate the discovery of drug-like molecules that capture specific conformations and further elucidate how distinct activator-KIX complexes produce differential transcriptional effects. However, the transient and low to moderate affinity interactions between activators and KIX are difficult to capture using traditional biophysical assays. Here, we describe a collision-induced unfolding-based approach that produces unique fingerprints for peptides bound to each of the two available sites within KIX, as well as a third fingerprint for ternary KIX complexes. Furthermore, we evaluate the analytical utility of unfolding fingerprints for KIX complexes using CIUSuite, and conclude by speculating as to the structural origins of the conformational families created from KIX:peptide complexes following collisional activation.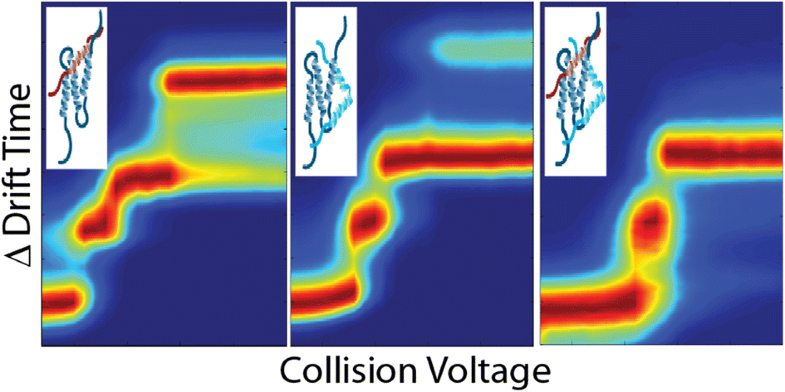 Keywords
Transcriptional coactivator 
Protein:protein interaction 
Inhibitor 
Ion mobility 
Native mass spectrometry 
Notes
Acknowledgments
The authors would like to acknowledge Daniel Polasky for his assistance with the in-house data extraction software. The development of CIU technologies in the Ruotolo lab is supported by the National Science Foundation (CAREER, 1253384). JML was supported by NIH F31GM113561 and NIH 3RO1 GM65530 (to A.K.M.).
Copyright information
© American Society for Mass Spectrometry 2018