Native Top-Down Mass Spectrometry and Ion Mobility Spectrometry of the Interaction of Tau Protein with a Molecular Tweezer Assembly Modulator
Abstract
Native top-down mass spectrometry (MS) and ion mobility spectrometry (IMS) were applied to characterize the interaction of a molecular tweezer assembly modulator, CLR01, with tau, a protein believed to be involved in a number of neurodegenerative disorders, including Alzheimer's disease. The tweezer CLR01 has been shown to inhibit aggregation of amyloidogenic polypeptides without toxic side effects. ESI-MS spectra for different forms of tau protein (full-length, fragments, phosphorylated, etc.) in the presence of CLR01 indicate a primary binding stoichiometry of 1:1. The relatively high charging of the protein measured from non-denaturing solutions is typical of intrinsically disordered proteins, such as tau. Top-down mass spectrometry using electron capture dissociation (ECD) is a tool used to determine not only the sites of post-translational modifications but also the binding site(s) of non-covalent interacting ligands to biomolecules. The intact protein and the protein-modulator complex were subjected to ECD-MS to obtain sequence information, map phosphorylation sites, and pinpoint the sites of inhibitor binding. The ESI-MS study of intact tau proteins indicates that top-down MS is amenable to the study of various tau isoforms and their post-translational modifications (PTMs). The ECD-MS data point to a CLR01 binding site in the microtubule-binding region of tau, spanning residues K294-K331, which includes a six-residue nucleating segment PHF6 (VQIVYK) implicated in aggregation. Furthermore, ion mobility experiments on the tau fragment in the presence of CLR01 and phosphorylated tau reveal a shift towards a more compact structure. The mass spectrometry study suggests a picture for the molecular mechanism of the modulation of protein-protein interactions in tau by CLR01.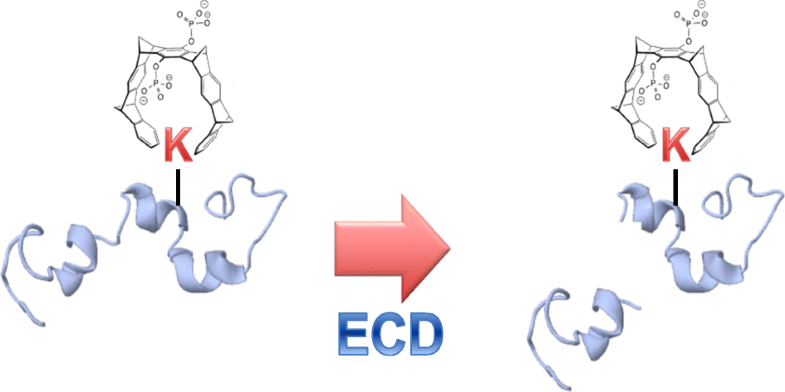 Keywords
Electrospray ionization 
Electron capture dissociation 
Native mass spectrometry 
Top-down mass spectrometry 
Tau 
Tweezer 
Notes
Acknowledgments
The authors would like to thank Dr. Hong Nguyen (UCLA) for help with data processing and Dr. Jing Di (UCLA) for providing the tau samples and sample information.
Funding Information
Support from the US National Institutes of Health (R01GM103479, S10RR028893, S10OD018504 to J.A.L.; RF1AG054000, R01AG050721 to G.B.), the Development and Promotion of Science and Technology Talents Project (DPST) and Royal Thai Government (to P.W.), the Rachadapisek Sompot Fund, Chulalongkorn University (to P.W.), and the US Department of Energy (DE-FC02-02ER63421 to J.A.L.) are gratefully acknowledged. A.B. and M.E. were supported by CRC1093 and EH 100/19-1 from Deutsche Forschungsgemeinschaft.
Copyright information
© American Society for Mass Spectrometry 2018