Gas Chromatography-Tandem Mass Spectrometry of Lignin Pyrolyzates with Dopant-Assisted Atmospheric Pressure Chemical Ionization and Molecular Structure Search with CSI:FingerID
Abstract
Dopant-assisted atmospheric pressure chemical ionization (dAPCI) is a soft ionization method rarely used for gas chromatography-mass spectrometry (GC-MS). The current study combines GC-dAPCI with tandem mass spectrometry (MS/MS) for analysis of a complex mixture such as lignin pyrolysis analysis. To identify the structures of volatile lignin pyrolysis products, collision-induced dissociation (CID) MS/MS using a quadrupole time-of-flight mass spectrometer (QTOFMS) and pseudo MS/MS through in-source collision-induced dissociation (ISCID) using a single stage TOFMS are utilized. To overcome the lack of MS/MS database, Compound Structure Identification (CSI):FingerID is used to interpret CID spectra and predict best matched structures from PubChem library. With this approach, a total of 59 compounds were positively identified in comparison to only 22 in NIST database search of GC-EI-MS dataset. This study demonstrates the effectiveness of GC-dAPCI-MS/MS to overcome the limitations of traditional GC-EI-MS analysis when EI-MS database is not sufficient.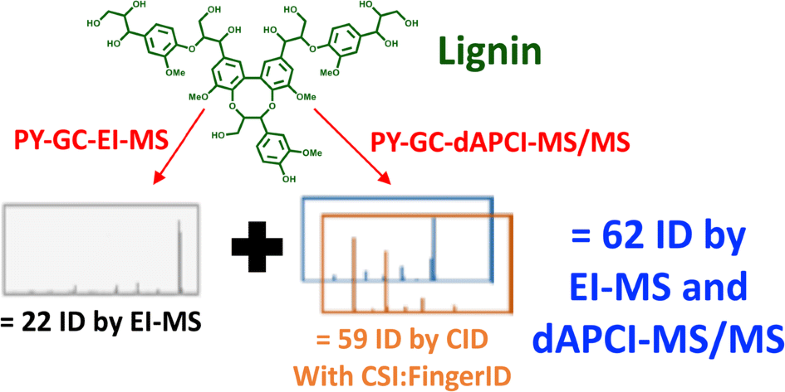 Keywords
Lignin 
Pyrolysis 
Tandem mass spectrometry 
Dopant assistance 
Atmospheric pressure chemical ionization 
GC-MS 
CSI:FingerID 
Molecular structure prediction 
Notes
Acknowledgements
Additional thanks to Steve Veysey and Kamel Harrata in the Iowa State Chemical Instrumentation Facility for instrumentation help.
Funding Information
This work is supported by National Science Foundation, Division of Chemical, Bioengineering, Environmental and Transport Systems, Energy for Sustainability Program.
Copyright information
© American Society for Mass Spectrometry 2018