Development and Evaluation of a Reverse-Entry Ion Source Orbitrap Mass Spectrometer
Focus: Honoring Carol V. Robinson's Election to the ational Academy of Sciences: Research Article
Abstract
As a step towards development of a high-resolution ion mobility mass spectrometer using the orbitrap mass analyzer platform, we describe herein a novel reverse-entry ion source (REIS) coupled to the higher-energy C-trap dissociation (HCD) cell of an orbitrap mass spectrometer with extended mass range. Development of the REIS is a first step in the development of a drift tube ion mobility-orbitrap MS. The REIS approach retains the functionality of the commercial instrument ion source which permits the uninterrupted use of the instrument during development as well as performance comparisons between the two ion sources. Ubiquitin (8.5 kDa) and lipid binding to the ammonia transport channel (AmtB, 126 kDa) protein complex were used as model soluble and membrane proteins, respectively, to evaluate the performance of the REIS instrument. Mass resolution obtained with the REIS is comparable to that obtained using the commercial ion source. The charge state distributions for ubiquitin and AmtB obtained on the REIS are in agreement with previous studies which suggests that the REIS-orbitrap EMR retains native structure in the gas phase.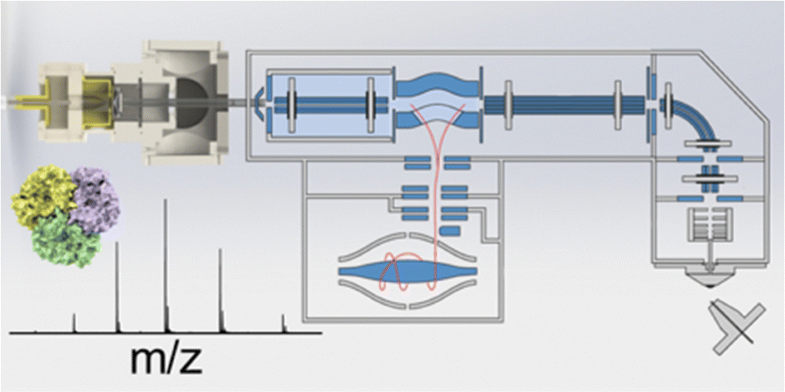 Keywords
Orbitrap 
Exactive 
Instrument development 
Ion source 
Membrane protein 
Notes
Acknowledgments
We wish to thank Will Seward of the Chemistry Department Machine Shop for the fabrication of all custom instrumentation, Greg Matthijetz of the Laboratory for Biological Mass Spectrometry for his electronics expertise, Junho Jeon for his design and development of the RF ion funnel, and Alexander Makarov for numerous helpful discussions relating to interfacing drift tube ion mobility to the orbitrap.
Funding Information
Funding for this work was provided by the National Science Foundation (CHE-1707675) and the National Institutes of Health (DP2GM123486 and GM121751-01A1).
Copyright information
© American Society for Mass Spectrometry 2018