Applications of Direct Injection Soft Chemical Ionisation-Mass Spectrometry for the Detection of Pre-blast Smokeless Powder Organic Additives
Abstract
Analysis of smokeless powders is of interest from forensics and security perspectives. This article reports the detection of smokeless powder organic additives (in their pre-detonation condition), namely the stabiliser diphenylamine and its derivatives 2-nitrodiphenylamine and 4-nitrodiphenylamine, and the additives (used both as stabilisers and plasticisers) methyl centralite and ethyl centralite, by means of swab sampling followed by thermal desorption and direct injection soft chemical ionisation-mass spectrometry. Investigations on the product ions resulting from the reactions of the reagent ions H3O+ and O2+ with additives as a function of reduced electric field are reported. The method was comprehensively evaluated in terms of linearity, sensitivity and precision. For H3O+, the limits of detection (LoD) are in the range of 41–88 pg of additive, for which the accuracy varied between 1.5 and 3.2%, precision varied between 3.7 and 7.3% and linearity showed R2 ≥ 0.9991. For O2+, LoD are in the range of 72 to 1.4 ng, with an accuracy of between 2.8 and 4.9% and a precision between 4.5 and 8.6% and R2 ≥ 0.9914. The validated methodology was applied to the analysis of commercial pre-blast gun powders from different manufacturers.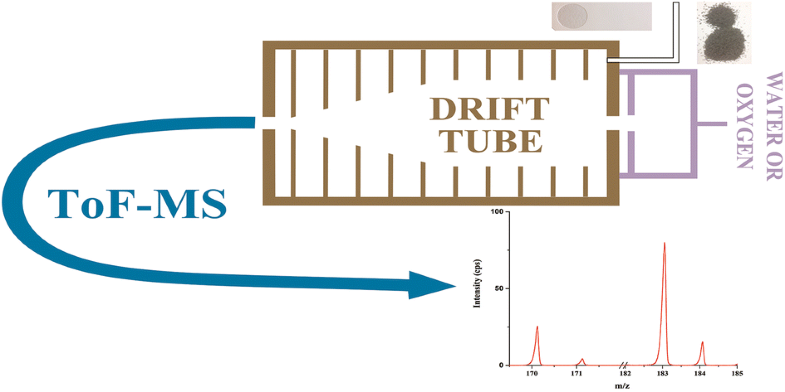 Keywords
Soft chemical ionisation-mass spectrometry 
SCIMS 
Proton transfer reaction mass spectrometry 
PTR-MS 
Smokeless powders 
Smokeless powder additives 
Notes
Acknowledgements
RGM is an early-stage researcher who acknowledges the support of the PIMMS Initial Training Network which in turn is supported by the European Commission's Seventh Framework Programme under Grant Agreement Number 287382.
Copyright information
© American Society for Mass Spectrometry 2019