Abstract
The Cryphonectriaceae (Diaporthales, Ascomycota) is an important family of fungi including endophytes and pathogens. These fungi cause cankers on trees and can shift hosts between genera and families in the Myrtales. They represent an understudied group in Southeast Asia, where species of Eucalyptus are grown for plantation forestry. Cankers on species of Eucalyptus were surveyed in Sabah, Malaysia, and their causal agents identified. Two species in the Cryphonectriaceae were isolated from Eucalyptus grandis in the Sipitang and Tawau provinces. These fungi were identified based on morphology and a phylogenetic species hypothesis using the internal transcribed spacer regions, the large subunit regions of ribosomal DNA, and the β–tubulin 1 and 2 gene regions. One species identified as Chrysoporthe deuterocubensis is a first report for Malaysia. The other species represented a new taxon, named here as Myrtoporthe bodenii gen. et sp. nov. Pathogenicity tests showed that both Chr. deuterocubensis and M. bodenii were pathogenic to E. grandis and E. deglupta and that M. bodenii is pathogenic to E. pellita. Myrtoporthe bodenii was equally as pathogenic as the well-known canker pathogen Chr. deuterocubensis and it should be regarded as a biosecurity concern.
This is a preview of subscription content, log in to check access.
Access options
Buy single article
Instant unlimited access to the full article PDF.
US$ 39.95
Price includes VAT for USA
Subscribe to journal
Immediate online access to all issues from 2019. Subscription will auto renew annually.
US$ 99
This is the net price. Taxes to be calculated in checkout.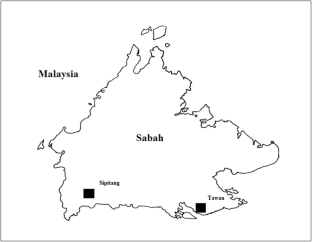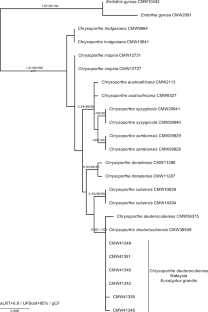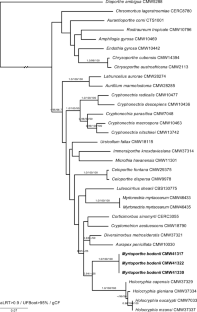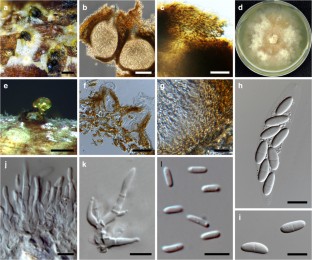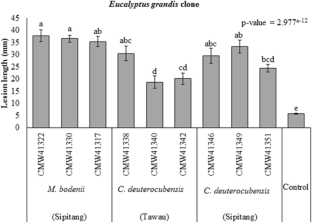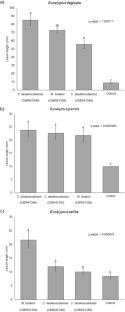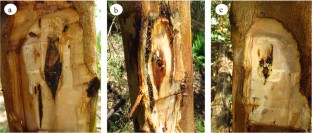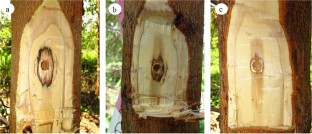 Data availability
The two sequence based datasets generated during and/or analysed during the current study are available in TreeBASE (accession no: 24362) at https://www.treebase.org/.
References
Anagnostakis SL (1987) Chestnut blight: the classical problem of an introduced pathogen. Mycologia 79:23–37

Barua SK, Lehtonen P, Pahkasalo T (2014) Plantation vision: potentials, challenges and policy options for global industrial forest plantation development. Int Forest Rev 16:117–127

Chen SF, Gryzenhout M, Roux J, Xie YJ, Wingfield MJ, Zhou XD (2010) Identification and pathogenicity of Chrysoporthe cubensis on Eucalyptus and Syzygium spp. in South China. Plant Dis 94:1143–1150

Chen SF, Gryzenhout M, Roux J, Xie Y, Wingfield MJ, Zhou X (2011) Novel species of Celoporthe from Eucalyptus and Syzygium trees in China and Indonesia. Mycologia 103:1384–1410

Chen SF, Liu QL, Li GQ, Wingfield MJ, Roux J (2018) A new genus of Cryphonectriaceae isolated from Lagerstroemia speciosa in southern China. Plant Pathol 67:107–123

Chen SF, Wingfield MJ, Li GQ, Liu FF (2016) Corticimorbus sinomyrti gen. et sp. nov. (Cryphonectriaceae) pathogenic to native Rhodomyrtus tomentosa (Myrtaceae) in South China. Plant Pathol 65:1254–1266

Cheewangkoon R, Groenewald JZ, Summerell BA, Hyde KD, To-Anun C, Crous PW (2009) Myrtaceae, a cache of fungal biodiversity. Persoonia 23:55–85

Crous PW, Wingfield MJ, Burgess TI, Hardy GESJ, Barber PA, Alvarado P, Barnes CW, Buchanan PK, Heykoop M, Moreno G, Thangavel R, van der Spuy S, Barili A, Barrett S, Cacciola SO, Cano-Lira JF, Crane C, Decock C, Gibertoni TB, Guarro J, Guevara-Suarez M, Hubka V, Kolařík M, Lira CRS, Ordoñez ME, Padamsee M, Ryvarden L, Soares AM, Stchigel AM, Sutton DA, Vizzini A, Weir BS, Acharya K, Aloi F, Baseia IG, Blanchette RA, Bordallo JJ, Bratek Z, Butler T, Cano-Canals J, Carlavilla JR, Chander J, Cheewangkoon R, Cruz RHSF, da Silva M, Dutta AK, Ercole E, Escobio V, Esteve-Raventós F, Flores JA, Gené J, Góis JS, Haines L, Held BW, Jung MH, Hosaka K, Jung T, Jurjević Ž, Kautman V, Kautmanova I, Kiyashko AA, Kozanek M, Kubátová A, Lafourcade M, La Spada F, Latha KPD, Madrid H, Malysheva EF, Manimohan P, Manjón JL, Martín MP, Mata M, Merényi Z, Morte A, Nagy I, Normand AC, Paloi S, Pattison N, Pawłowska J, Pereira OL, Petterson ME, Picillo B, Raj KNA, Roberts A, Rodríguez A, Rodríguez-Campo FJ, Romański M, Ruszkiewicz-Michalska M, Scanu B, Schena L, Semelbauer M, Sharma R, Shouche YS, Silva V, Staniaszek-Kik M, Stielow JB, Tapia C, Taylor PWJ, Toome-Heller M, Vabeikhokhei JMC, van Diepeningen AD, Van Hoa N, Van Tri M, Wiederhold NP, Wrzosek M, Zothanzama J, Groenewald JZ (2017) Fungal Planet description sheets: 558–624. Persoonia 38:240–384

de Mendiburu F (2013) Statistical procedures for agricultural research. Package 'Agricolae' version 1.4-4. Comprehensive R Archive Network, Institute for Statistics and Mathematics, Vienna, Austria. https://cran.r-project.org/web/packages/agricolae/agricolae.pdf. Accessed 7 June 2018

Glass NL, Donaldson GC (1995) Development of primer sets designed for use with the PCR to amplify conserved genes from filamentous ascomycetes. Appl Environ Microb 61:1323–1330

Gryzenhout M, Myburg H, van der Merwe NA, Wingfield BD, Wingfield MJ (2004) Chrysoporthe, a new genus to accommodate Cryphonectria cubensis. Stud Mycol 50:119–141

Gryzenhout M, Myburg H, Hodges CS, Wingfield BD, Wingfield MJ (2006a) Microthia, Holocryphia and Ursicollum, three new genera on Eucalyptus and Coccoloba for fungi previously known as Cryphonectria. Stud Mycol 55:35–52

Gryzenhout M, Myburg H, Wingfield BD, Wingfield MJ (2006b) Cryphonectriaceae (Diaporthales), a new family including Cryphonectria, Chrysoporthe, Endothia and allied genera. Mycologia 98:239–249

Gryzenhout M, Tarigan M, Clegg PA, Wingfield MJ (2010) Cryptometrion aestuescens gen. sp. nov. (Cryphonectriaceae) pathogenic to Eucalyptus in Indonesia. Australas. Plant Pathol 39:161–169

Guindon S, Dufayard JF, Lefort V, Anisimova M, Hordijk W, Gascuel O (2010) New algorithms and methods to estimate maximum-likelihood phylogenies: assessing the performance of PhyML 3.0. Syst Biol 59:307–321

Heath RN, Gryzenhout M, Roux J, Wingfield MJ (2006) Discovery of the canker pathogen Chrysoporthe austroafricana on native Syzygium spp. in South Africa. Plant Dis 90:433–438

Hoang DT, Chernomor O, von Haeseler A, Minh BQ, Vinh LS (2018) UFBoot2: improving the ultrafast bootstrap approximation. Mol Biol Evol 35:518–522

Kearse M, Moir R, Wilson A, Stones-Havas S, Cheung M, Sturrock S, Buxton S, Cooper A, Markowitz S, Duran C, Thierer T, Ashton B, Meintjes P, Drummond A (2012) Geneious Basic: an integrated and extendable desktop software platform for the organization and analysis of sequence data. Bioinformatics 28:1647–1649

Kumar S, Stecher G, Tamura K (2016) MEGA7: molecular evolutionary genetics analysis version 7.0 for bigger datasets. Mol Biol Evol 33:1870–1874

Mausse-Sitoe SND, Rodas CA, Wingfield MJ, Chen SF, Roux J (2016) Endophytic Cryphonectriaceae on native Myrtales: possible origin of Chrysoporthe canker on plantation-grown Eucalyptus. Fungal Biol 120:827–835

Minh BQ, Hahn M, Lanfear R (2018) New methods to calculate concordance factors for phylogenomic datasets. bioRxiv:487801

Möller EM, Bahnweg G, Sandermann H, Geiger HH (1992) A simple and efficient protocol for isolation of high molecular weight DNA from filamentous fungi, fruit bodies, and infected plant tissues. Nucleic Acids Res 20:6115–6116

Nakabonge G, Gryzenhout M, Roux J, Wingfield BD, Wingfield MJ (2006) Celoporthe dispersa gen. et sp. nov. from native Myrtales in South Africa. Stud Mycol 55:255–267

Nguyen L-T, Schmidt HA, von Haeseler A, Minh BQ (2015) IQ-TREE: a fast and effective stochastic algorithm for estimating maximum-likelihood phylogenies. Mol Biol Evol 32:268–274

Pegg GS, Gryzenhout M, O'Dwyer C, Drenth A, Wingfield MJ (2010) The Eucalyptus canker pathogen Chrysoporthe cubensis discovered in eastern Australia. Australas Plant Pathol 39:343–349

Rodas CA, Gryzenhout M, Myburg H, Wingfield BD, Wingfield MJ (2005) Discovery of the Eucalyptus pathogen Chrysoporthe cubensis on native Miconia (Melastomataceae) in Colombia. Plant Pathol 54:460–470

Slippers B, Stenlid J, Wingfield MJ (2005) Emerging pathogens: fungal host jumps following anthropogenic introduction. Trends Ecol Evolut 20:420–421

van der Merwe NA, Gryzenhout M, Steenkamp ET, Wingfield BD, Wingfield MJ (2010) Multigene phylogenetic and population differentiation data confirm the existence of a cryptic species within Chrysoporthe cubensis. Fungal Biol. 114:966–979

van der Merwe NA, Steenkamp ET, Rodas C, Wingfield BD, Wingfield MJ (2013) Host switching between native and non-native trees in a population of the canker pathogen Chrysoporthe cubensis from Colombia. Plant Pathol 62:642–648

Vermeulen M, Gryzenhout M, Wingfield MJ, Roux J (2011) New records of the Cryphonectriaceae from southern Africa including Latruncellus aurorae gen. sp. nov. Mycologia 103:554–569

Vilgalys R, Hester M (1990) Rapid genetic identification and mapping of enzymatically amplified ribosomal DNA from several Cryptococcus species. J Bacteriol 172:4238–4246

White TJ, Bruns T, Lee S, Taylor JW (1990) Amplification and direct sequencing of fungal ribosomal RNA genes for phylogenetics. In: Innis MA, Gelfand DH, Sninsky JJ, White TJ (eds) PCR protocols: a guide to methods and applications. Academic Press Inc., New York, pp 315–322

Wingfield MJ (2003) 2003 Daniel McAlpine memorial lecture. Increasing threat of diseases to exotic plantation forests in the Southern Hemisphere: lessons from Cryphonectria canker. Australas Plant Pathol 32:133–139
Acknowledgements
We thank members of the Tree Protection Co-operative Programme (TPCP) and Sabah Softwoods Berhad (SSB) for financial support to undertake this study. Mr. Mahadir Lapammu, Mr. Agustan Alwi and Mr. Manisi Lamuda and their team are also thanked for their assistance in conducting field studies. Mr. Edmund Gan, Mr. Reydzuan Yong, Mr. Jimmy and Mr. Guy Thornton are acknowledged for logistic support. Dr. DongHyeon Lee provided invaluable assistance with data management and analyses. Dr. Runlei Chang and Ms. Ginna Granados provided guidance with laboratory studies and data analyses.
About this article
Cite this article
Rauf, M.R.B.A., McTaggart, A.R., Marincowitz, S. et al. Pathogenicity of Chrysoporthe deuterocubensis and Myrtoporthe bodenii gen. et sp. nov. on Eucalyptus in Sabah, Malaysia. Australasian Plant Pathol. 49, 53–64 (2020). https://doi.org/10.1007/s13313-019-00676-6
Received:

Accepted:

Published:

Issue Date:
Keywords
Cryphonectria canker

Diaporthales

Eucalyptus

Myrtaceae

Tree disease