Abstract
The orthotospovirus, capscium chlorosis virus (CaCV) was shown to be common and widespread in the weed host Ageratum conyzoides in eastern coastal regions of Queensland, Australia with up to 92% of plants infected. This is the first report of A. conyzoides being an important host of CaCV in Australia. CaCV was also found as natural infections of Arachis hypogaea (peanut), Ananas comosus (pineapple), Sonchus oleraceus, Tagetes minuta and Emilia sonchifolia. This is the first report of CaCV infecting pineapple and being associated with severe disease symptoms. Thrips palmi, Frankliniella schultzei and Microcephalothrips abdominalis were shown to transmit CaCV while no transmission was achieved using F. occidentalis.
This is a preview of subscription content, log in to check access.
Access options
Buy single article
Instant unlimited access to the full article PDF.
US$ 39.95
Price includes VAT for USA
Subscribe to journal
Immediate online access to all issues from 2019. Subscription will auto renew annually.
US$ 99
This is the net price. Taxes to be calculated in checkout.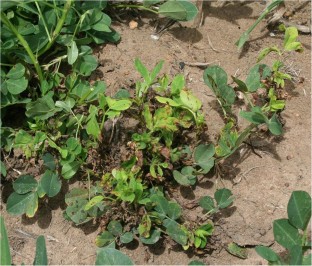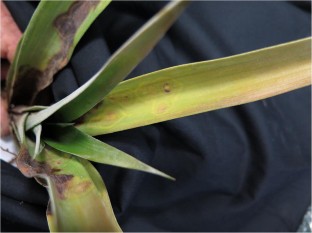 References
Abbott D (2002) IPM strategy to reduce tomato spotted wilt virus (TSWV) in the dry tropics. Horticulture Australia Ltd, Sydney

Adams MJ, Lefkowitz EJ, King AMQ, Harrach B, Harrison RL, Knowles NJ, Kropinski AM, Krupovic M, Kuhn JH, Mushegian AR, Nibert M, Sabanadzovic S, Sanfacon H, Siddell SG, Simmonds P, Varsani A, Zerbini FM, Gorbalenya AE, Davidson AJ (2017) Changes to taxonomy and the International Code of Virus Classification and Nomenclature ratified by the International Committee on Taxonomy of Viruses. Arch Virol 162(8):2505–2538. https://doi.org/10.1007/s00705-017-3358-5

Bayat H, Hassani-Mehraban A, Safaei N, Shams-bakhsh M (2018) Molecular and biological characterization of an isolate of capsicum chlorosis virus from Iran. J Plant Pathol 100(2):163–170. https://doi.org/10.1007/s42161-018-0047-5

Chen CC, Huang CH, Chen TC, Yeh SD, Cheng YH, Hsu HT, Chang CA (2007a) First report of capsicum chlorosis virus causing yellow stripes on calla lilies in Taiwan. Plant Dis 91(9):1201–1201. https://doi.org/10.1094/PDIS-91-9-1201C

Chen K, Xu Z, Yan L, Wang G (2007b) Characterization of a new strain of Capsicum chlorosis virus from peanut (Arachis hypogaea L.) in China. J Phytopathol 155:178–181

Chiaki Y, Kubota K, Tomitaka Y, Usugi T, Sakurai T (2019) Transmission of capsicum chlorosis virus by Thrips palmi (Thysanoptera: Thripidae). Appl Entomol Zool:1–5. https://doi.org/10.1007/s13355-019-00649-7

Cooke T, Persley DM, House S (2009) Diseases of fruit crops in Australia. CSIRO Publishing, Collingwood, VIC

Greber RS, Klose MJ, Teakle DS, Milne JR (1991) High incidence of Tobacco streak virus in tobacco and its transmission by Microcephalothrips abdominalis and pollen from Ageratum houstonianum. Plant Dis 75:450–452. https://doi.org/10.1094/PD-75-0450

ICTV (2018) International Committee on Taxonomy of Viruses Master List 2018b.v2. https://talk.ictvonline.org/files/master-species-lists/. Accessed 21 Sept 2019

Illingworth JF (1931) Yellow spot of pineapple in Hawaii. Phytopathology 21:865–880

Jones DR (2005) Plant viruses transmitted by thrips. Eur J Plant Pathol 113:119–157. https://doi.org/10.1007/s10658-005-2334-1

Jones RAC, Sharman M (2005) Capsicum chlorosis virus infecting Capsicum annuum in the East Kimberley region of Western Australia. Australas Plant Pathol 34:397–399. https://doi.org/10.1071/AP05026

King AMQ, Adams MJ, Carstens EB, Lefkowitz EJ (2012) Virus taxonomy: ninth report of the international committee on taxonomy of viruses. Elsevier Acedemic Press, San Diego

Kumar S, Stecher G, Tamura K (2016) MEGA7: molecular evolutionary genetics analysis version 7.0 for bigger datasets. Mol Biol Evol 33(7):1870–1874. https://doi.org/10.1093/molbev/msw054

Kunkalikar S, Poojari S, Rajagopalan P, Zehr UB, Naidu RA, Kankanallu RS (2007) First report of capsicum chlorosis virus in tomato in India. Plant Health Progress. https://doi.org/10.1094/PHP-2007-1204-01-BR

Linford MB (1932) Transmission of the pineapple yellow-spot virus by Thrips tabaci. Phytopathology 22:301–324

Melzer MJ, Shimabukuro J, Long MH, Nelson SC, Alvarez AM, Borth WB, Hu JS (2014) First report of capsicum chlorosis virus infecting waxflower (Hoya calycina Schlecter) in the United States. Plant Dis 98(4):571–571. https://doi.org/10.1094/PDIS-06-13-0588-PDN

Mound LA (2005) Oriental tomato thrips. http://www.padil.gov.au/pests-and-diseases/pest/main/136407. Accessed 11 Sep 2019

Oliver JE, Whitfield AE (2016) The genus Tospovirus: emerging Bunyaviruses that threaten food security. Annu Rev Virol 3(1):101–124. https://doi.org/10.1146/annurev-virology-100114-055036

Orfanidou CG, Boutsika A, Tsiolakis G, Winter S, Katis NI, Maliogka VI (2018) Capsicum chlorosis virus: a new viral pathogen of pepper in Greece. Plant Disease 103(2). https://doi.org/10.1094/PDIS-06-18-0961-PDN

Parrella G, Gognalons P, Gebre-Selassie K, Vovlas C, Marchoux G (2003) An update of the host range of tomato spotted wilt virus. J Plant Pathol 85(4):227–264

Persley DM, Thomas JE, Sharman M (2006) Tospoviruses - an Australian perspective. Australas Plant Pathol 35(2):161–180. https://doi.org/10.1071/AP06015

Premachandra WTSD, Borgemeister C, Maiss E, Knierim D, Poehling H-M (2005) Ceratothripoides claratris, a new vector of a Capsicum chlorosis virus isolate infecting tomatoes in Thailand. Phytopathology 95(6):659–663. https://doi.org/10.1094/PHYTO-95-0659

Reddy DVR, Amin PW, McDonald D, Chanekar AM (1983) Epidemiology and control of groundnut bud necrosis and other diseases of legume crops in India caused by tomato spotted wilt virus. In: Plumb RT, Thresh JM (eds) Plant Virus Epidemiology. The spread and control of insect-borne viruses. Blackwell, Melbourne

Reddy DVR, Ratna AS, Sudarshana MR, Poul F, Kiran Kumar I (1992) Serological relationships and purification of bud necrosis virus, a tospovirus occurring in peanut (Arachis hypogaea L.) in India. Ann Appl Biol 120(2):279–286. https://doi.org/10.1111/j.1744-7348.1992.tb03425.x

Reddy DVR, Wightman JA, Beshear RJ, Highland B, Black M, Sreenivasulu P, Dwivedi SL, Demski JW, McDonald D, Smith JJW, Smith DH (1991) Bud necrosis: a disease of groundnut caused by Tomato spotted wilt virus. Information bulletin no. 31. International crop research Centre for the Semi Arid Tropics, Patancheru, Andhra Pradesh, India

Riley DG, Joseph SV, Srinivasan R, Diffie S (2011) Thrips vectors of tospoviruses. J Integr Pest Manage 2(1):I1–I10. https://doi.org/10.1603/ipm10020

Rohrbach KG, Johnson MW (2003) Pests, diseases and weeds. In: Bartholomew DP, Paull RE, Rohrbach KG (eds) The pineapple. Botany, production and uses. CABI publishing, New York

Rotenberg D, Jacobson AL, Schneweis DJ, Whitfield AE (2015) Thrips transmission of tospoviruses. Curr Opin Virol 15:80–89. https://doi.org/10.1016/j.coviro.2015.08.003

Sakimura K (1940) Evidence for the identity of the yellow-spot virus with the spotted-wilt virus : experiments with the vector, Thrips tabaci. Phytopathology 30(4):281–299

Sharman M (2015) Epidemiology and genetic diversity of Tobacco streak virus and related subgroup 1 ilarviruses. PhD thesis, University of Queensland

Sharman M, Thomas JE (2013) Genetic diversity of subgroup 1 ilarviruses from eastern Australia. Arch Virol 158(8):1637–1647. https://doi.org/10.1007/s00705-013-1628-4

Ullman DE, Sherwood JL, German TL (1997) Thrips as vectors of plant pathogens. In: Lewis T (ed) Thrips as crop pests. CAB International, Wallingford, pp 539–565

Walsh B (2004) Management options for controlling melon thrips in vegetable crops. Horticulture Australia Ltd, Sydney

Widana Gamage S, Persley DM, Higgins CM, Dietzgen RG (2015) First complete genome sequence of a capsicum chlorosis tospovirus isolate from Australia with an unusually large S RNA intergenic region. Arch Virol 160(3):869–872. https://doi.org/10.1007/s00705-014-2324-8

Yeh SD, Lin YC, Cheng YH, Jih CL, Chen MJ, Chen CC (1992) Identification of tomato spotted wilt-like virus on watermelon in Taiwan. Plant Dis 76:835–840. https://doi.org/10.1094/PD-76-0835

Yu J, Xue J-H, Zhou S-L (2011) New universal matK primers for DNA barcoding angiosperms. J Syst Evol 49(3):176–181. https://doi.org/10.1111/j.1759-6831.2011.00134.x

Zhang Z, Schwartz S, Wagner L, Miller W (2000) A greedy algorithm for aligning DNA sequences. J Comput Biol 7:203–214. https://doi.org/10.1089/10665270050081478

Zhou J, Kantartzi SK, Wen RH, Newman M, Hajimorad MR, Rupe JC, Tzanetakis IE (2011) Molecular characterization of a new tospovirus infecting soybean. Virus Genes 43(2):289–295. https://doi.org/10.1007/s11262-011-0621-9

Zhou J, Tzanetakis IE (2013) Epidemiology of soybean vein necrosis-associated virus. Phytopathology 103(9):966–971. https://doi.org/10.1094/PHYTO-12-12-0322-R
Acknowledgements
Ms. Bronwyn Walsh (DAF) provided colonies of T. palmi and F. occidentalis. Mr. Chris Monsoir (Bowen Crop Monitoring Pty Ltd) provided a colony of F. schultzei. Mr. Colin Scott provided samples of diseased pineapple and surrounding ageratum. Ms. Visnja Steele and Dr. Peter Vukovic provided technical support. This work was supported by the Cooperative Research Centre for Tropical Plant Protection, DAFQ and the Grains Research and Development Corporation (project DAQ00186).
About this article
Cite this article
Sharman, M., Thomas, J.E., Tree, D. et al. Natural host range and thrips transmission of capsicum chlorosis virus in Australia. Australasian Plant Pathol. 49, 45–51 (2020). https://doi.org/10.1007/s13313-019-00675-7
Received:

Accepted:

Published:

Issue Date:
Keywords
Host range

Epidemiology

ELISA

RT-PCR