Emerging Strategies in the Treatment of Duchenne Muscular Dystrophy
Abstract
Duchenne muscular dystrophy (DMD) is a progressive X-linked degenerative muscle disease due to mutations in the DMD gene. Genetic confirmation has become standard in recent years. Improvements in the standard of care for DMD have led to improved survival. Novel treatments for DMD have focused on reducing the dystrophic mechanism of the muscle disease, modulating utrophin protein expression, and restoring dystrophin protein expression. Among the strategies to reduce the dystrophic mechanisms are 1) inhibiting inflammation, 2) promoting muscle growth and regeneration, 3) reducing fibrosis, and 4) facilitating mitochondrial function. The agents under investigation include a novel steroid, myostatin inhibitors, idebenone, an anti-CTGF antibody, a histone deacetylase inhibitor, and cardiosphere-derived cells. For utrophin modulation, AAV-mediated gene therapy with GALGT2 is currently being investigated to upregulate utrophin expression. Finally, the strategies for dystrophin protein restoration include 1) nonsense readthrough, 2) synthetic antisense oligonucleotides for exon skipping, and 3) AAV-mediated micro/minidystrophin gene delivery. With newer agents, we are witnessing the use of more advanced biotechnological methods. Although these potential breakthroughs provide significant promise, they may also raise new questions regarding treatment effect and safety.
Keywords
Duchenne muscular dystrophy 
Dystrophin 
Gene therapy 
Introduction
Duchenne muscular dystrophy (DMD) is an X-linked recessive disorder that affects approximately 1 in 5000 live male births [1, 2]. It was first described in detail in the 1860s by the French neurologist Guillaume-Benjamin-Amand Duchenne [3]. Patients with Duchenne muscular dystrophy usually exhibit motor symptoms within the first 3 years of life. Most commonly, they may have a "waddling" gait that results from hip-girdle weakness and require the use of their hands when they get up from the floor (Gower's maneuver). Serum creatine kinase (CK) levels are typically markedly elevated [4].
The disease is due to an absence of the dystrophin protein in the skeletal muscle membrane, and muscles lacking dystrophin are more susceptible to mechanical injury. Absence of dystrophin may be demonstrated by the absence of immunostaining for dystrophin on muscle biopsy. Genetic testing, however, has become more readily available in recent years and has become the standard method of diagnostic confirmation. Typically, genetic testing starts with screening for duplications or deletions either by multiplex ligation-dependent probe amplification (MLPA) or by microarray analysis. If duplication/deletion testing is negative, then sequencing of all 79 exons is performed to detect missense, nonsense, splice site, and small indel mutations [5]. This analysis will not detect intronic mutations and rearrangements, however, and these cases may require muscle biopsy to demonstrate the absence of dystrophin. If available, RNA sequencing may be performed on the muscle tissue to identify the specific intronic mutation or rearrangement.
DMD is considered a multisystem disease [4, 5, 6]. As the patient ages, there is progressive muscle weakness, respiratory insufficiency, musculoskeletal deformities, and cardiomyopathy. In addition, cognitive impairment, autism spectrum disorder, and behavior problems are not uncommonly seen but are not progressive. Progressive pulmonary insufficiency and orthopedic issues are a direct result of the progressive skeletal muscle weakness; cardiomyopathy and cognitive/behavioral issues, however, are most likely a result of aberrant dystrophin expression in these tissues. The degree of cardiomyopathy or cognitive/behavioral impairment, however, is variable and is often not correlated with the degree of skeletal muscle involvement. It is not exactly clear what would contribute to this variability; genetic modifiers are likely to play some role, and the location of the mutation within the DMD gene and the effect on specific isoforms of dystrophin may also play some role in determining the phenotypic profile.
Dystrophin and the DMD Gene
Approximately 125 years after Duchenne described the disease, it was linked to the
DMD
gene [
7
] on the X chromosome and demonstrated to encode a 427-kDa protein appropriately named dystrophin [
8
]. This protein is characterized by an N-terminal actin binding domain, a central rod domain, and a C-terminal domain (see Fig. 
1
) that binds to a membrane-bound protein complex known as the dystrophin-associated glycoprotein complex. The rod domain is comprised of 24 spectrin-like repeats, interspersed with 4 hinge domains (see Fig. 
1
).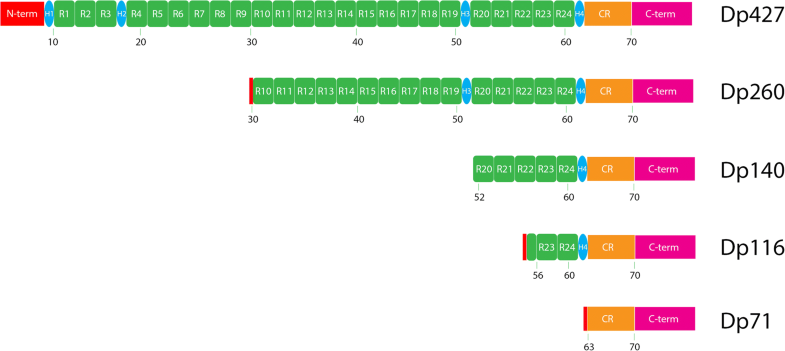 The DMD gene is considered one of the largest genes in the human genome, and many mutations have been reported. De novo mutations appear to be common, with estimates ranging between 12 and 33% of patients with DMD [9, 10, 11]. Estimates of the prevalence of different mutation types vary, but recent reports suggest that, among DMD patients, 69% have large deletions, 11% have large duplications, 10% have nonsense mutations, 7% have missense or small indels, and another 3% have intronic or other mutations [12]. Monaco et al. [13] proposed that deletions [within the central rod domain] that preserve the reading frame hypothesis would likely result in a milder Becker muscular dystrophy (BMD) phenotype, whereas deletions that disrupt the reading frame are likely to result in a severe DMD phenotype. This reading frame hypothesis has been shown to be valid in about 91% of 4700 patients entered into the Leiden database that was collecting genotypes and phenotypes of DMD mutations [14].
There are several isoforms of the dystrophin protein that have been described and are driven by different promoters (see Fig. 1). These isoforms include the variants of the canonical Dp427—expressed in lymphocytes, the brain, and muscle and driven by promoters upstream of exon 1 [7, 15]; Dp260—expressed in the retina and driven by a promoter upstream of exon 30 [16]; Dp140—expressed in the brain and kidney and driven by a promoter upstream of exon 45 [17]; Dp116—expressed in Schwann cells and driven by a promoter upstream of exon 56 [18]; and Dp71—ubiquitously expressed and driven by a promoter upstream of exon 63 [19]. Thus, the location of the mutation within the DMD gene may determine the phenotypic profile of the patient through differential expression of these isoforms.
Although the reading frame is useful in predicting the severity of skeletal muscle weakness, there is still some phenotypic variability within the prediction. Genetic modifiers are likely to contribute some role in this phenotypic variability, and SPP1 and LTB4, among others, have been reported to modify the phenotype of DMD [20].
Treatment for Duchenne Muscular Dystrophy
As standards of care for DMD have evolved, survival has also improved [21]. Updated care considerations for DMD have recently been published [4, 5, 6]. Among the standards of care discussed, oral glucocorticoids, cardiac management, pulmonary management, vaccinations, physical therapy and orthopedic care, nutritional management, and bone health are often highlighted. The goals of these care considerations are to improve long-term survival, maintain mobility and independence, and improve overall quality of life.
The development of validated outcome measures for DMD has helped to improve clinical trial methodology for newer agents under investigation. These agents can be categorized into 3 strategies: 1) reducing the dystrophic mechanisms of disease, 2) modulating utrophin protein expression, and 3) restoring dystrophin protein expression. Reviewed here are the current approaches that have been approved for use or are still under investigation (Table
1
).
Table 1
Agents under investigation for Duchenne muscular dystrophy
Category

Agent

Description

Anti-inflammatory

Vamorolone

Novel steroid analog with a potentially favorable side-effect profile

Edasalonexent

NF-κB inhibitor

Myostatin

Domagrozumab

Humanized monoclonal antibody against myostatin, leading to muscle growth/regeneration

Talditercept alfa

Human IgG1(Fc)–adnectin fusion that binds myostatin, leading to muscle growth/regeneration

Others

Idebenone

Facilitating mitochondrial function and metabolism

Givinostat

HDAC inhibitor, potentially leading to anti-inflammatory, anti-fibrotic, and regenerative effects

Pamrevlumab

Human monoclonal antibody against connective tissue growth factor (CTGF), anti-fibrotic

CAP-1002

Allogenic cardiosphere-derived cells

Utrophin modulation

rAAVrh74.MCK.GALGT2

Gene therapy with GALGT2 to modulate utrophin expression

Dystrophin protein restoration

Ataluren

Nonsense suppression

Golodirsen

Exon 53 skipping, PMO chemistry

Casimersen

Exon 45 skipping, PMO chemistry

SRP-5051

Exon 51 skipping, PPMO chemistry

NS-065

Exon 53 skipping, PMO chemistry

WVE-210201

Exon 51 skipping, stereo-pure phosphorothioate chemistry

DS-5141b

Exon 45 skipping, 2′-4′-ethylene-bridge nucleic acid/2′-OMe-RNA chemistry

rAAVrh74.MHCK7.Micro-dystrophin

Microdystrophin gene therapy, AAVrh74 vector

SGT-001

Microdystrophin gene therapy, AAV9 vector

PF-06939926

Minidystrophin gene therapy, AAV9 vector
Conclusion
Dystrophin-restoring therapies have become an important strategy in the treatment of DMD. Synthetic antisense oligonucleotide-mediated exon skipping continues to be a significant strategy, with newer and possibly more pharmacodynamically favorable chemistries under investigation. The latest development to enter clinical trials is gene replacement therapy with micro/minidystrophin. Although there is great interest in this therapy, there are still questions regarding immunity, host integration, and durability of these therapies. Even in the most optimistic scenarios, however, dystrophin-restoring therapies will still exhibit some disease progression. Other strategies for treating DMD are also under investigation, including anti-inflammatory mechanism, promoting muscle growth and regeneration, and anti-fibrotic mechanisms. These strategies remain important as they will likely remain complementary treatments to any dystrophin-restoring therapies.
With validated outcome measures for ambulatory DMD patients, we are now able to test new treatments in well-designed clinical trials, and the number of studies has grown significantly over the past 10 years. The growth in the number of clinical trials, however, has created a relative shortage of potential research subjects that are still ambulatory and able to participate in these studies. Outcome measures for younger patients as well as older, nonambulatory patients are also being developed and validated to help broaden the spectrum of DMD patients that can be studied.
Required Author Forms
Disclosure forms provided by the authors are available with the online version of this article.
Copyright information
© The American Society for Experimental NeuroTherapeutics, Inc. 2018