Abstract
Breast cancer (BC) is the most frequent cancer among women, impacting 2.1 million women each year and having caused 627,000 deaths in 2018. In Italy, BC represents the first cancer diagnosis with 53,000 new cases in 2019 and the first cause of mortality for cancer among the female population. Breast implants represent the first reconstructive choice after mastectomy: in Italy, 411,000 prostheses have been implanted since 2010 and more than 95% of them are macro-texturized. The attempt to reduce complications such as capsular contracture, rotation and rupture of the prosthesis and the most recent BIA-ALCL association with macro-texturized implants have led to the development of new materials and the refinement of implants' coating techniques. We carried out a 1-year prospective single-centre study to evaluate patient-reported quality of life (QoL) and aesthetic outcomes after breast reconstructive surgery using two different prostheses: shaped micro-textured implants and round smooth implants. We treated 62 patients with radical or conservative mastectomy followed by reconstructive surgery performed with 44 shaped implants and 48 round implants. Quality of life evaluated through the Breast-Q®-questionnaire showed high scores of psycho-social well being in both groups, as well as pre- and post-operative aesthetic satisfaction and physical well being. Round smooth implants appear to be better in terms of softness, volume and less association with rippling, whereas shaped micro-textured implants prove to be better in the profile delineation. This study confirms the potentialities of both shaped micro-textured and round smooth implants in reconstructive surgery.
This is a preview of subscription content, log in to check access.
We're sorry, something doesn't seem to be working properly.
Please try refreshing the page. If that doesn't work, please contact support so we can address the problem.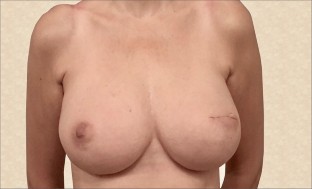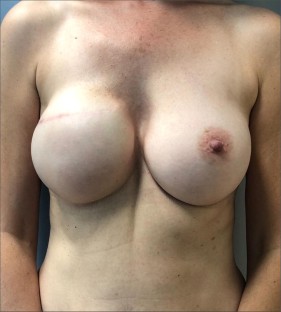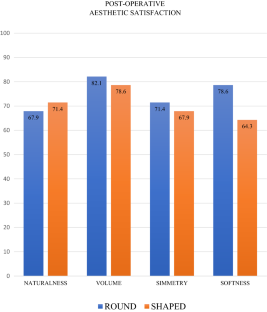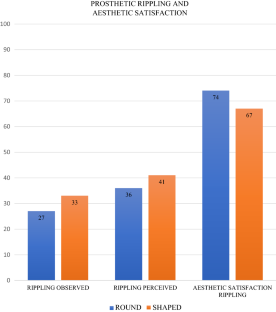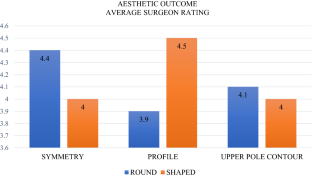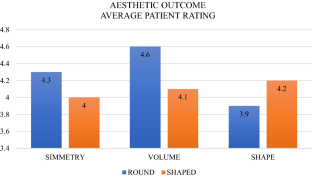 References
1.

Waks AG, Winer EP (2019) Breast cancer treatment: a review. JAMA 321:288–300

2.

Seely JM, Alhassan T (2018) Screening for breast cancer in 2018—what should we be doing today? Curr Oncol 25:S115–S124

3.

Momenimovahed Z, Salehiniya H (2019) Epidemiological characteristics of and risk factors for breast cancer in the world. Breast Cancer Targets Ther 11:151–164

4.

Tot T, Gere M, Hofmeyer S, Bauer A, Pellas U (2019) The clinical value of detecting microcalcifications on a mammogram. Semin Cancer Biol. https://doi.org/10.1016/j.semcancer.2019.10.024

5.

Løberg M, Lousdal ML, Bretthauer M, Kalager M (2015) Benefits and harms of mammography screening. Breast Cancer Res 17:63. https://doi.org/10.1186/s13058-015-0525-z

6.

Buonomo O, Granai AV, Felici A, Piccirillo R, De Liguori Carino N, Guadagni F, Polzoni M, Mariotti S, Cipriani C, Simonetti G, Cossu E, Schiaroli S, Altomare V, Cabassi A, Pernazza E, Casciani CU, Roselli M (2002) Day-surgical management of ductal carcinoma in situ (DCIS) of the breast using wide local excision with sentinel node biopsy. Tumori 88:S48–S49

7.

Buonomo O, Cabassi A, Guadagni F, Piazza A, Felici A, Piccirillo R, Atzei GP, Cipriani C, Schiaroli S, Mariotti S, Guazzaroni MN, Cossu E, Simonetti G, Pernazza E, Casciani CU, Roselli M (2001) Radioguided-surgery of early breast lesions. Anticancer Res 21:2091–2097

8.

Vanni G, Materazzo M, Perretta T, Meucci R, Anemona L, Buonomo C, Dauri M, Granai AV, Rho M, Ingallinella S, Tacconi F, Ambrogi V, Chiaravalloti A, Schillaci O, Petrella G, Buonomo OC (2019) Impact of awake breast cancer surgery on postoperative lymphocyte responses. In Vivo (Brooklyn) 33:1879–1884. https://doi.org/10.21873/invivo.11681

9.

Tokin C, Weiss A, Wang-Rodriguez J, Blair SL (2012) Oncologic safety of skin-sparing and nipple-sparing mastectomy: a discussion and review of the literature. Int J Surg Oncol 2012:921821. https://doi.org/10.1155/2012/921821

10.

Franceschini G, Visconti G, Garganese G, Barone-Adesi L, Di Leone A, Sanchez AM, Terribile D, Salgarello M, Masetti R (2019) Nipple-sparing mastectomy combined with endoscopic immediate reconstruction via axillary incision for breast cancer: A preliminary experience of an innovative technique. Breast J. https://doi.org/10.1111/tbj.13529([Epub ahead of print] PubMed PMID: 31498531)

11.

Endara M, Chen D, Verma K, Nahabedian MY, Spear SL (2013) Breast reconstruction following nipple-sparing mastectomy: a systematic review of the literature with pooled analysis. Plast Reconstr Surg 132:1043–1054

12.

Calì Cassi L, Vanni G, Petrella G, Orsaria P, Pistolese C, Lo Russo G, Innocenti M, Buonomo O (2016) Comparative study of oncoplastic versus non-oncoplastic breast conserving surgery in a group of 211 breast cancer patients. Eur Rev Med Pharmacol Sci 20:2950–2954

13.

Hedén P, Montemurro P, Adams WP, Germann G, Scheflan M, Maxwell GP (2015) Anatomical and round breast implants: how to select and indications for use. Plast Reconstr Surg 136:263–272. https://doi.org/10.1097/PRS.0000000000001474

14.

PatrickMaxwell G, Gabriel A (2017) Breast implant design. Gland Surg 6:148–153. https://doi.org/10.21037/gs.2016.11.09

15.

Pusic AL, Klassen AF, Snell L, Cano SJ, McCarthy C, Scott A, Cemal Y, Rubin LR, Cordeiro PG (2012) Measuring and managing patient expectations for breast reconstruction: impact on quality of life and patient satisfaction. Expert Rev Pharmacoecon Outcomes Res 12:149–158

16.

Quinn TT, Miller GS, Rostek M, Cabalag MS, Rozen WM, Hunter-Smith DJ (2016) Prosthetic breast reconstruction: indications and update. Gland Surg 5:174–186

17.

American Society of Plastic Surgeons 2018 Plastic Surgery Statistics Report

18.

Nahabedian MY (2019) The bioengineered prosthetic breast reconstruction: advancements, evidence, and outcomes. Gland Surg 8:271–282

19.

Unger JG, Keller PR (2019) Tradeoffs in implant selection for reconstructive surgery and adjuncts utilized to maximize aesthetic outcomes. Plast Reconstr Surg 144:51S–59S. https://doi.org/10.1097/PRS.0000000000005950

20.

Mempin M, Hu H, Chowdhury D, Deva A, Vickery K (2018) The A, B and C's of silicone breast implants: anaplastic large cell lymphoma, biofilm and capsular contracture. Materials (Basel). https://doi.org/10.3390/ma11122393

21.

Pool SMW, Wolthuizen R, Mouës-Vink CM (2018) Silicone breast prostheses: a cohort study of complaints, complications, and explantations between 2003 and 2015. J Plast Reconstr Aesthetic Surg 71:1563–1569. https://doi.org/10.1016/j.bjps.2018.07.010

22.

Wang C, Luan J, Panayi AC, Orgill DP, Xin M (2018) Complications in breast augmentation with textured versus smooth breast implants: a systematic review protocol. BMJ Open 8:1–4. https://doi.org/10.1136/bmjopen-2017-020671

23.

Rastogi P, Riordan E, Moon D, Deva AK (2019) Theories of etiopathogenesis of breast implant-associated anaplastic large cell lymphoma. Plast Reconstr Surg 143:23S–29S. https://doi.org/10.1097/PRS.0000000000005566

24.

James GA, Boegli L, Hancock J, Bowersock L, Parker A, Kinney BM (2019) Bacterial adhesion and biofilm formation on textured breast implant shell materials. Aesthetic Plast Surg 43:490–497. https://doi.org/10.1007/s00266-018-1234-7

25.

De Boer M, Van Leeuwen FE, Hauptmann M, Overbeek LIH, De Boer JP, Hijmering NJ, Sernee A, Klazen CAH, Lobbes MBI, Van Der Hulst RRWJ, Rakhorst HA, De Jong D (2018) Breast implants and the risk of anaplastic large-cell lymphoma in the breast. JAMA Oncol 4:335–341. https://doi.org/10.1001/jamaoncol.2017.4510

26.

Campanale A, Boldrini R, Marletta M (2018) 22 cases of breast implant-associated ALCL. Plast Reconstr Surg 141:11e–19e. https://doi.org/10.1097/PRS.0000000000003916

27.

Campanale A, Boldrini R (2018) Reply: 22 cases of breast implant-associated alcl: awareness and outcome tracking from the Italian Ministry of Health. Plast Reconstr Surg 141:779e

28.

Coates AS, Winer EP, Goldhirsch A, Gelber RD, Gnant M, Piccart-Gebhart MJ, Thürlimann B, Senn HJ, André F, Baselga J, Bergh J, Bonnefoi H, Burstein H, Cardoso F, Castiglione-Gertsch M, Colleoni M, Curigliano G, Davidson NE, Di Leo A, Ejlertsen B, Forbes JF, Galimberti V, Goodwin P, Harbeck N, Hayes DF, Huober J, Hudis CA, Ingle JN, Jassem J, Jiang Z, Karlsson P, Morrow M, Orecchia R, Kent Osborne C, Partridge AH, de la Peña L, Pritchard KI, Rutgers EJT, Sedlmayer F, Semiglazov V, Shao ZM, Smith I, Toi M, Tutt A, Viale G, von Minckwitz G, Watanabe T, Whelan T, Xu B (2015) Tailoring therapies-improving the management of early breast cancer: St Gallen international expert consensus on the primary therapy of early breast cancer 2015. Ann Oncol 26:1533–1546. https://doi.org/10.1093/annonc/mdv221

29.

Orsaria P, Chiaravalloti A, Fiorentini A, Pistolese C, Vanni G, Granai AV, Varvaras D, Danieli R, Schillaci O, Petrella G, Buonomo OC (2017) PET Probe-guided surgery in patients with breast cancer: Proposal for a methodological approach. In Vivo (Brooklyn) 31:101–110. https://doi.org/10.21873/invivo.11031

30.

Orsaria P, Chiaravalloti A, Caredda E, Marchese PV, Titka B, Anemona L, Portarena I, Schillaci O, Petrella G, Palombi L, Buonomo OC (2018) Evaluation of the usefulness of FDG-PET/CT for nodal staging of breast cancer. Anticancer Res 38:6639–6652. https://doi.org/10.21873/anticanres.13031

31.

Bernardini R, Varvaras D, D'Amico F, Bielli A, Scioli MG, Coniglione F, Rossi P, Buonomo OC, Petrella G, Mattei M, Orlandi A (2019) Biological acellular pericardial mesh regulated tissue integration and remodeling in a rat model of breast prosthetic implantation. J Biomed Mater Res Part B Appl Biomater. https://doi.org/10.1002/jbm.b.34413

32.

Perdanasari AT, Abu-Ghname A, Raj S, Winocour SJ, Largo RD (2019) Update in direct-to-implant breast reconstruction. Semin Plast Surg 33:264–269. https://doi.org/10.1055/s-0039-1697028

33.

One-stage immediate implant-based breast reconstruction, using biological matrices after conservative mastectomies: Preliminary experience of the University Hospital of Tor Vergata, Rome | Request PDF. https://www.researchgate.net/publication/316884863_One-stage_immediate_implant-based_breast_reconstruction_using_biological_matrices_after_conservative_mastectomies_Preliminary_experience_of_the_University_Hospital_of_Tor_Vergata_Rome. Accessed 25 Nov 2019

34.

Imahiyerobo TA, Small KH, Sackeyfio R, Hoffman H, Talmor M (2017) Transition from round to shaped implants in immediate breast reconstruction: our preferred approach and clinical outcomes. Aesthetic Plast Surg 41:284–292. https://doi.org/10.1007/s00266-016-0738-2

35.

Orsaria P, Caredda E, Genova F, Materazzo M, Capuano I, Vanni G, Granai AV, de Majo A, Portarena I, Sileri P, Petrella G, Palombi L, Buonomo OC (2018) Additional nodal disease prediction in breast cancer with sentinel lymph node metastasis based on clinicopathological features. Anticancer Res 38:2109–2117. https://doi.org/10.21873/anticanres.12451

36.

Orsaria P, Varvaras D, Vanni G, Pagnani G, Scaggiante J, Frusone F, Granai AV, Petrella G, Buonomo OC (2014) Nodal status assessment in breast cancer: strategies of clinical grounds and quality of life implications. Int J Breast Cancer 2014:1–8. https://doi.org/10.1155/2014/469803

37.

Alderman A, Pusic A, Murphy DK (2016) Prospective analysis of primary breast augmentation on body image using the BREAST-Q: results from a nationwide study. Plast Reconstr Surg 137:954e–960e. https://doi.org/10.1097/PRS.0000000000002183
Ethics declarations
Conflict of interest
The authors declare that they have no competing interests.
Ethical approval
The Institutional Review Board of Policlinico Tor Vergata Foundation waived the need for a formal approval because of the clinical nature of the study with no evidence of detrimental effect or clinical risk for the patients.
Informed constent
All patients signed written informed consent for participation in the study.
Additional information
Publisher's Note
Springer Nature remains neutral with regard to jurisdictional claims in published maps and institutional affiliations.
About this article
Cite this article
Buonomo, O.C., Morando, L., Materazzo, M. et al. Comparison of round smooth and shaped micro-textured implants in terms of quality of life and aesthetic outcomes in women undergoing breast reconstruction: a single-centre prospective study. Updates Surg (2020). https://doi.org/10.1007/s13304-020-00721-w
Received:

Accepted:

Published:
Keywords
Breast implants

Aesthetical outcome

Quality of life

Breast cancer