Abstract
Fishing is a dangerous and financially risky way to make a living, but it attracts many participants that prefer it to higher paying and safer jobs. Based on a survey of over 1400 U.S. West Coast fishing vessel owners we use factor analysis and structural equation modeling to quantify distinct latent variables representing job satisfaction related to non-monetary versus monetary aspects of fishing and measures of identity and social capital associated with being a fisher. We show that these latent variables have distinct effects on (stated) fishery participation behavior and that higher non-monetary job satisfaction, social capital, and identity, are associated with a willingness to forgo higher income to be a fisher. Understanding how these factors affect and are affected by participation in fisheries could be important to increase benefits from fisheries and to ensure sustainability of management regimes that rely on indirect controls on effort to limit catch.
This is a preview of subscription content, log in to check access.
Access options
Buy single article
Instant unlimited access to the full article PDF.
US$ 39.95
Price includes VAT for USA
Subscribe to journal
Immediate online access to all issues from 2019. Subscription will auto renew annually.
US$ 99
This is the net price. Taxes to be calculated in checkout.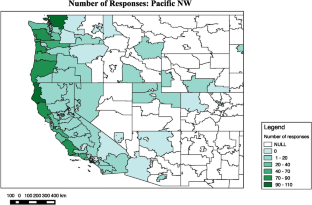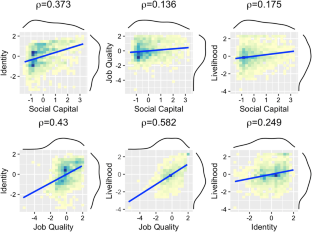 Notes
1.

This question allowed fishers to choose from 5 ascending ranges of pay increase for the outside employment (1–10% more, 11–25% more, 26-50% more, 50-100% more, >100% more) as well as an option to say "they would never choose another job."

2.

We also estimated an ordered logit model. Qualitative results in terms of significance and sign are unchanged. However, we prefer the OLS model for its simplicity of interpretation.
References
Akerlof, G.A., and R.E. Kranton. 2000. Economics and identity. Quarterly Journal of Economics 115: 715–753.

Akerlof, G.A., and R.E. Kranton. 2005. Identity and the economics of organizations. Journal of Economic Perspectives 19: 9–32.

Anderson, L.G. 1980. Necessary components of economic surplus in fisheries economics. Canadian Journal of Fisheries and Aquatic Sciences 37: 858–870.

Apostle, R., L. Kasdan, and A. Hanson. 1985. Work satisfaction and community attachment among fishermen in Southwest Nova Scotia. Canadian Journal of Fisheries and Aquatic Sciences 42: 256–267.

Binkely, M. 1995. Risks, dangers and rewards in the nova scotia offshore fishery. Montreal: McGill-Queen's University Press.

Bodin, O., and B.I. Crona. 2009. The role of social networks in natural resource governance: What relational patterns make a difference? Global Environmental Change 19: 366–374.

Breslow, S.J., B. Sojka, R. Barnea, X. Basurto, C. Carothers, S. Charnley, S. Coulthard, N. Dolšak, et al. 2016. Conceptualizing and operationalizing human wellbeing for ecosystem assessment and management. Environmental Science & Policy 66: 250–259.

Bureau of Labor Statistics. 2011. National census of fatal occupational injuries in 2010 (preliminary results). Washington, DC: US Department of Labor.

Cinner, J.E., T. Daw, and T.R. McClanahan. 2009. Socioeconomic factors that affect artisanal fishers' readiness to exit a declining fishery. Conservation Biology 23: 124–130.

Coulthard, S., D. Johnson, and J.A. McGregor. 2011. Poverty, sustainability and human wellbeing: A social wellbeing approach to the global fisheries crisis.". Global Environmental Change 21: 453–463.

Crosson, S. 2015. Anticipating exit from North Carolina's commercial fisheries. Society & Natural Resources 28: 797–806.

Dasgupta, R. 2005. Economics of social capital. The Economic Record 81: S2–S21.

Dillman, D.A. 1978. Mail and telephone surveys: The total design method, vol. 19. New York: Wiley.

Durrenberger, E.P. 1997. Fisheries management models: Assumptions and realities or, why shrimpers in Mississippi are not firms. Human Organization 56: 158–166.

Gatewood, J.B. 1984. Cooperation, competition, and synergy: Information-sharing groups among southeast Alaskan salmon seiners. American Ethnologist 11: 350–370.

Gatewood, J.B., and B. McCay. 1990. Comparison of job satisfaction in six New Jersey fisheries. Human Organization 49: 14–25.

Grafton, R.Q. 2005. Social capital and fisheries governance. Ocean and Coastal Management 48: 753–766.

Grootaert, C., D. Narayan, V.N. Jones, and M. Woolcock. 2004. Measuring social capital: An integrated questionnaire. Washington, DC: The World Bank.

Hall-Arber, M., C. Dyer, J. Poggie, J. McNally, and R. Gagne. 2001. New England's fishing communities. Cambridge, MA: MIT Sea Grant College Program.

Hanna, S.S., and C.L. Smith. 1993. Attitudes of trawl vessel captains about work, resource use, and fishery management. North American Journal of Fisheries Management 13: 367–375.

Hicks, C.C., A. Levine, A. Agrawal, X. Basurto, S.J. Breslow, C. Carothers, S. Charnley, S. Coulthard, et al. 2016. Engage key social concepts for sustainability. Science 352: 38–40.

Holgado-Tello, F.P., S. Chacón-Moscoso, I. Barbero-García, and E. Vila-Abad. 2010. Polychoric versus Pearson correlations in exploratory and confirmatory factor analysis of ordinal variables. Quality & Quantity 44: 153.

Holland, D.S., A. Kitts, P. Pinto da Silva, and J. Wiersma. 2013. Social capital and the success of harvest cooperatives in the New England groundfish fishery. Marine Resource Economics 28: 133–153.

Holland, D.S., C. Speir, J. Agar, S. Crosson, G. DePiper, S. Kasperski, A.W. Kitts, and L. Perruso. 2017. Impact of catch shares on diversification of fishers' income and risk. Proceedings of the National Academy of Sciences 114: 9302–9307.

Jentoft, S. 2000. The community: A missing link of fisheries management. Marine Policy 24: 53–60.

Johnston, R.J., M.H. Ranson, E.Y. Besedin, and E.C. Helm. 2006. What determines willingness to pay per fish? A meta-analysis of recreational fishing values. Marine Resource Economics 21: 1–32.

Kasperski, S., and D.S. Holland. 2013. Income diversification and risk for fishermen. Proceedings of the National Academy of Science. 100: 2076–2081.

Krishna, A., and E. Shrader. 2002. The social capital assessment tool: Design and implementation. In Understanding and measuring social capital: A multidisciplinary tool for practitioners, ed. C. Grootaert and T. van Bastelaer, 17–40. Washington, DC: The World Bank.

Orth, G.C. 1987. Fishing in Alaska, and the sharing of information. American Ethnologist 14: 377–379.

Plagányi, E.E., I. van Putten, T. Hutton, R.A. Deng, D. Dennis, S. Pascoe, T. Skewes, and R.A. Campbell. 2013. Integrating indigenous livelihood and lifestyle objectives in managing a natural resource. Proceedings of the National Academy of Science 110: 3639–3644.

Poe, M.R., K.C. Norman, and P.S. Levin. 2014. Cultural dimensions of socioecological systems: Key connections and guiding principles for conservation in coastal environments. Conservation Letters 7: 166–175.

Poggie, J.J., and C. Gersuny. 1974. Fishermen of Galilee. Marine Bulletin Series No. 17. University of Rhode Island, Kingston, RI.

Pollnac, R.B., C. Gersuny, and J.J. Poggie. 1975. Economic gratification patterns of fishermen and millworkers in New England. Human Organization 34: 1–7.

Pollnac, R.B., and J.J. Poggie. 1988. The structure of job satisfaction among New England fishermen and its application to fisheries management policy. American Anthropologist 90: 888–901.

Pollnac, R.B., and J.J. Poggie. 2006. Job Satisfaction in the fishery in two southeast Alaskan towns. Human Organization 65: 329–339.

Pollnac, R.B., T. Seara, and L.L. Colburn. 2015. Aspects of fishery management, job satisfaction, and well-being among commercial fishermen in the northeast region of the United States. Society and Natural Resources: An International Journal 28: 75–92.

Putnam, R. 2000. Bowling alone: The collapse and revival of American Community. New York: Simon and Schuster.

Ramirez-Sanchez, S., and E. Pinkerton. 2009. The impact of resource scarcity on bonding and bridging social capital: The case of fishers' information-sharing networks in Loreto, BCS, Mexico. Ecology and Society 14: 22.

Schumann, S., and S. Macinko. 2007. Subsistence in coastal fisheries policy: What's in a word? Marine Policy 31: 706–718.

Smith, C.L. 1981. Satisfaction bonus from salmon fishing: Implications for management. Land Economics 57: 181–196.

Smith, C.L., and S.S. Hanna. 1993. Occupation and community as determinants of fishing behaviors. Human Organization 52: 299–303.

Van Ginkel, R. 2001. Inshore fishermen: Cultural dimensions of a maritime occupation. In Inshore fisheries management, ed. D. Symes and J. Philipson, 177–193. Dordrecht: Kluwer Academic Publishers.
Acknowledgements
This work was funded by the National Science Foundation (Grant Number 1616821) and by the National Oceanic and Atmospheric Administration (NOAA), Funding sources were not involved in the study design, analysis, or writing of this paper or the decision to submit the article for publication. We thank Melissa Poe (Washington Sea Grant) who helped design and implement the mail survey used to collect data for this analysis.
Additional information
Publisher's Note
Springer Nature remains neutral with regard to jurisdictional claims in published maps and institutional affiliations.
Electronic supplementary material
Below is the link to the electronic supplementary material.
About this article
Cite this article
Holland, D.S., Abbott, J.K. & Norman, K.E. Fishing to live or living to fish: Job satisfaction and identity of west coast fishermen. Ambio 49, 628–639 (2020). https://doi.org/10.1007/s13280-019-01206-w
Received:

Revised:

Accepted:

Published:

Issue Date:
Keywords
Factor analysis

Fisheries

Identity

Job satisfaction

Social capital

Well being