Abstract
Backgrounds
Propylparaben is one of the most commonly used preservatives in pharmaceuticals, food items, and personal care products. However, growing evidence demonstrates that propylparaben has a harmful effect on various human tissues. In this study, we investigated the cytotoxic effects of propylparaben on the human placental cell line, BeWo.
Objective
We investigated whether propylparaben caused placental cell death using relevant cytotoxic endpoints, including cell viability, proliferation, cell cycle, and apoptosis, in BeWo cells. However, instead of using conventional methods of protein analysis from pooled samples, we precisely quantified protein expression at the single cell level by flow cytometric analysis.
Results
Propylparaben significantly reduced cell viability in a dose-dependent manner. It induced cell cycle arrest at the sub-G1 phase by reducing the expression levels of cyclin D1, whereas the cell population at the G0/G1 and S-phases was decreased. Furthermore, propylparaben induced apoptosis by enhancing the activity of caspase-3.
Conclusion
Collectively, our results suggest that propylparaben causes cytotoxic effects in human placental BeWo cells by inducing cell cycle arrest and apoptosis.
This is a preview of subscription content, log in to check access.
Access options
Buy single article
Instant access to the full article PDF.
US$ 39.95
Price includes VAT for USA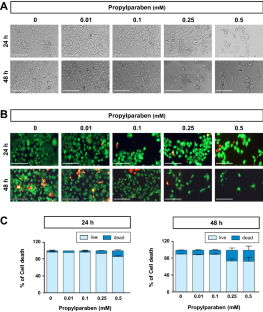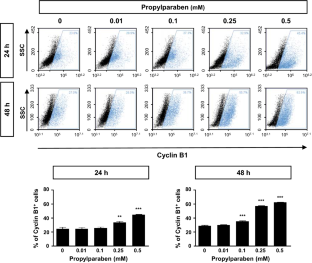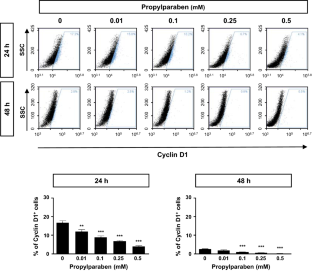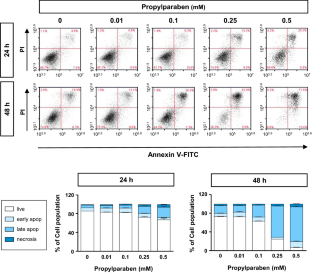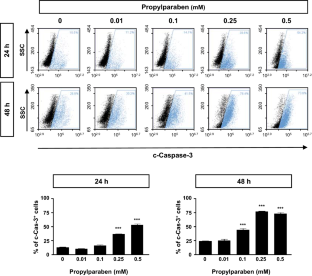 References
Ahn HJ et al (2012) Parabens inhibit the early phase of folliculogenesis and steroidogenesis in the ovaries of neonatal rats. Mol Reprod Dev 79:626–636

Andersen A (2008) Final amended report on the safety assessment of metylparaben, ethylparaben, propylparaben, isopropylparaben, butylparaben, isobutylparaben, and Benzylparaben as used in cosmentic products. Int J Toxicol 27:1–82

Blair RM et al (2000) The estrogen receptor relative binding affinities of 188 natural and xenochemicals. Toxicol Sci 54:138–153

Bledzka D, Gromadzinska J, Wasowicz W (2014) Parabens. From environmental studies to human health. Environ Int 67:27–42

Dubey D et al (2017) Photosensitized methyl paraben induces apoptosis via caspase dependent pathway under ambient UVB exposure in human skin cells. Food Chem Toxicol 108:171–185

EFSA (2004) Opinion of the Scientific Panel on Food Additives, Flavourings, Processing Aids and Materials in Contact with Food on a request from the Commission related to para hydroxybenzoates. EFSA J 83:1–26

Gazin V, Marsden E, Marguerite F (2013) Oral propylparaben administration to juvenile male Wistar rats did not induce toxicity in reproductive organs. Toxicol Sci 136:392–401

Giulivo M, de Alda LM, Capri E, Barcelo (2016) Human exposure to endocrine disrupting compounds: their role in reproductive systems, metabolic syndrome and breast cancer. A review. Environ Res 151:251–264

Kolatorova L, Duskova M, Vitku J, Starka L (2017) Prenatal exposure to bisphenols and parabens and impacts on human physiology. Physiol Res 66:S305–S315

Lee HA et al (2013) Longitudinal changes in offspring body weight, fat mass and sex hormone levels according to maternal bisphenol A exposure during gestation and lactation. Mol Cell Toxicol 9:285–293

Ma WL et al (2013) Urinary concentrations of Parabens in Chinese Young Adults: implications for Human Exposure. Arch Environ Contam Toxicol 65:611–618

Mathiesen L, Zuri G, Andersen MH, Knudsen LE (2013) A Proposed Study on the Transplacental Transport of parabens in the human placental perfusion model. Altern Lab Anim 41:473–482

Nakagawa Y, Moldéus P (1998) Mechanism of p-Hydroxybenzoate Ester-induced Mitochondrial dysfunction and cytotoxicity in isolated rat hepatocytes. Biochem Pharmacol 55:1907–1914

Nakagawa Y, Moore G (1999) Role of mitochondrial membrane permeability transition in p-hydroxybenzoate ester-induced Cytotoxicity in Rat hepatocytes. Biochem Pharmacol 58:811–816

Nowak K, Ratajczak-Wrona W, Gorska M, Jablonska E (2018) Parabens and their effects on the endocrine system. Mol Cell Endocrinol 474:238–251

Oishi S (2002) Effects of propyl paraben on the male reproductive system. Food Chem Toxicol 40:1807–1813

Okubo T, Yokoyama Y, Kano K, Kano I (2001) ER-dependent estrogenic activity of parabens assessed by proliferation of human breast cancer MCF-7 cells and expression of ERa and PR. Food Chem Toxicol 39:1225–1232

Perez Martin JM et al (2010) Oxidative DNA damage contributes to the toxic activity of propylparaben in mammalian cells. Mutat Res 702:86–91

Philippat C et al (2013) Prenatal exposure to environmental phenols: concentrations in amniotic fluid and variability in urinary concentrations during pregnancy. Environ Health Perspect 121:1225–1231

Rich T, Allen RL, Wyllie AH (2000) Defying death after DNA damage. Nature 407:777–783

Shaw J, de Catanzaro D (2009) Estrogenicity of parabens revisited: impact of parabens on early pregnancy and an uterotrophic assay in mice. Reprod Toxicol 28:26–31

Shekhar S et al (2017) Detection of phenolic endocrine disrupting chemicals (EDCs) from maternal blood plasma and amniotic fluid in Indian population. Gen Comp Endocrinol 241:100–107

Soni MG, Burdock GA, Tayler SL, Greenberg NA (2001) Safety assessment of propylparaben. Food Chem Toxicol 39:513–532

Soni MG, Carabin IG, Burdock GA (2005) Safety assessment of esters of p-hydroxybenzoic acid (parabens). Food Chem Toxicol 43:985–1015

Sun X, Kaufman PD (2018) Ki-67: more than a proliferation marker. Chromosoma 127:175–186

Vermeulen K, Berneman JN, Van Bockstaele DR (2003) Cell cycle and apoptosis. Cell Prolif 36:165–175

Vo TT, Yoo YM, Choi KC, Jeung EB (2010) Potential estrogenic effect(s) of parabens at the prepubertal stage of a postnatal female rat model. Reprod Toxicol 29:306–316

Wrobel AM, Gregoraszczuk EL (2014) Differential effect of methyl-, butyl- and propylparaben and 17beta-estradiol on selected cell cycle and apoptosis gene and protein expression in MCF-7 breast cancer cells and MCF-10A non-malignant cells. J Appl Toxicol 34:1041–1050

Wróbel A, Gregoraszczuk E (2013) Effects of single and repeated in vitro exposure of three forms of parabens, methyl-, butyl- and propylparabens on the proliferation and estradiol secretion in MCF-7 and MCF-10A cells. Pharmacol Rep 65:484–493

Yang C, Lim W, Bazer FW, Song G (2018) Butyl paraben promotes apoptosis in human trophoblast cells through increased oxidative stress-induced endoplasmic reticulum stress. Environ Toxicol 33:436–445

Zhang L, Zhang HY, Ma CC, Wei W, Jia LH (2014) Increased body weight induced by perinatal exposure to bisphenol A was associated with down-regulation zinc-alpha2-glycoprotein expression in offspring female rats. Mol Cell Toxicol 10:207–213
Acknowledgments
Korea Environment Industry & Technology Institute (KEITI) through "The Environmental Health Action Program" funded by Korea Ministry of Environment (MOE), Grant and Award number: 2017001360007. This research was also supported by the Chung-Ang University Research Grants in 2018. We would like to thank Editage (www.editage.co.kr) for English language editing.
Ethics declarations
Conflict of interest
Mi Jin Kim, Chul-Hong Kim, Mi-Jin An, Ju-Hyun Lee, Geun-Seup Shin, Hwang Jae Yoon, Jinhong Park, Mina Song, Hoyoung Woo, Yeong-hwa Kim, Sangmyung Rhee, and Jung-Woong Kim declare that they have no conflict of interests.
Ethical approval
The article does not contain any studies with human and animals.
Additional information
Publisher's Note
Springer Nature remains neutral with regard to jurisdictional claims in published maps and institutional affiliations.
Electronic supplementary material
Below is the link to the electronic supplementary material.
About this article
Cite this article
Kim, M.J., Kim, C., An, M. et al. Propylparaben induces apoptotic cell death in human placental BeWo cells via cell cycle arrest and enhanced caspase-3 activity. Mol. Cell. Toxicol. 16, 83–92 (2020). https://doi.org/10.1007/s13273-019-00062-9
Accepted:

Published:

Issue Date:
Keywords
Propylparaben

Apoptosis

Caspase-3

Cell cycle arrest

Human placenta cells

BeWo