Abstract
Backgrounds
PU.1 is a pioneer transcription factor and a master regulator of the myeloid lineage. However, the role of PU.1 in lipopolysaccharide-dependent microglial activation has yet to be investigated. So, this study was conducted to determine the effects of PU.1 in LPS-induced activation of microglial cells.
Methods
We knocked out PU.1 in murine BV-2 cells using the CRISPR-Cas9 system to investigate the role of PU.1 in the expression of immune-related genes. We performed RNA sequencing (RNA-seq) of PU.1 KO and BV-2 cells to analyze the gene expression patterns in PU.1 KO cells and compare them to those in wild-type BV-2 cells. The validation of differential expressions was achieved by qRT-PCR. To explore this regulatory role of PU.1, ChIP sequencing for PU.1 and H3K27Ac was performed. The sequencing result was further confirmed by ChIP-qPCR.
Results
RNA sequencing and subsequent bioinformatic analysis revealed that the expression of most of the immune-related genes was suppressed in the absence of PU.1. Proinflammatory chemokine genes were differentially expressed in LPS-treated PU.1 KO cells. The ChIP sequencing result followed by ChIP-qPCR revealed a LPS-mediated increase in the enrichment of PU.1 binding in pro-inflammatory chemokine gene promoters and enhancer regions in wild-type BV-2 cells. There was no enrichment of PU.1 in PU.1 KO cells.
Conclusion
The above-mentioned results suggest that PU.1 is directly involved in regulating the immune response and that this regulation of inflammatory chemokines is LPS-dependent. We hope that PU.1 would be an option for limiting neurodegeneration in a diverse range of neurological disorders.
This is a preview of subscription content, log in to check access.
Access options
Buy single article
Instant access to the full article PDF.
US$ 39.95
Price includes VAT for USA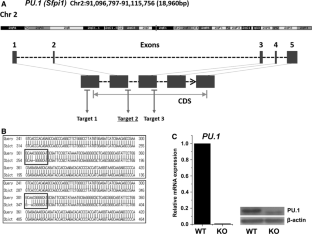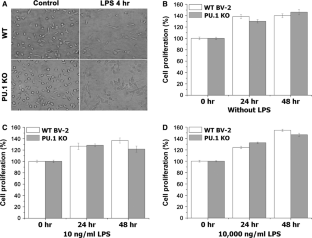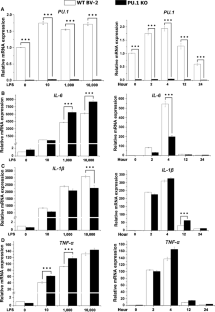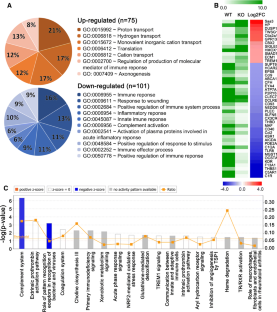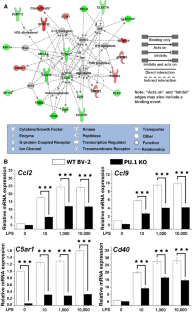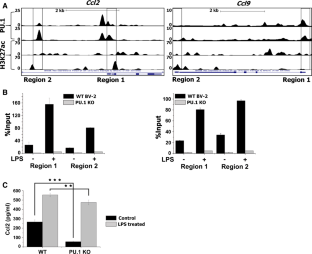 References
Crotti A et al (2014) Mutant Huntingtin promotes autonomous microglia activation via myeloid lineage-determining factors. Nat Neurosci 17:513–521. https://doi.org/10.1038/nn.3668

da Huang W, Sherman BT, Lempicki RA (2009) Systematic and integrative analysis of large gene lists using DAVID bioinformatics resources. Nat Protoc 4:44–57. https://doi.org/10.1038/nprot.2008.211

Ghisletti S et al (2010) Identification and characterization of enhancers controlling the inflammatory gene expression program in macrophages. Immunity 32:317–328. https://doi.org/10.1016/j.immuni.2010.02.008

Heinz S et al (2010) Simple combinations of lineage-determining transcription factors prime cis-regulatory elements required for macrophage and B cell identities. Mol Cell 38:576–589. https://doi.org/10.1016/j.molcel.2010.05.004

Holtman IR, Skola D, Glass CK (2017) Transcriptional control of microglia phenotypes in health and disease. J Clin Investig 127:3220–3229. https://doi.org/10.1172/JCI90604

Horvath RJ, Nutile-McMenemy N, Alkaitis MS, Deleo JA (2008) Differential migration, LPS-induced cytokine, chemokine, and NO expression in immortalized BV-2 and HAPI cell lines and primary microglial cultures. J Neurochem 107:557–569. https://doi.org/10.1111/j.1471-4159.2008.05633.x

Jeong J-W et al (2017) Fucoidan inhibits lipopolysaccharide-induced inflammatory responses in RAW 264.7 macrophages and zebrafish larvae. Mol Cell Toxicol 13:405–417. https://doi.org/10.1007/s13273-017-0045-2

Krämer A, Green J, Pollard J Jr, Tugendreich S (2013) Causal analysis approaches in ingenuity pathway analysis. Bioinformatics 30:523–530. https://doi.org/10.1093/bioinformatics/btt703

Mortazavi A, Williams BA, McCue K, Schaeffer L, Wold B (2008) Mapping and quantifying mammalian transcriptomes by RNA-Seq. Nat Methods 5:621–628. https://doi.org/10.1038/nmeth.1226

Nerlov C, Graf T (1998) PU.1 induces myeloid lineage commitment in multipotent hematopoietic progenitors. Genes Dev 12:2403–2412. https://doi.org/10.1101/gad.12.15.2403

Ostuni R et al (2013) Latent enhancers activated by stimulation in differentiated cells. Cell 152:157–171. https://doi.org/10.1016/j.cell.2012.12.018

Pradeepa MM (2017) Causal role of histone acetylations in enhancer function. Transcription 8:40–47. https://doi.org/10.1080/21541264.2016.1253529

Qian F et al (2015) The transcription factor PU.1 promotes alternative macrophage polarization and asthmatic airway inflammation. J Mol Cell Biol 7:557–567. https://doi.org/10.1093/jmcb/mjv042

Rustenhoven J et al (2018) PU1 regulates Alzheimer's disease-associated genes in primary human microglia. Mol Neurodegener 13:44. https://doi.org/10.1186/s13024-018-0277-1

Saijo K, Glass CK (2011) Microglial cell origin and phenotypes in health and disease. Nat Rev Immunol 11:775–787. https://doi.org/10.1038/nri3086

Smale ST (2010) Seq-ing LPS-induced enhancers. Immunity 32:296–298. https://doi.org/10.1016/j.immuni.2010.03.011

Smith AM et al (2013) The transcription factor PU1 is critical for viability and function of human brain microglia. Glia 61:929–942. https://doi.org/10.1002/glia.22486

Stansley B, Post J, Hensley K (2012) A comparative review of cell culture systems for the study of microglial biology in Alzheimer's disease. J Neuroinflamm 9:115. https://doi.org/10.1186/1742-2094-9-115

Trapnell C et al (2012) Differential gene and transcript expression analysis of RNA-seq experiments with TopHat and Cufflinks. Nat Protoc 7:562–578. https://doi.org/10.1038/nprot.2012.016

Walton MR et al (2000) PU.1 expression in microglia. J Neuroimmunol 104:109–115

Yashiro T et al (2019) A transcription factor PU1 is critical for Ccl22 gene expression in dendritic cells and macrophages. Sci Rep 9:1161. https://doi.org/10.1038/s41598-018-37894-9

Yeh H, Ikezu T (2019) Transcriptional and epigenetic regulation of microglia in health and disease. Trends Mol Med 25:96–111. https://doi.org/10.1016/j.molmed.2018.11.004

Yu L, Wang L, Chen S (2010) Endogenous toll-like receptor ligands and their biological significance. J Cell Mol Med 14:2592–2603. https://doi.org/10.1111/j.1582-4934.2010.01127.x
Acknowledgements
This work was supported by National Research Foundation of Korea (NRF) Grants 2017M3A9G7073033, 2017R1A2B4012905, and 2011-0030049 (to YGC) and 2016R1D1A1B04934970 (to KHJ) from the Korean government. The authors declare that they have no conflicts of interest with the contents of this article.
Additional information
Publisher's Note
Springer Nature remains neutral with regard to jurisdictional claims in published maps and institutional affiliations.
Electronic supplementary material
Below is the link to the electronic supplementary material.
About this article
Cite this article
Mandal, C., Yoon, T., Park, J.Y. et al. Lipopolysaccharide-dependent transcriptional regulation of PU.1 in microglial cells. Mol. Cell. Toxicol. 16, 51–61 (2020). https://doi.org/10.1007/s13273-019-00057-6
Accepted:

Published:

Issue Date:
Keywords
LPS

Microglia

Immune response

Chemokine genes