Aircraft noise generation and assessment: executive summary
Abstract
Based on the outcome of a workshop on aviation noise, this special issue on aircraft noise generation and assessment has been assembled. Invited contributions on preselected topics have been combined into one overall story line about both the aircraft noise generation and its assessment to provide an overview on the state-of-the-art capabilities in this research field (accounting both for modelling and measuring efforts). Although most relevant topics are covered, the editors do not claim that the collection of contributions is exhaustive for the multidisciplinary and vast research area dealing with aircraft noise. This issue is not restricted to current aircraft technology only, but includes low-noise technologies and novel aircraft design for subsonic and supersonic vehicles. Furthermore, an overview on measurement techniques, aeroacoustic windtunnel design, and low-noise modifications to existing windtunnels is provided. The selected paper contributions are all peer reviewed and display the status quo of experimental and numerical research activities in academia, at research institutes, and in industry.
Keywords
Executive summary 
CEAS special edition 
Aircraft noise generation 
Aircraft noise assessment 
1

Preamble

In October 2014, a workshop in the field of "Aviation Noise" was organized in a joint effort by DLR & TU Delft

1

. The specific topic of this workshop was "Aircraft Noise Reduction at the Source" for conventional tube-and-wing aircraft. Specific tasks were predefined to be addressed in the workshop:
identification of the main noise sources on-board of a reference vehicle;

assessment of current simulation capabilities (status 2014);

identification and assessment of promising noise reduction concepts;

assessment of the overall effect of these concepts if installed and operated on-board of an aircraft.
Finding an answer to these questions requires a multidisciplinary and broad approach and the involvement of participants with different backgrounds, bringing their individual ideas and concepts to the table. Therefore, known experts from industry, academia, and universities were invited to share their knowledge. Instead of having yet another presentation marathon, the participants were assigned into small working groups to enable a focused and in-depth discussion. To avoid a biased outcome from established groups, diversity in background was aimed for and as such direct colleagues were assigned to different working groups as much as possible. Ultimately, the results of each individual working group were presented and discussed in plenary sessions to find common ground and identify the most promising concepts and ideas.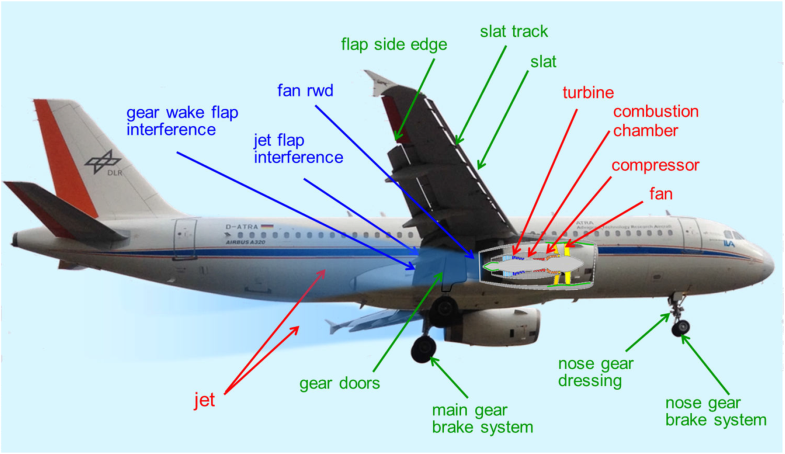 The outcome of the 2014 workshop [1] is an overview of noise generating mechanisms, relevant input parameters, and interaction effects for the most relevant noise sources on-board of conventional mid-range transport aircraft equipped with conventional turbofan engines, see Fig. 1. The participants, furthermore, identified promising noise reduction concepts for each of these noise sources. The impact of each of the reduction concepts on the overall system noise was assessed and quantified. These level reductions are based on the individual assessment of the participants and reflect their experience and engineering judgement. Finally, a classification of available simulation tools in the field of aviation noise was derived. The most commonly accepted tools were listed and categorized accordingly [1].
To confirm the findings of the 2014 workshop on a scientific level, detailed experimental, numerical, and theoretical studies are essential; hence, the idea of a joint and peer reviewed publication was born. In the following sections, a brief description of each selected contribution is presented and the overall special edition is briefly summarized.
2

Contents of the special edition

The special edition is comprised of five chapters, i.e., (1) airframe noise, (2) engine noise, (3) installation effects, (4) assessment techniques, and (5) overall aircraft simulation. The chapter selection is based on the 2014 workshop findings [1] with the overall goal to provide a broad overview on the generation and the assessment of aircraft noise. A list of topics and associated experts has been assembled from the workshop participants, and missing areas have been identified and included, i.e., windtunnel design, measurement techniques, supersonic flight, and a general description of aircraft noise assessment and the relevant noise descriptors. Authors have been invited to contribute with a preselected and specific topic according to their expertise. To ensure the inclusion of state-of-the-art insights, the main authors have invited other experts from the research field as co-authors. Each contribution to the special edition also presents a current overview of the most relevant activities in the specific research field. Compared to other special editions, invited authors contribute to predefined topics to realize an overall storyline and to avoid a random collection of separate papers.

The first two chapters focus on typical airframe and engine noise sources of today's turbofan driven aircraft. The main focus lies on simulation and measurement of selected noise sources. In addition, promising technologies and design concepts to further reduce the engine and airframe noise contribution are discussed. Chapter 3 is dedicated to the noise-related effects caused by the interaction of certain aircraft components. These so-called installation or interaction effects can be either advantageous or disadvantageous with respect to the overall noise. The chapter includes recent developments in simulating, measuring, and exploiting these installation effects towards novel aircraft configurations. Chapter 4 is dedicated to experimental techniques to measure both component noise emission and overall aircraft noise. In addition, contributions on dedicated low-noise facilities and on modifications to adapt an existing windtunnel for aeroacoustic measurements are included in this chapter. Chapter 5 focuses on the overall aircraft noise as received on the ground. Furthermore, a contribution is dedicated to supersonic aircraft, because supersonic transportation currently seems to experience a renaissance with multiple companies working on high-speed business jets.
3

Summary

Based on the outcome of a joint DLR and TU Delft Aviation Noise Workshop, this special edition on aircraft noise has been assembled: "Aircraft Noise Generation and Assessment". The variety of topics addressed in this special issue indicates the multidisciplinarity of the research field and as such highlights the need for a collective effort from within the research community and industry to work towards more silent aircraft. Both in the field of modelling and measurements, different levels of complexity can be discerned. Models range from highly detailed, but computationally expensive numerical simulations to semi-empirical models and in a next level to the models based on tables of noise levels. Measurements range from windtunnel measurements investigating the aircraft noise on a component level to measurements taken at airports of aircraft under operational conditions. It is important to ensure that the insights from the more detailed modelling and measurement efforts find their way towards the more computational efficient approaches. Furthermore, insights obtained during windtunnel measurements can be used to optimize the measurements and analysis of full aircraft. Similarly, the interaction between the fields of modelling and measuring is essential. Models need validation and the analysis of the measurements can benefit from insights obtained through modelling. The guest editors of this special issue aim to contribute to the above-mentioned interactions and to provide a comprehensive overview of the state-of-the-art capabilities in this research field by the collection of high-quality contributions of internationally recognized experts.
Footnotes
1.

First Joint DLR & TU Delft Aviation Noise Workshop, 6–8 Oct 2014, Meisdorf, Harz, Germany.
Notes
Acknowledgements
The Editors thank all authors of the contributions and express their appreciation to the participants of the First joint DLR & TU Delft Aviation Noise Workshop for their valuable input [1] which formed the basis and created the network of experts to initiate this special issue.
References
1.

Bertsch, L., Simons, D., Snellen, M.: Aircraft noise: the major sources, modelling capabilities, and reduction possibilities. German Aerospace Center & Delft Technical University, DLR IB 224-2015 A 110

Google Scholar
Copyright information
© Deutsches Zentrum für Luft- und Raumfahrt e.V. 2019