Sulfonated Cross-Linked Poly(ether ether ketone) Films with Wrinkled Structures: Preparation and Vanadium Ions Permeability
Abstract
Wrinkling patterns were fabricated by sulfonation of ion irradiated poly(ether ether ketone) (PEEK). A variety of wrinkling patterns in the micrometer to sub-micrometer range were observed and were controlled by the adsorbed dose and dose rate of the irradiated ions as well as the sulfonation time. Because of the properties of these micro-textured membranes, they are promising for a broad range of applications. In particular, the cross-linked membranes had a very low permeability of vanadium ions,
i.e.
1.5 × 10
−7
cm
2
min
−1
due to their wrinkled structures in combination with the Donnan exclusive effect.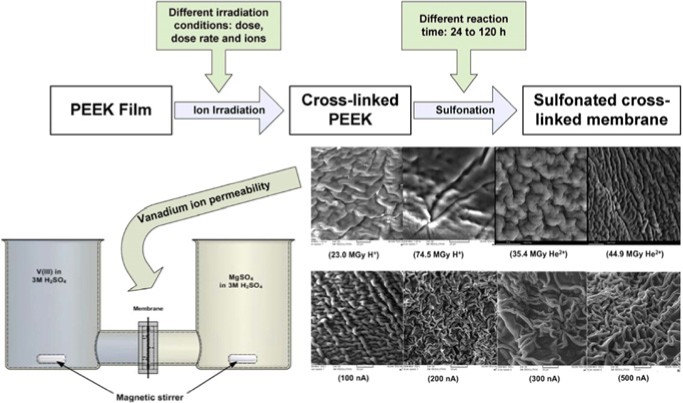 Keywords
ion irradiation 
sulfonation 
poly(ether ether ketone) 
wrinkled structure 
permeability 
vanadium ion 
Notes
Acknowledgments
The authors thank Prof. James N. Hay and Prof. David J. Parker for allowing the use of irradiation facility. Thanks are also due to Prof. I. Othman; the DG of the AEC of Syria and Prof. Z Ajji the Head of Chemistry Department for their support. The authors would also like to thank T. Hassan and J. Abo Hlal for their technical supports.
Copyright information
© The Polymer Society of Korea and Springer 2019