Enhanced Separation Capability of Rhodium Ionic Catalyst Encapsulated by Propionation-Terminated Poly(propylene imine) Dendrimer
Abstract
The second generation of poly(propylene imine) dendrimer peripherally terminated by propionation (G2-P) was synthesized. The structure and composition of G2-P were characterized by Fourier transform infrared (FTIR) spectrometer,
1
H nuclear magnetic resonance spectroscopy (NMR),
13
C NMR, matrix assisted laser desorption ionization time of flight mass spectrometry (MALDI-TOF MS) and elemental analysis. The encapsulated catalyst (G2-P(Rh
3+
)) was prepared by the coordination between G
2
-P and RhCl
3
·3H
2
O, and applied to the hydrogenation of nitrile-butadiene rubber (NBR) and styrene-butadiene rubber (SBR). G2-P(Rh
3+
) displayed excellent catalytic activity and selectivity for NBR and SBR hydrogenation, and Rh residue contents for hydrogenated NBR (HNBR) and hydrogenated SBR were only 80 ppm and 35 ppm respectively without any post treatment, which decreased 69.8% and 80.9% respectively compared with those of RhCl(PPh
3
)
3
.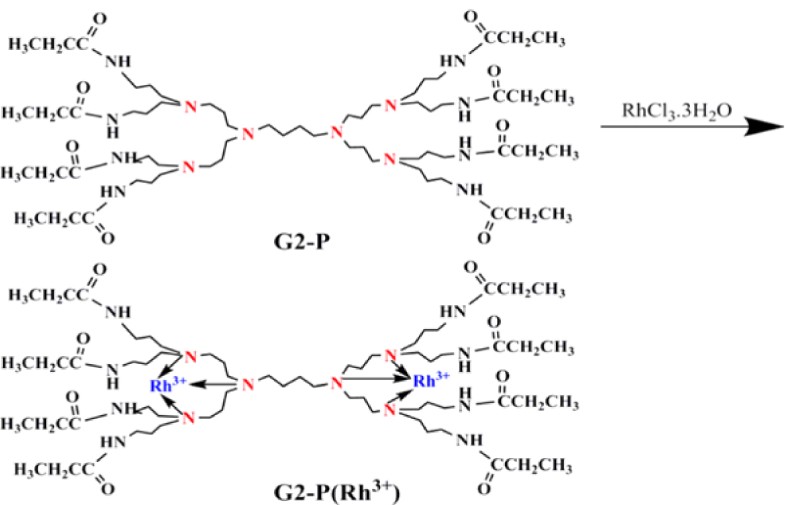 Keywords
poly(propylene imine) dendrimer 
rhodium 
catalytic hydrogenation 
unsaturated rubber 
Copyright information
© The Polymer Society of Korea and Springer Nature B.V. 2019