Abstract
The present study aimed to detect the marker-trait association of a selected diverse panel of 127 mungbean genotypes against mungbean yellow mosaic India virus (MYMIV). Virus-specific primers pairs viz., AC-abut/AV-abut and BC-abut/BV-abut confirmed the involvement of MYMIV in yellow mosaic disease development and the same was validated through restriction digestion analysis. 256 genome-wide microsatellite markers were screened on a test panel in which 93 polymorphic markers were used in association studies. Population structure analysis led to formation of six distinct subpopulations. 1097 alleles were detected among 127 test genotypes whereas number of alleles ranged 2–22 and PIC values ranged 0.27–0.92%, indicating ample amount of variation at genome level. 15 microsatellite markers were detected as associated with MYMIV resistance, among them three microsatellites explained 11–14% phenotypic variation. The specific regions close to CEDG293, DMB-SSR008 and DMB-SSR059 associated with MYMIV resistance were detected, located on linkage group 2, 4 and 9 and may prove useful in marker-assisted mungbean improvement programme for enhancing MYMIV resistance.
This is a preview of subscription content, log in to check access.
Access options
Buy single article
Instant access to the full article PDF.
US$ 39.95
Price includes VAT for USA
Subscribe to journal
Immediate online access to all issues from 2019. Subscription will auto renew annually.
US$ 210
This is the net price. Taxes to be calculated in checkout.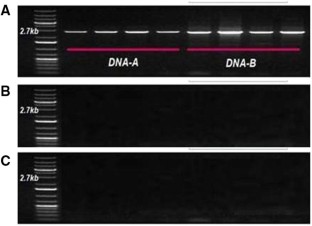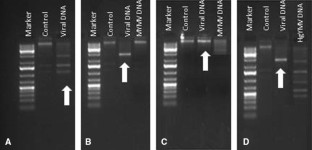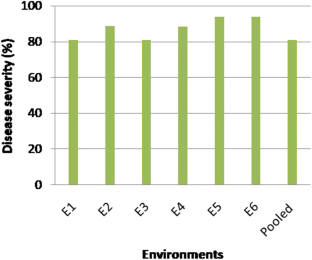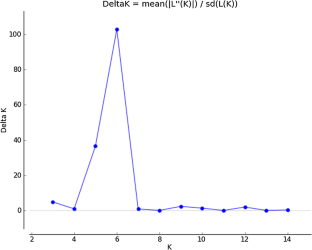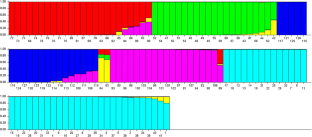 References
Ahmed Q (1985) Fungicidal control of Cercospora leaf spot of mungbean (Vigna radiata L. Wilczek). Indian Phytopathol 38:418–422

Akaram M, Naimuddin AAK, Gupta S, Singh NP (2015) Characterization of full genome of Dolichos yellow mosaic virus based on sequence comparison, genetic recombination and phylogenetic relationship. Ann Appl Biol 167:354–363

Alam AKM, Somta P, Srinives P (2014) Identification and confirmation of quantitative trait loci controlling resistance to mungbean yellow mosaic disease in mungbean [Vigna radiata (L.) Wilczek]. Mol Breed 34:1497–1506. https://doi.org/10.1007/s11032-014-0133-0

Ali MZ, Khan MAA, Kiran MM, Ahmed M, Ahmed F (2010) Field performance of some mungbean varieties against mungbean yellow mosaic virus and Cercospora leaf spot diseases. J Exp Biosci 1:11–16

Bhattacharyya PK, Ram HH, Kole PC (1999) Inheritance of resistance to yellow mosaic virus in inter-specific crosses of soybean. Euphytica 108:157–159. https://doi.org/10.1023/A:100362071

Binyamin R, Khan MA, Khan NA, Khan AI (2015) Application of SCAR markers linked with mungbean yellow mosaic virus disease-resistance gene in Pakistan mungbean germplasm. Genet Mol Res 14:2825–2830

Borah BK, Dasgupta I (2012) Begomovirus research in India: a critical appraisal. Bio Sci 37:791–806

Chandrawati SN, Kumar R, Kumar S, Singh PK, Yadav VK, Ranade SA, Yadav HK (2016) Genetic diversity, population structure and association analysis in linseed. Phyiol Mol Biol Plants. https://doi.org/10.1007/s12298-016-0408-5

Chankaew S, Isemura T, Isobe S, Kaga A, Tomooka N, Somta P, Hirakawa H, Shirasawa K, Vaughan DA, Srinives P (2014) Detection of genome donor species of neglected tetraploid crop Vigna reflexo-pilosa (Creole bean) and genetic structure of diploid species based on newly developed EST-SSR markers from azukibean. PLoS ONE 9:e104990. https://doi.org/10.1371/journal.pone.0104990

Chen HL, Ku HS, Schafleitner R, Bains TS, Kuo GC, Liu CA, Nair RM (2013) The major quantitative trait locus for mungbean yellow mosaic India virus resistance is tightly linked in repulsion phase to the major bruchid resistance locus in a cross between mungbean [Vigna radiata (L.) Wilczek] and its wild relative Vigna radiata ssp. sublobata. Euphytica 192:205–216

Doyle JJ, Doyle JL (1990) Isolation of plant DNA from fresh tissue. Focus 12:13–15

Dwivedi S, Singh DP (1986) Inheritance of pod pubescence and seed coat colour in blackgram. Crop Improve 13:54–57

Earl DA, Von-Holdt BM (2012) STRUCTURE HARVESTER: a website and program for visualizing STRUCTURE output and implementing the Evanno method. Conserv Genet Resour 4:359–361. https://doi.org/10.1007/s12686-011-9548-7

Evanno G, Regnaut S, Goudet J (2005) Detecting the number of clusters of individuals using the software structure: a simulation study. Mol Ecol 14:2611–2620. https://doi.org/10.1111/j.1365-294X.2005.02553.x

Gupta PK, Rustgi S, Kulwal PL (2005) Linkage disequilibrium and association studies in higher plants: present status and future prospects. Plant Mol Biol 57:461–485. https://doi.org/10.1007/s11103-005-0257-z

Gupta S, Gupta DS, Anjum TK, Pratap A, Kumar J (2013) Inheritance and molecular tagging of MYMIV resistance gene in blackgram (Vigna mungo L. Hepper). Euphytica 193:27–37. https://doi.org/10.1007/s10681-013-0884-4

Gupta SK, Souframanien J, Reddy KS (2015) Validation of molecular markers linked to yellow mosaic virus disease resistance in diverse genetic background of black gram [Vigna mungo (L.) Hepper]. Electron J Plant Breed 6:755–763

Gwag JG, Dixit A, Park YJ, Ma KH, Kwon SJ, Cho GT, Lee GA, Lee SY, Kang HK, Lee SH (2010) Assessment of genetic diversity and population structure in mungbean. Genes Genom 32:299–308

Isam MN, Sony SK, Borna DS (2012) Molecular charecterization of mungbean yellow mosaic disease and coat protein gene in mungbean varieties of Bangladesh. Plant Tissue Cult Biotechnol 22(1):73–81

Isemura T, Kaga A, Tabata S, Somta P, Srinives P, Shimizu T, Jo U, Vaughan DA, Tomooka N (2012) Construction of a genetic linkage map and genetic analysis of domestication related traits in mungbean. PLoS ONE 7:41304. https://doi.org/10.1371/journal.pone.0041304

Jaiswal V, Mir RR, Mohan A, Balyan HS, Gupta PK (2012) Association mapping for pre-harvest sprouting tolerance in common wheat (Triticum aestivum L.). Euphytica 188:89–102. https://doi.org/10.1007/s10681-012-0713-1

Kajonphol T, Sangsiri C, Somta P, Toojinda T, Srinives P (2012) SSR map construction and quantitative trait loci (QTL) identification of major agronomic traits in mungbean. Sabrao J Breed Genet 44:71–86

Kang JY, Kim SK, Kim MY, Lestari P, Kim KH, Bo-K Ha, Jun TH, Hwang WJ, Lee T, Lee J, Shim S, Yoon MY, Jang YE, Han KS, Taeprayoon P, Yoon N, Somta P, Tanya P, Kim KS, Gwag J-G, Jung-K M, Ho-Lee Y, Park B, Bombarely A, Doyle JJ, Jackson SA, Schafleitner R, Srinive P, Varshney RK, Lee S (2014) Genome sequence of mungbean and insights into evolution within Vigna species. Nat Commun 5:5443. https://doi.org/10.1038/ncomms6443

Kitsanachandee R, Somta P, Chatchawankanphanich O, Akhtar KP, Shah TM, Nair RM (2013) Detection of quantitative trait loci for mungbean yellow mosaic India virus (MYMIV) resistance in mungbean (Vigna radiata (L.) Wilczek) in India and Pakistan. Breed Sci 63:367–373. https://doi.org/10.1270/jsbbs.63.367

Kumar B, Talukdar A, Verma K, Bala I, Haris GD, Gowda S, Lal SK, Sapra RL, Singh HP (2014) Mapping of yellow mosaic virus resistance in soybean (Glycine max L. Merr) through association mapping approach. Genetica. https://doi.org/10.1007/s10709-014-9801-6

Kumar J, Gupta DS, Gupta S, Dubey S, Gupta P, Kumar S (2017a) Quantitative trait loci from identification to exploitation for crop improvement. Plant Cell Rep 36:1187. https://doi.org/10.1007/s00299-017-2127-y

Kumar J, Gupta S, Biradar RS, Gupta P, Dubey S, Singh NP (2017b) Association of functional markers with flowering time in lentil. J Appl Genet. https://doi.org/10.1007/s13353-017-0419-0

Liu K, Muse SV (2005) Power Marker: an integrated analysis environment for genetic marker analysis. Bioinformatics 21:2128–2129

Maiti S, Basak J, Kundagrami S, Kundu A, Pal A (2011) Molecular marker-assisted genotyping of mungbean yellow mosaic India virus resistant germplasms of mungbean and urdbean. Mol Biotechnol 47:95–104

Malathi VG, John P (2008) Geminiviruses infecting legumes. In: Rao GP, Lava Kumar P, Holguin-Pena RJ (eds) Characterization, diagnosis and management of plant viruses, Volume 3: vegetables and pulse crops. Stadium Press LLC, Texas, pp 97–123

Naimuddin AMD, Singh NP (2016) Yellow mosaic of mungbean and blackgram: current status and future strategies. J Food Legumes 29:77–93

Naimuddin K, Akram M, Gupta S (2011a) Identification of mungbean yellow mosaic India virus infecting Vigna mungo var. silvestris L. Phytopathol Mediterr 50:94–100

Naimuddin K, Akram M, Pratap A (2011b) First report of natural infection of Mungbean yellow mosaic India virus in two wild species of Vigna. New Dis Rep 23:21

Naimuddin AM, Pratap A, Chaubey BK, Joseph KJ (2011c) PCR based identification of the virus causing yellow mosaic disease in wild Vigna accessions. J Food Legumes 24:14–17

Nie X, Huang C, You C, Li W, Zhao W, Shen C, Zhang B, Wang H, Yan Z, Dai B, Wang M, Zhang X, Lin Z (2016) Genome-wide SSR-based association mapping for fiber quality in nation-wide upland cotton inbreed cultivars in China. BMC Genom 17:352. https://doi.org/10.1186/s12864-016-2662-x

Noble TJ, Tao Y, Mace ES, Williams B, Jordan DR, Douglas CA, Mundree SG (2018) Characterization of linkage disequilibrium and population structure in a mungbean diversity panel. Front Plant Sci 8:2102. https://doi.org/10.3389/fpls.2017.02102

Ostrowski MF, David A, Santoni S, Mckhann H, Reboud X, Corre VL, Camilleri C, Brunel D, Bouchez D, Faure B, Bataillon T (2006) Evidence for a large-scale population structure among accessions of Arabidopsis thaliana: possible causes and consequences for the distribution of linkage disequilibrium. Mol Ecol 15:1507–1517. https://doi.org/10.1111/j.1365-294X.2006.02865.x

Pal SS, Dhaliwal HS, Bains SS (1991) Inheritance of resistance to yellow mosaic virus in some Vigna spp. Plant Breed 106:168–171

Pant V, Gupta D, Roychoudhary N, Malathi VG, Varma A, Mukharjee SK (2001) Molecular charecterization of Rep protein of the blackgram isolates of Indian mungbean yellow mosaic virus. J Gen Viral 82:1559–2567

Pratap A, Basu PS, Gupta S, Malviya N, Rajan N, Tomar R, Madhavan L, Nadarajan N, Singh NP (2014) Identification and characterization of sources for photo and thermo-insensitivity in Vigna species. Plant Breed 133:756–764. https://doi.org/10.1111/pbr.12215

Pratap A, Gupta S, Tomar R, Malviya N, Maurya R, Pandey VR, Mehandi S, Singh NP (2016) Cross-genera amplification of informative microsatellite markers from common bean and scarlet runner bean for assessment of genetic diversity in mungbean (Vigna radiata). Plant Breed 135:499–505

Pratap A, Chaturvedi SK, Tomar R, Rajan N, Malviya N, Thudi M, Saabale PR, Prajapati U, Varshney RK, Singh NP (2017) Marker-assisted introgression of resistance to Fusarium wilt race 2 in Pusa 256, an elite cultivar of desi chickpea. Mol Genet Genom 292:1237–1245

Pritchard JK, Stephens M, Donnelly P (2000) Inference of population structure using multilocus genotype data. Genetics 155:945–959

Qazi J, Ilyas M, Mansoor S, Briddon RW (2007) Legume yellow mosaic virus genetically isolated Begomoviruses. Mol Plant Pathol 8:343–348

Rosenberg N, Nordborg M (2006) A general population-genetic model for the production by population structure of spurious genotype-phenotype associations in discrete, admixed, or spatially distributed populations. Genetics 173:1665–1678. https://doi.org/10.1534/genetics.105.055335

Sai CB, Nagrajan P, Raveendran M, Rabindran R, Kannan BJR, Senthil N (2017) Understanding the inheritance of mungbean yellow mosaic virus resistance in mungbean. Mol Breed 37:63. https://doi.org/10.1007/s11032-017-0650-8

Sangiri C, Kaga A, Tomooka N, Vaughan D, Srinives P (2007) Genetic diversity of the mungbean genepool on the basis of microsatellite analysis. Aust J Bot 55:837–847

Sauframanien J, Gopalkrishnan T (2006) ISSR and SCAR markers linked to the mungbean yellow mosaic virus (MYMV) resistance gene in blackgram. Plant Breed 125:619–622

Singh BB, Mallick AS (1978) Inheritance of resistance to yellow mosaic in soybean. Indian J Genet 38:258–261

Singh A, Dikshit HK, Jain N, Yadav RN (2014) Efficiency of SSR, ISSR and RAPD markers in molecular characterization of mungbean and other Vigna species. Indian J Biotechnol 13:81–88

Singh CM, Kumar R, Mishra SB, Pandey A, Arya M (2015) Characterization of mungbean genotypes against Mungbean Yellow Mosaic Virus and cercospora leaf spot diseases under north east plain zone. Int J Agric Environ Biotechnol 8:119–125

Singh DP, Singh BB, Pratap A (2017) Genetic improvement of mungbean and urdbean and their role in enhancing pulse production in India. J Genet 76:550–567

Singh CM, Singh P, Pratap A, Pandey R, Purwar S, Vibha DCA, Baek KH, Mishra AK (2019) Breeding for enhancing Legumovirus resistance in mungbean: current understanding and future directions. Agronomy 9:622. https://doi.org/10.3390/agronomy9100622

Varma A, Dhar AK, Mandala B (1992) MYMV transmission and control in India. In: Green SK, Kim D (eds) Mungbean yellow mosaic disease. pp 8–27

Varshney RK, Mohan SM, Gaur PM, Chamarthi SK, Singh VK, Srinivasan S, Swapna N, Sharma M, Pande S, Singh S, Kaur L (2014) Marker-assisted backcrossing to introgress resistance to Fusarium wilt race 1 and Ascochyta blight in C 214, an elite cultivar of chickpea. Plant Genome 7:1–11

Verma RPS, Singh DP (1986) The allelic relationship of genes giving resistance to mungbean yellow mosaic virus in blackgram. Theor Appl Genet 72:737–738

Yan J, Warburton M, Crouch J (2011) Association mapping enhancing maize (Zea mays L.) genetic improvement. Crop Sci 51:433–449. https://doi.org/10.2135/cropsci2010.04.0233

Zhang P, Liu X, Tong H, Lu Y, Li J (2014) Association mapping for important agronomic traits in core collection of rice (Oryza sativa L.) with SSR markers. PLoS ONE 9:e111508. https://doi.org/10.1371/journal.pone.0111508
Acknowledgements
The present research was financially supported by Science and Engineering Research Board (SERB-DST), New Delhi (YSS/2015/00484) under the startup research grant for young scientists.
Ethics declarations
Conflict of interest
It is to declare that there is no conflict of interest between the co-authors.
Electronic supplementary material
Below is the link to the electronic supplementary material.
About this article
Cite this article
Singh, C.M., Pratap, A., Gupta, S. et al. Association mapping for mungbean yellow mosaic India virus resistance in mungbean (Vigna radiata L. Wilczek). 3 Biotech 10, 33 (2020). https://doi.org/10.1007/s13205-019-2035-7
Received:

Accepted:

Published:
Keywords
Marker-trait association

MYMIV

Simple sequence repeats

Vigna radiata

YMD