Abstract
This study investigated the use of Bacillus subtilis protease powder (CTC E-ssentials™ MT-70N) as a carabeef tenderizer. The effect of the bacterial protease on the characteristics of carabeef was determined, and its effectiveness was compared to a commercial meat tenderizer containing papain. Only B. subtilis protease showed significant enzyme activity (80–190 U/g), while the commercial meat tenderizer had no activity (0 U/g). Results from the shear force device revealed that 0.35% B. subtilis protease was the optimal concentration required to induce significant tenderization in carabeef (282 g/cm2) and reduce carabeef toughness by 80%. Proximate analysis showed that carabeef treated with B. subtilis protease had significantly higher crude protein (37%) than the negative control (34%) and carabeef-treated commercial meat tenderizer (31%). Sensory evaluation revealed that carabeef treated with 0.35% B. subtilis protease is more tender than untreated carabeef and those treated with the commercial meat tenderizer. Moreover, the carabeef was not over-tenderized and is palatably acceptable. Hence, B. subtilis protease can be used as a meat tenderizer in place of available commercial tenderizers containing plant-derived proteases.
This is a preview of subscription content, log in to check access.
Access options
Buy single article
Instant unlimited access to the full article PDF.
US$ 39.95
Price includes VAT for USA
Subscribe to journal
Immediate online access to all issues from 2019. Subscription will auto renew annually.
US$ 99
This is the net price. Taxes to be calculated in checkout.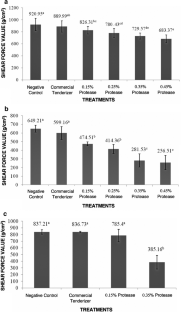 References
Abdulazeez SS, Ramamoorthy B, Ponnusamy P (2013) Proximate analysis and production of protein hydrolysate from king fish of Arabian Gulf coast—Saudi Arabia. Int J Pharma Bio Sci 3(1):138–144

Aberle ED, Forrest JC, Gerrard DE, Mills EW (2001) Principles of meat science, 4th edn. Kendall/Hunt Publishing Company, Dubuque, IA, p 354

AMSA (2015) Research guidelines for cookery, sensory evaluation, and instrumental tenderness measurements of meat. American Meat Science Association, Champaign, IL

AOAC (2000) Official methods of analysis, 17th edn. The Association of Official Analytical Chemists, Gaithersburg, MD

Ashie INA, Sorensen TL, Nielsen PM (2002) Effects of papain and a microbial enzyme on meat proteins and beef tenderness. J Food Sci 67(6):2138–2142

ASTM E1871 (2010) Standard guide for serving protocol for sensory evaluation of foods and beverages. ASTM International, West Conshohocken, PA

Beattie RJ, Bell SJ, Farmer LJ, Moss BW, Patterson D (2004) Preliminary investigation of the application of Raman spectroscopy to the prediction of the sensory quality of beef silverside. Meat Sci 66(4):903–913

Budde I, Steil L, Scharf C, Völker U, Bremer E (2006) Adaptation of Bacillus subtilis to growth at low temperature: a combined transcriptomic and proteomic appraisal. Microbiology 152(3):831–853

Cupp-Enyard C (2008) Sigma's non-specific protease activity assay—casein as a substrate. J Vis Exp 19:899

Destefanis G, Brugiapaglia A, Barge MT, Dal Molin E (2008) Relationship between beef consumer tenderness perception and Warner–Bratzler shear force. Meat Sci 78(3):153–156

Duranton F, Simonin H, Chéret R, Guillou S, de Lamballerie M (2012) Effect of high pressure and salt on pork meat quality and microstructure. J Food Sci 77(8):E188–E194

Ellaiah P, Srinivasulu B, Adinarayana K (2002) A review on microbial alkaline proteases. JSIR 61(9):690–704

Gerelt B, Ikeuchi Y, Suzuki A (2000) Meat tenderization by proteolytic enzymes after osmotic dehydration. Meat Sci 56:311–318

Gerelt B, Rusman H, Nishiumi T, Suzuki A (2005) Changes in calpain and calpastatin activities of osmotically dehydrated bovine muscle during storage after treatment with calcium. Meat Sci 70(1):55–61

IFST (2015) Guidelines for ethical and professional practices for the sensory analysis of foods. Institute of Food Science and Technology. https://www.ifst.org/our-resources/ifst-guidelines-ethical-and-professional-practices-sensory-analysis-foods. Accessed 1 July 2015

Ji J-R, Takahashi K (2006) Changes in concentration of sarcoplasmic free calcium during post-mortem ageing of meat. Meat Sci 73(3):395–403

Koohmaraie M, Geesink GH (2006) Contribution of postmortem muscle biochemistry to the delivery of consistent meat quality with particular focus on the calpain system. Meat Sci 74(1):34–43

Lim J, Wood A, Green BG (2009) Derivation and evaluation of a labeled hedonic scale. Chem Senses 34:739–751

Liu C, Xiong YL, Rentfrow GK (2011) Kiwifruit protease extract injection reduces toughness of pork loin muscle induced by freeze–thaw abuse. LWT 44(10):2026–2031

Macalood JS, Vicente HJ, Boniao RD, Gorospe JG, Roa EC (2013) Chemical analysis of Carica papaya L. crude latex. AJPS 4:1941–1948

Maqsood S, Manheem K, Gani A, Abushelaibi A (2018) Degradation of myofibrillar, sarcoplasmic and connective tissue proteins by plant proteolytic enzymes and their impact on camel meat tenderness. J Food Sci Technol 55(9):3427–3438

McGee MR, Henry KL, Brooks JC, Ray FK, Morgan JB (2003) Injection of sodium chloride, sodium tripolyphosphate, and sodium lactate improves Warner–Bratzler shear and sensory characteristics of pre-cooked inside round roasts. Meat Sci 64(3):273–277

Neely TR, Lorenzen CL, Miller RK, Tatum JD, Wise JW, Taylor JF, Buyck MJ, Reagan JO, Savell JW (1998) Beef customer satisfaction: Role of cut, USDA quality grade, and city on in-home consumer ratings. J Anim Sci 76(4):1027–1033

Oliveros MCR, Manito CA, Del Barrio AN, Lapitan RM (2007) Proximate composition and intramuscular fatty acid profile of meat from Brahman-grade cattle (Bos indicus) and crossbred carabao (Bubalus bubalis L.). Philipp J Vet Anim Sci 33(1):9–17

Padmapriya M, Williams BC (2012) Purification and characterization of neutral protease enzyme from Bacillus subtilis. J Microbiol Biotechnol Res 2(4):612–618

Pietrasik Z, Shand PJ (2004) Effect of blade tenderization and tumbling time on the processing characteristics and tenderness of injected cooked roast beef. Meat Sci 66(4):871–879

Powell L, Nicholson KL, Huerta-Montauti D, Miller RK, Savell JW (2011) Constraints on establishing threshold levels for Warner–Bratzler shear-force values based on consumer sensory ratings for seven beef muscles. Anim Prod Sci 51(10):959–966

Qihe C, Guoqing H, Yingchun J, Hui N (2006) Effects of elastase from a Bacillus strain on the tenderization of beef meat. Food Chem 98:624–629

Rawdkuen S, Benjakul S (2012) Biochemical and microstructural characteristics of meat samples treated with different plant proteases. AJB 11(76):14088–14095

Rawdkuen S, Jaimakreu M, Benjakul S (2013) Physicochemical properties and tenderness of meat samples using proteolytic extract from Calotropis procera latex. Food Chem 136(2):909–916

Sathiya G (2013) Production of protease from Bacillus subtilis and its application in leather making process. Int J Res Biotechnol Biochem 3(1):7–10

Singh M, Patel SKS, Kalia VC (2009) Bacillus subtilis as potential producer for polyhydroxyalkanoates. Microb Cell Fact 8:38

Singh PK, Shrivastava N, Ojha BK (2019) Enzymes in the meat industry. In: Enzymes in food biotechnology. Academic Press, pp 111–128. https://www.sciencedirect.com/science/article/pii/B9780128132807000086

Sullivan GA, Calkins CR (2010) Application of exogenous enzymes to beef muscle of high and low-connective tissue. Meat Sci 85(4):730–734

USDA (2012) Livestock and Poultry: world markets and trade. Foreign Agricultural Service, Washington, DC

Van Wezemael L, De Smet S, Ueland Ø, Verbeke W (2014) Relationships between sensory evaluations of beef tenderness, shear force measurements and consumer characteristics. Meat Sci 97(3):310–315

Vasanthi C, Venkataramanujam V, Dushyanthan K (2007) Effect of cooking temperature and time on the physicochemical, histological, and sensory properties of female carabeef (buffalo) meat. Meat Sci 76(2):274–280

Verbeke W, Van Wezemael L, de Barcellos MD, Kugler JO, Hocquette JF, Ueland O, Grunert KG (2010) European beef consumers' interest in a beef eating-quality guarantee. Insights from a qualitative study in four EU countries. Appetite 54(2):289–296

Wulf DM, Page JK, Schwotzer TR, Dunlap GR (1998) Final report to National Cattlemen's Beef Association: using measurements of muscle color/pH/water-holding capacity to augment the current USDA beef carcass quality grading standards and improve the accuracy and precision of sorting carcasses into palatability groups. The Ohio State University, Columbus, OH

Yang JK, Shih IL, Tzeng YM, Wang SL (2000) Production and purification of protease from a Bacillus subtilis that can deproteinize crustacean wastes. Enzyme Microb Technol 26:406–413

Younis MAM, Hezayen FF, Nour-Eldein MA, Shabeb MSA (2009) Production of protease in low-cost medium by Bacillus subtilis KO strain. GJBB 4(2):132–137

Zhao G, Zhou M, Zhao H, Chen X, Xie B, Zhang X, He H, Zhou B, Zhang Y (2012) Tenderization effect of cold-adapted collagenolytic protease MCP-01 on beef meat at low temperature and its mechanism. Food Chem 134(4):1738–1744
Acknowledgements
We are thankful for CTCGroup Philippines (formerly CTC Far East Philippines, Inc.) for providing us with B. subtilis protease powder (CTC E-ssentials™ MT-70N) and a stock of commercially available meat tenderizer.
Additional information
Publisher's Note
Springer Nature remains neutral with regard to jurisdictional claims in published maps and institutional affiliations.
About this article
Cite this article
Bureros, K.J.C., Dizon, E.I., Israel, K.A.C. et al. Physicochemical and sensory properties of carabeef treated with Bacillus subtilis (Ehrenberg) Cohn protease as meat tenderizer. J Food Sci Technol 57, 310–318 (2020). https://doi.org/10.1007/s13197-019-04062-4
Revised:

Accepted:

Published:

Issue Date:
Keywords
Sensory evaluation

Carabao beef
Bacillus subtilis

Protease assay

Meat tenderizer