Abstract
Various enzymes are added to dough to improve the quality. Two enzymes are α-amylase and hemicellulase (bakery enzymes), whose substrates are damaged starch and insoluble dietary fiber, respectively. They improve the formation of gluten networks in the dough, resulting in a higher specific loaf volume (SLV). The use of high-pressure treatment has also increased as a substitute for heat treatment and various products are being processed utilizing high-pressure treatment. This study investigated the effect of combing bakery enzyme and high-pressure treatment on dough qualities. The optimal concentration of bakery enzymes and high-pressure level were determined using response surface methodology and optimization technique. Bread dough was prepared by the optimal condition, 0.20% of bakery enzyme and 43 MPa of high-pressure treatment, and the bread dough was then baked. Optimal combining bakery enzyme and high-pressure treatment drastically improved bread making qualities such as increased SLV, higher concentrations of reducing sugar, and lower concentrations of damaged starch and insoluble dietary fiber compared to the control and to those that were only treated with bakery enzymes or high-pressure treatment, respectively. In addition, the bread with both bakery enzymes and high-pressure treatment showed improved micro structure in the crumb and maintained freshness longer.
This is a preview of subscription content, log in to check access.
Access options
Buy single article
Instant unlimited access to the full article PDF.
US$ 39.95
Price includes VAT for USA
Subscribe to journal
Immediate online access to all issues from 2019. Subscription will auto renew annually.
US$ 99
This is the net price. Taxes to be calculated in checkout.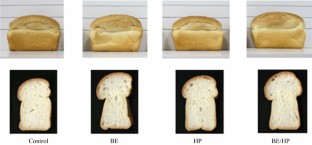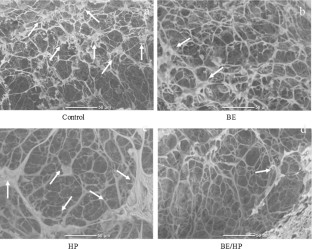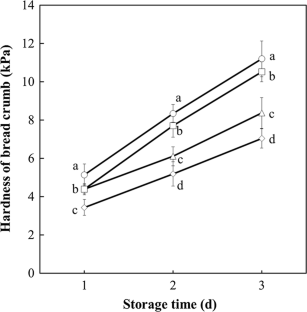 References
AACC (1991) Approved methods of the AACC, 8th ed. Method 08-01. The American Association of Cereal Chemists, St. Paul

AACCI (2000) Approved methods of the AACCI, 11th ed. Method 10- 05.01. The American Association of Cereal Chemists International, St. Paul

AOAC (2000) Official methods of analysis, 17th edn. AOAC International, Gaithersburg

Asaka M, Hayashi R (1991) Activation of polyphenoloxidase in pear fruits by high pressure treatment. Agric Biol Chem 55:2439–2440

Caballero PA, Gomez M, Rosell CM (2007) Improvement of dough rheology, bread quality and bread shelf-life by enzymes combination. J Food Eng 81:42–53

Clarke C, Schober TJ, Arendt EK (2002) Effect of single strain and traditional mixed strain starter cultures in rheological properties of wheat dough and bread quality. Cereal Chem 79:640–647

Douzals JP, Perrier Cornet JM, Gervais P, Coquille JC (1998) High-pressure gelatinization of wheat starch and properties of pressure-induced gels. J Agric Food Chem 46:4824–4829

Duran E, Leon A, Barber B, De Barber CB (2001) Effect of low molecular weight dextrins on gelatinization and retrogradation of starch. Eur Food Res Technol 212:203–207

Flander L, Salmenkallio-Marttila T, Suortti T, Autio K (2007) Optimization of ingredients and baking process for improved wholemeal oat bread quality. LWT Food Sci Technol 40:860–870

Fujiwara S, Kunugi S, Oyama H, Oda K (2001) Effects of pressure on the activity and spectroscopic properties of carboxyl proteinases. Apparent correlation of pepstatin-insensitivity and pressure response. Eur J Biochem 268:645–655

Ghoshal G, Shivhare US, Banerjee UC (2013) Effect of xylanase on quality attributes of whole-wheat bread. J Food Quality 36:172–180

Gibson TS, Al Qalla H, McCleary BV (1991) An improved enzymatic method for the measurement of starch damage in wheat flour. J Cereal Sci 15:15–27

Goesaert H, Slade L, Levine H, Delcour JA (2009) Amylases and bread firming—an integrated view. J Cereal Sci 50:345–352

Hidalgo A, Brusco M, Plizzari L, Brandolini A (2013) Polyphenol oxidase, alpha-amylase and beta-amylase activities of Triticum monococcum, Triticum turgidum and Triticum aestivum: a two-year study. J Cereal Sci 58:51–58

Hung PV, Maeda T, Morita N (2007) Dough and bread qualities of flours with whole waxy wheat flour substitution. Food Res Int 40:273–279

Jiang Z, Li X, Yang S, Li L, Tan S (2005) Improvement of the breadmaking quality of wheat flour by the hyperthermophilic xylanase B from Thermotoga maritime. Food Res Int 38:37–43

Kim D, Han DG (2012) High hydrostatic pressure treatment combined with enzymes increases the extractability and bioactivity of fermented rice bran. Innov Food Sci Emerg Technol 16:191–197

Martin ML, Hoseney RC (1991) A mechanism of bread firming. II. Role of starch hydrolyzing enzymes. Cereal Chem 68:503–507

Martin ML, Zeleznak KJ, Hoseney RC (1991) mechanism of bread firming. I. Role of starch swelling. Cereal Chem 68:498–502

Matsushita K, Santiago DM, Noda T, Tsuboi K, Kawakami S, Yamauchi H (2017) The bread making qualities of bread dough supplemented with whole wheat flour and treated with enzymes. Food Sci Technol Res 23:403–410

Matsushita K, Ayaka T, Daisuke G, Santiago DM, Takao M, Yamauchi H (2019) Optimization of enzymes addition to improve whole wheat bread making quality by response surface methodology and optimization technique. J Food Sci Technol 56(3):1454–1461

Palacios HR, Schwarz PB, D'Appolonia BL (2004) Effect of alpha-amylases from different sources on firming of concentrated wheat starch gels: relationship to bread staling. J Agric Food Chem 52:5987–5994

Patel MJ, Ng JHY, Hawkins WE, Pitts KF, Chakrabarti-Bell S (2012) Effects of fungal α-amylase on chemically leavened wheat flour dough. J Food Sci 56:644–651

Santiago DM, Matsushita K, Noda T, Tsuboi K, Yamada D, Murayama D, Koaze H, Yamauchi H (2015a) Effect of purple sweet potato powder substitution and enzymatic treatments on bread making quality. Food Sci Technol Res 21:159–165

Santiago DM, Matsushita K, Noda T, Tsuboi K, Yamada D, Murayama D, Kawakami S, Shimada K, Koaze H, Yamauchi H (2015b) Texture and structure of bread supplemented with purple sweet potato powder and treated with enzymes. Food Sci Technol Res 21:537–548

Shah AR, Shah RK, Madamwar D (2006) Improvement of the quality of whole wheat bread by supplementation of xylanase from Aspergillus foetidus. Bioresour Technol 97:2047–2053

Stojceska V, Ainsworth P (2008) The effect of different enzymes on the quality of high-fibre enriched brewer's spent grain breads. Food Chem 110:865–872

Unni LE, Chauhan OP, Raju PS (2015) Quality changes in high pressure processed ginger paste under refrigerated storage. Food Biosci 10:18–25

Wang J, Rosell CM, Barber CB (2002) Effect of the addition of different fibres on wheat dough performance and bread quality. Food Chem 79:221–226

Yamauchi H, Nishio Z, Takata K, Oda Y, Yamaki K, Ishida N, Miura H (2001) The bread-making quality of a domestic flour blended with an extra strong flour and staling of the bread made from the blended flour. Food Sci Technol Res 7:120–125
Additional information
Publisher's Note
Springer Nature remains neutral with regard to jurisdictional claims in published maps and institutional affiliations.
About this article
Cite this article
Matsushita, K., Tamura, A., Goshima, D. et al. Effect of combining additional bakery enzymes and high pressure treatment on bread making qualities. J Food Sci Technol 57, 134–142 (2020) doi:10.1007/s13197-019-04038-4
Revised:

Accepted:

Published:

Issue Date:
Keywords
High pressure

Bread making quality

Enzymes

Response surface methodology