Abstract
The ctDNA plasma testing is one of the methods to examine biomarkers for lung adenocarcinoma in order to detect a mutation of epidermal growth factor receptor (EGFR) gene. The advantages of ctDNA testing over tissue biopsy and lung tumor cytology include less invasive, faster result, cheaper, and minimum risk of complication for the patient. We analyzed and compare the detection of EFGR mutation in peripheral blood plasma (liquid biopsy) with cytological specimens of patients with lung adenocarcinoma. We conducted ctDNA plasma testing in 124 lung adenocarcinoma patients who visited our hospital from January to December 2018. The ctDNA testing results were compared with the results of EGFR detection from the previous cytological specimen examination. Most of the patients were males, aged 55–59 years, nonsmokers, and had stage IVA lung adenocarcinoma, with most metastasis found in the pleura. We found a correlation between EGFR prevalence with nonsmoking status and patient's age. The ctDNA plasma testing detected 27.4% common EGFR mutation and 72.6% wild-type EGFR. The figures of EGFR mutation detection from cytological specimens were 47.6% and 52.4%, respectively. Compared to cytological specimens, the EGFR mutation detection in ctDNA had a sensitivity of 48.3%, with a specificity of 90.9%, PPV of 82.35%, NPV of 66.7%, and 70.97% concordance rate. EGFR mutation with cytological specimen examination was more accurate than ctDNA.
This is a preview of subscription content, log in to check access.
Access options
Buy single article
Instant access to the full article PDF.
US$ 39.95
Price includes VAT for USA
Subscribe to journal
Immediate online access to all issues from 2019. Subscription will auto renew annually.
US$ 99
This is the net price. Taxes to be calculated in checkout.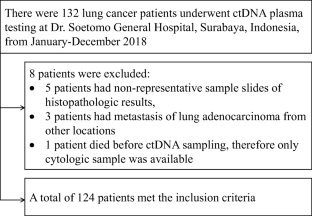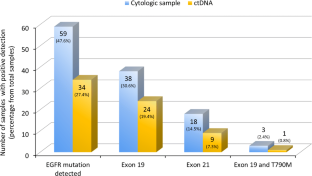 References
1.

Fatmawati F (2016) Profil Pasien Kanker Paru Jenis Karsinoma Bukan Sel Kecil yang Mendapatkan Inhibitor Tirosin Kinase Sebagai Terapi Lini Pertama di RSUD Dr. Universitas Airlangga, Soetomo

2.

Hudoyo A, Wibawanto A, Lutfi A, Rima A, Putra AC, Ratnawati A, Febriani A, Jusuf A, Harsal A, Westi A, Icksan AG, Heru B, Tobing DL, Soeis DS, Paramita D, Syahruddin E, tenda ED, Diana ES, Suzanna E, Dewi FL, Djuita F, Prajogi GB, Iskandar H, Hidayat H, Indriani PI, Zaini J, Juniarti KJ, Kardinah RKW, KBH P, Wulandari L, Lisnawati M, Supriana N, Lubis N, Soeroso NN, Soetandyo N, Nuhonni SA, Siregar N, Dilangga P, Prasenohadi AP, Pahlesia R, Sembiring RE, Ermayanti S, Anggoro SC, Tarigan SP, Andarini SL, Gondhowiardjo S, Munir SM, Pratiwi SD, Seto RS, Mety SH, Endardjo S, Aniwidyaningsih W, Soeharno W, Amin Z (2017) Pedoman Nasional Pelayanan Kedokteran Kanker Paru. Kementerian Kesehatan Republik Indonesia, Jakarta

3.

Jusuf A, Harryanto A, Syahruddin E, Endardjo S, Mudjiantoro S, Sutandio N (2005) Kanker paru jenis karsinoma bukan sel kecil. Pedoman nasional untuk diagnosis dan penatalaksanaan di Indonesia

4.

VandenBussche CJ, Illei PB, Lin M-T, Ettinger DS, Maleki Z (2014) Molecular alterations in non–small cell lung carcinomas of the young. Hum Pathol 45(12):2379–2387. https://doi.org/10.1016/j.humpath.2014.08.005

5.

Zhang Z, Stiegler AL, Boggon TJ, Kobayashi S, Halmos B (2010) EGFR-mutated lung cancer: a paradigm of molecular oncology. Oncotarget 1(7):497–514. https://doi.org/10.18632/oncotarget.186

6.

Le X, Freed JA, VanderLaan PA, Huberman MS, Rangachari D, Jorge SE, Lucena-Araujo AR, Kobayashi SS, Balasubramanian S, He J, Chudnovsky Y, Miller VA, Ali SM, Costa DB (2015) Detection of crizotinib-sensitive lung adenocarcinomas with MET, ALK, and ROS1 genomic alterations via comprehensive genomic profiling. Clin Lung Cancer 16(5):e105–e109. https://doi.org/10.1016/j.cllc.2015.03.002

7.

Oh JE, An CH, Yoo NJ, Lee SH (2011) Detection of low-level EGFR T790M mutation in lung cancer tissues. APMIS 119(7):403–411. https://doi.org/10.1111/j.1600-0463.2011.02738.x

8.

Han B, Tjulandin S, Hagiwara K, Normanno N, Wulandari L, Laktionov K, Hudoyo A, He Y, Zhang Y-P, Wang M-Z, Liu CY, Ratcliffe M, McCormack R, Reck M (2017) EGFR mutation prevalence in Asia-Pacific and Russian patients with advanced NSCLC of adenocarcinoma and non-adenocarcinoma histology: the IGNITE study. Lung Cancer 113:37–44. https://doi.org/10.1016/j.lungcan.2017.08.021

9.

Zhu G, Ye X, Dong Z, Lu YC, Sun Y, Liu Y, McCormack R, Gu Y, Liu X (2015) Highly sensitive droplet digital PCR method for detection of EGFR-activating mutations in plasma cell-free DNA from patients with advanced non-small cell lung Cancer. J Mol Diagn 17(3):265–272. https://doi.org/10.1016/j.jmoldx.2015.01.004

10.

Elhidsi M, Andarini SL, Hudoyo A (2016) Profil Mutasi epidermal growth factor receptor Pasien Adenokarsinoma Paru Usia Muda. Jurnal Respirologi Indonesia 4(36):244–247

11.

Oktaviyanti IK (2015) Mutasi Egfr Pada Pemeriksaan Sitologi Adenokarsinoma Paru. Berkala Kedokteran Unlam 11(2):213–219

12.

Shi Y, Au JS-K, Thongprasert S, Srinivasan S, Tsai C-M, Khoa MT, Heeroma K, Itoh Y, Cornelio G, Yang P-C (2014) A prospective, molecular epidemiology study of EGFR mutations in Asian patients with advanced non-small-cell lung cancer of adenocarcinoma histology (PIONEER). J Thorac Oncol 9(2):154–162. https://doi.org/10.1097/JTO.0000000000000033

13.

Ferlay J, Soerjomataram I, Dikshit R, Eser S, Mathers C, Rebelo M, Parkin DM, Forman D, Bray F (2015) Cancer incidence and mortality worldwide: sources, methods and major patterns in GLOBOCAN 2012. Int J Cancer 136(5):E359–E386. https://doi.org/10.1002/ijc.29210

14.

Mohan A, Latifi A, Guleria R (2016) Increasing incidence of adenocarcinoma lung in India: following the global trend? Indian J Cancer 53(1):92–92, 95

15.

Chen J, Qi Y, Wampfler JA, Jatoi A, Garces YI, Busta AJ, Mandrekar SJ, Yang P (2012) Effect of cigarette smoking on quality of life in small cell lung cancer patients. Eur J Cancer (Oxford, England : 1990) 48(11):1593–1601. https://doi.org/10.1016/j.ejca.2011.12.002

16.

Rezaei S, Karami Matin B, Kazemi Karyani A, Woldemichael A, Khosravi F, Khosravipour M, Rezaeian S (2017) Impact of smoking on health-related quality of life: a general population survey in West Iran. Asian Pac J Cancer Prev 18(11):3179–3185. https://doi.org/10.22034/APJCP.2017.18.11.3179

17.

Prudkin L, Tang X, Wistuba II (2009) Germ-line and somatic presentations of the EGFR T790M mutation in lung cancer. J Thorac Oncol 4(1):139–141. https://doi.org/10.1097/JTO.0b013e3181915f92

18.

Pirker R, Herth FJF, Kerr KM, Filipits M, Taron M, Gandara D, Hirsch FR, Grunenwald D, Popper H, Smit E, Dietel M, Marchetti A, Manegold C, Schirmacher P, Thomas M, Rosell R, Cappuzzo F, Stahel R (2010) Consensus for EGFR mutation testing in non-small cell lung cancer: results from a European workshop. J Thorac Oncol 5(10):1706–1713. https://doi.org/10.1097/JTO.0b013e3181f1c8de

19.

Sozzi G, Conte D, Leon M, Cirincione R, Roz L, Ratcliffe C, Roz E, Cirenei N, Bellomi M, Pelosi G, Pierotti MA, Pastorino U (2003) Quantification of free circulating DNA as a diagnostic marker in lung Cancer. J Clin Oncol 21(21):3902–3908. https://doi.org/10.1200/jco.2003.02.006

20.

Bai H, Mao L, Wang HS, Zhao J, Yang L, An TT, Wang X, Duan CJ, Wu NM, Guo ZQ, Liu YX, Liu HN, Wang YY, Wang J (2009) Epidermal growth factor receptor mutations in plasma DNA samples predict tumor response in Chinese patients with stages IIIB to IV non–small-cell lung Cancer. J Clin Oncol 27(16):2653–2659. https://doi.org/10.1200/jco.2008.17.3930

21.

Yung TKF, Chan KCA, Mok TSK, Tong J, To K-F, Lo YMD (2009) Single-molecule detection of epidermal growth factor receptor mutations in plasma by microfluidics digital PCR in non–small cell lung Cancer patients. Clin Cancer Res 15(6):2076–2084. https://doi.org/10.1158/1078-0432.ccr-08-2622

22.

Jian G, Songwen Z, Ling Z, Qinfang D, Jie Z, Liang T, Caicun Z (2010) Prediction of epidermal growth factor receptor mutations in the plasma/pleural effusion to efficacy of gefitinib treatment in advanced non-small cell lung cancer. J Cancer Res Clin Oncol 136(9):1341–1347. https://doi.org/10.1007/s00432-010-0785-z

23.

Bettegowda C, Sausen M, Leary RJ, Kinde I, Wang Y, Agrawal N, Bartlett BR, Wang H, Luber B, Alani RM, Antonarakis ES, Azad NS, Bardelli A, Brem H, Cameron JL, Lee CC, Fecher LA, Gallia GL, Gibbs P, Le D, Giuntoli RL, Goggins M, Hogarty MD, Holdhoff M, Hong S-M, Jiao Y, Juhl HH, Kim JJ, Siravegna G, Laheru DA, Lauricella C, Lim M, Lipson EJ, Marie SKN, Netto GJ, Oliner KS, Olivi A, Olsson L, Riggins GJ, Sartore-Bianchi A, Schmidt K, Shih L-M, Oba-Shinjo SM, Siena S, Theodorescu D, Tie J, Harkins TT, Veronese S, Wang T-L, Weingart JD, Wolfgang CL, Wood LD, Xing D, Hruban RH, Wu J, Allen PJ, Schmidt CM, Choti MA, Velculescu VE, Kinzler KW, Vogelstein B, Papadopoulos N, Diaz LA Jr (2014) Detection of circulating tumor DNA in early- and late-stage human malignancies. Sci Transl Med 6(224):224ra224–224ra224. https://doi.org/10.1126/scitranslmed.3007094

24.

Shigematsu H, Lin L, Takahashi T, Nomura M, Suzuki M, Wistuba II, Fong KM, Lee H, Toyooka S, Shimizu N (2005) Clinical and biological features associated with epidermal growth factor receptor gene mutations in lung cancers. J Natl Cancer Inst 97(5):339–346

25.

Tsao AS, Tang XM, Sabloff B, Xiao L, Shigematsu H, Roth J, Spitz M, Hong WK, Gazdar A, Wistuba I (2006) Clinicopathologic characteristics of the EGFR gene mutation in non-small cell lung Cancer. J Thorac Oncol 1(3):231–239. https://doi.org/10.1016/S1556-0864(15)31573-2

26.

Vaissière T, Sawan C, Herceg Z (2008) Epigenetic interplay between histone modifications and DNA methylation in gene silencing. Mutation Research/Reviews in Mutation Research 659(1):40–48. https://doi.org/10.1016/j.mrrev.2008.02.004

27.

Jung K-W, Won Y-J, Kong H-J, Oh C-M, Lee DH, Lee JS (2014) Cancer statistics in Korea: incidence, mortality, survival, and prevalence in 2011. Cancer Res Treat 46(2):109–123. https://doi.org/10.4143/crt.2014.46.2.109

28.

Douillard J-Y, Ostoros G, Cobo M, Ciuleanu T, Cole R, McWalter G, Walker J, Dearden S, Webster A, Milenkova T, McCormack R (2014) Gefitinib treatment in EGFR mutated Caucasian NSCLC: circulating-free tumor DNA as a surrogate for determination of EGFR status. J Thorac Oncol 9(9):1345–1353. https://doi.org/10.1097/JTO.0000000000000263

29.

Mok T, Wu Y-L, Lee JS, Yu C-J, Sriuranpong V, Sandoval-Tan J, Ladrera G, Thongprasert S, Srimuninnimit V, Liao M, Zhu Y, Zhou C, Fuerte F, Margono B, Wen W, Tsai J, Truman M, Klughammer B, Shames DS, Wu L (2015) Detection and dynamic changes of EGFR mutations from circulating tumor DNA as a predictor of survival outcomes in NSCLC patients treated with first-line intercalated erlotinib and chemotherapy. Clin Cancer Res 21(14):3196–3203. https://doi.org/10.1158/1078-0432.ccr-14-2594

30.

Karachaliou N, Mayo-de las Casas C, Queralt C, de Aguirre I, Melloni B, Cardenal F, Garcia-Gomez R, Massuti B, Sánchez JM, Porta R (2015) Association of EGFR L858R mutation in circulating free DNA with survival in the EURTAC trial. JAMA Oncol 1(2):149–157

31.

Reck M, Hagiwara K, Han B, Tjulandin S, Grohé C, Yokoi T, Morabito A, Novello S, Arriola E, Molinier O, McCormack R, Ratcliffe M, Normanno N (2016) ctDNA determination of EGFR mutation status in European and Japanese patients with advanced NSCLC: the ASSESS study. J Thorac Oncol 11(10):1682–1689. https://doi.org/10.1016/j.jtho.2016.05.036

32.

Qiu M, Wang J, Xu Y, Ding X, Li M, Jiang F, Xu L, Yin R (2015) Circulating tumor DNA is effective for the detection of EGFR mutation in non–small cell lung cancer: a meta-analysis. Cancer epidemiology biomarkers &amp. Prevention 24(1):206–212. https://doi.org/10.1158/1055-9965.epi-14-0895

33.

Luo J, Shen L, Zheng D (2014) Diagnostic value of circulating free DNA for the detection of EGFR mutation status in NSCLC: a systematic review and meta-analysis. Sci Rep 4:6269–6269. https://doi.org/10.1038/srep06269
Acknowledgements
We would like to thank Astra Zeneca Indonesia Ltd. for the support of ctDNA testing.
Ethics declarations
Conflict of Interest
The authors declare that they have no conflict of interest.
Additional information
Publisher's Note
Springer Nature remains neutral with regard to jurisdictional claims in published maps and institutional affiliations.
About this article
Cite this article
Wulandari, L., Soegiarto, G., Febriani, A. et al. Comparison of Detection of Epidermal Growth Factor Receptor (EFGR) Gene Mutation in Peripheral Blood Plasma (Liquid Biopsy) with Cytological Specimens in Lung Adenocarcinoma Patients. Indian J Surg Oncol (2020). https://doi.org/10.1007/s13193-020-01046-1
Received:

Accepted:

Published:
Keywords
Concordance rate

ctDNA plasma

EGFR mutation

Lung adenocarcinoma