Abstract
Free tissue transfer is the reconstructive option of choice in oral defects of onco-resections. Local flaps like nasolabial flap and FAMM flaps need to be in the armamentarium of surgeons to use when need arises. The aim of this study is to assess utility of island FAMM or nasolabial flap in oral reconstruction, in an oncological setting. Patients with oral cancers, irrespective of nodal status, were included in the study. A total of 33 patients were enrolled from Jan 2018 to Feb 2019, of which 2 were discarded intra-operatively. Fifteen had NLF and 16 had FAMM flap reconstruction. Partial flap loss was noted in 2 patients that healed with granulation, secondarily. Island FAMM and island nasolabial flaps are equally good reconstructive options even in an oncological setup, if factors like addictions, socialising capacity of patient and presence of submucosal fibrosis can be ascertained.
This is a preview of subscription content, log in to check access.
Access options
Buy single article
Instant unlimited access to the full article PDF.
US$ 39.95
Price includes VAT for USA
Subscribe to journal
Immediate online access to all issues from 2019. Subscription will auto renew annually.
US$ 99
This is the net price. Taxes to be calculated in checkout.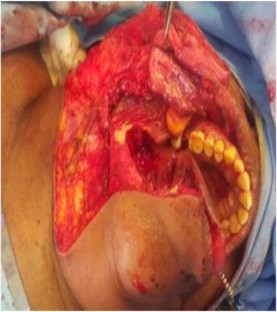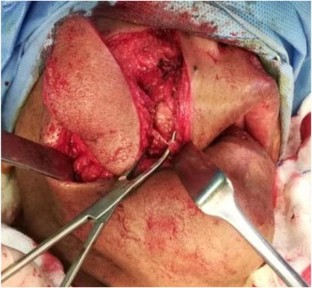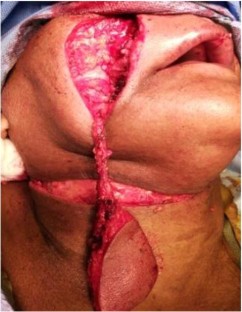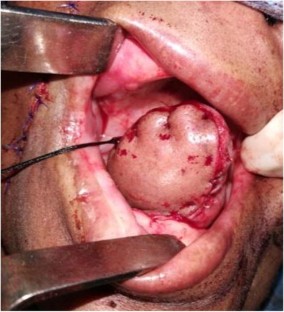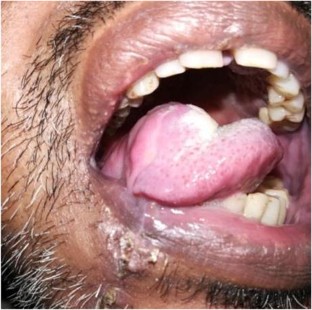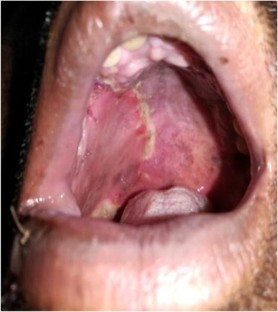 References
1.

Pribaz J, Stephens W, Crespo L, Gifford G (1992) A new intraoral flap: facial artery musculomucosal (FAMM) flap. PlastReconstr Surg 90(3):421–429

2.

Dolderer JH, Hussey AJ, Morrison WA (2011) Extension of the facial artery musculomucosal flap to reconstruct a defect of the soft palate. J PlastSurg Hand Surg 45(4–5):208–211

3.

Massarelli O, Gobbi R, Raho MT, Tullio A (2008) Three-dimensional primary reconstruction of anterior mouth floor and ventral tongue using the 'trilobed' buccinator myomucosal island flap. Int J Oral Maxillofac Surg 37(10):917–922

4.

Xie L, Lavigne F, Rahal A, Moubayed SP, Ayad T (2013) Facial artery musculomucosal flap for reconstruction of skull base defects: a cadaveric study. Laryngoscope. 123(8):1854–1861

5.

Xie L, Lavigne P, Lavigne F, Ayad T (2016 Jun) Modified facial artery musculomucosal flap for reconstruction of posterior skull base defects. J Neurol Surg Rep 77(2):e98–e101

6.

Joseph ST, Naveen BS, Mohan TM, Tharayil TJ (2018) Tracheal advancement with myomucosal island flap for partial laryngopharyngectomy defect reconstruction. Head & Neck 00:1–5

7.

British Journal of Plastic Surgery (2005) 58, 1061–1066 Reconstruction of intraoral defects using facial artery musculomucosal flap A. Joshi, J.S. Rajendraprasad, K. Shetty* Plastic, Reconstructive and microvascular services, Tata Memorial Cancer Center and Hospital, Parel, Mumbai 400012, India

8.

Ellabban MA, Van Niekerk WJ, Shoaib T (2008) Sutures to mark the exact site of division of the two-stage nasolabial flap for floor-of-mouth reconstruction. J Plast ReconstrAesthet Surg JPRAS 61:217–218. PubMed

9.

Ayeni O, Ayeni O, Carey W, Muhn C. Combined advancement and single-lobed nasolabial transposition flaps for a nasal sidewall defect. Dermatol. Surg. 2012;38:1386–1389. official publication for American Society for Dermatologic Surgery [et al]

10.

Simons G, Greco JM, Darsonval V (1984) The naso-cheek or nasolabial rotation flap with subcutaneous pedicle in the repair of tissue loss above the lip. Ann de Chir PlastEsthet 29:74–77

11.

Rahpeyma A, Khajehahmadi S (2015) Unilateral one stage nasolabial flap for reconstruction of the lips. J Maxillofac Oral Surg 14:234–239

12.

Barlow JO The bifurcated nasolabial transposition flap. Dermatol. Surg. 2011;37:695–699. official publication for American Society for Dermatologic Surgery [et al]

13.

Whetzel TP, Mathes SJ (1992) Arterial anatomy of the face: an analysis of vascular territories and perforating cutaneous vessels. PlastReconstr Surg 89:591–603 discussion 4–5

14.

Pinar YA, Bilge O, Govsa F. Anatomic study of the blood supply of perioral region. Clin Anat. (New York) 2005;18:330–339
Additional information
Publisher's Note
Springer Nature remains neutral with regard to jurisdictional claims in published maps and institutional affiliations.
About this article
Cite this article
Janardhan, D., George, C.K., Thomas, S. et al. Island NLF or Island FAMM Flap in Reconstruction of Oral Malignancy Defects?. Indian J Surg Oncol (2020). https://doi.org/10.1007/s13193-019-01016-2
Received:

Accepted:

Published:
Keywords
Island FAMM

Nasolabial flap

Free tissue transfer