Abstract
Patients with limited English proficiency (LEP) have disproportionately lower rates of cancer screening than English-proficient patients. Given the multifactorial nature of screening disparities, strategies to improve screening rates must address barriers within and outside of the clinic setting. The objectives of this study were to understand local barriers from multiple stakeholder perspectives, to identify potential multilevel intervention approaches, and to mobilize community-engaged intervention decision making and planning. This participatory formative evaluation approach employed needs assessment and user engagement in order to enhance intervention usefulness and relevance. The study took place in several stages and involved clinic and community partners in a small metropolitan area of the Midwest USA. Interviews were conducted with LEP patients (n = 9) who had not completed three recommended screenings (breast, cervical, and colorectal), primary care providers (n = 5), medical interpreter (n = 5), and community members (n = 3). These highlighted multilevel barriers including limited patient understanding of preventive health, time and cost constraints, and variable roles of language interpreters. The literature was also reviewed to identify interventions used with similar populations. Findings from this review suggest that interventions are largely focused on single population groups or address single screening barriers. Finally, a community-academic summit (n = 48 participants) was held to review results and develop recommendations for community and clinic interventions. Findings from this study indicate that it is possible to engage a diverse group of stakeholders in strategies that are responsive to health care providers and patients, including LEP patients from heterogeneous backgrounds.
This is a preview of subscription content, log in to check access.
Access options
Buy single article
Instant access to the full article PDF.
US$ 39.95
Price includes VAT for USA
Subscribe to journal
Immediate online access to all issues from 2019. Subscription will auto renew annually.
US$ 99
This is the net price. Taxes to be calculated in checkout.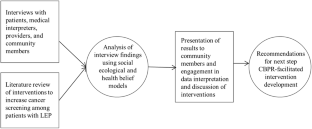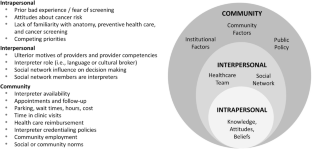 References
1.

Sentell T, Shumway M, Snowden L (2007) Access to mental health treatment by English language proficiency and race/ethnicity. J Gen Intern Med 22(Suppl 2):289–293

2.

Wisnivesky JP, Krauskopf K, Wolf MS, Wilson EA, Sofianou A, Martynenko M et al (2012) The association between language proficiency and outcomes of elderly patients with asthma. Ann Allergy Asthma Immunol 109(3):179–184

3.

Hacker K, Choi YS, Trebino L, Hicks L, Friedman E, Blanchfield B, Gazelle GS (2012) Exploring the impact of language services on utilization and clinical outcomes for diabetics. PLoS One 7(6):e38507

4.

Flores G, Abreu M, Tomany-Korman SC (2005) Limited English proficiency, primary language at home, and disparities in children's health care: how language barriers are measured matters. Public Health Rep 120(4):418–430

5.

Jacobs EA, Karavolos K, Rathouz PJ, Ferris TG, Powell LH (2005) Limited English proficiency and breast and cervical cancer screening in a multiethnic population. Am J Public Health 95(8):1410–1416

6.

Li CI, Malone KE, Daling JR (2003) Differences in breast cancer stage, treatment, and survival by race and ethnicity. Arch Intern Med 163(1):49–56

7.

Adunlin G, Cyrus JW, Asare M, Sabik LM (2019) Barriers and facilitators to breast and cervical cancer screening among immigrants in the United States. J Immigr Minor Health 21(3):606–658

8.

Tran MT, Jeong MB, Nguyen VV, Sharp MT, Yu EP, Yu F et al (2018) Colorectal cancer beliefs, knowledge, and screening among Filipino, Hmong, and Korean Americans. Cancer. 124(Suppl 7):1552–1559

9.

Napoles AM, Santoyo-Olsson J, Stewart AL, Olmstead J, Gregorich SE, Farren G et al (2015) Physician counseling on colorectal cancer screening and receipt of screening among Latino patients. J Gen Intern Med 30(4):483–489

10.

Green AR, Peters-Lewis A, Percac-Lima S et al (2008) Barriers to screening colonoscopy for low-income Latino and white patients in an urban community health center. J Gen Intern Med 23(6):834–840

11.

Baron RC, Melillo S, Rimer BK et al (2010) Intervention to increase recommendation and delivery of screening for breast, cervical, and colorectal cancers by healthcare providers a systematic review of provider reminders. Am J Prev Med 38(1):110–117

12.

Baron RC, Rimer BK, Breslow RA et al (2008) Client-directed interventions to increase community demand for breast, cervical, and colorectal cancer screening a systematic review. Am J Prev Med 35(1 Suppl):S34–S55

13.

Sabatino SA, Habarta N, Baron RC et al (2008) Interventions to increase recommendation and delivery of screening for breast, cervical, and colorectal cancers by healthcare providers systematic reviews of provider assessment and feedback and provider incentives. Am J Prev Med 35:S67–S74

14.

van der Velde J, Williamson DL, Ogilvie LD (2009) Participatory action research: practical strategies for actively engaging and maintaining participation in immigrant and refugee communities. Qual Health Res 19(9):1293–1302

15.

Johnson CE, Ali SA, Shipp MP (2009) Building community-based participatory research partnerships with a Somali refugee community. Am J Prev Med 37(6 Suppl 1):S230–S236

16.

Wieland ML, Weis JA, Palmer T, Goodson M, Loth S, Omer F, Abbenyi A, Krucker K, Edens K, Sia IG (2012) Physical activity and nutrition among immigrant and refugee women: a community-based participatory research approach. Womens Health Issues 22(2):e225–e232

17.

Israel BA, Schulz AJ, Parker EA, Becker AB (1998) Review of community-based research: assessing partnership approaches to improve public health. Annu Rev Public Health 19:173–202

18.

Wieland ML, Hanza MMM, Weis JA, Meiers SJ, Patten CA, Clark MM et al (2018 Feb) Healthy immigrant families: randomized controlled trial of a family-based nutrition and physical activity intervention. Am J Health Promot 32(2):473–484

19.

Wieland ML, Nigon JA, Weis JA, Espinda-Brandt L, Beck D, Sia IG (2019) Sustainability of a tuberculosis screening program at an adult education center through community-based participatory research. J Public Health Man 25(6):602–605

20.

Njeru JW, St Sauver JL, Jacobson DJ, Ebbert JO, Takahashi PY, Fan C et al (2015) Emergency department and inpatient health care utilization among patients who require interpreter services. BMC Health Serv Res 15:214

21.

Flynn PM, Ridgeway JL, Wieland ML, Williams MD, Haas LR, Kremers WK et al (2013 Mar) Primary care utilization and mental health diagnoses among adult patients requiring interpreters: a retrospective cohort study. J Gen Intern Med 28(3):386–391

22.

Morrison TB, Wieland ML, Cha SS, Rahman AS, Chaudhry R (2012 Dec) Disparities in preventive health services among Somali immigrants and refugees. J Immigr Minor Health 14(6):968–974

23.

Njeru JW, Tan EM, St Sauver J, Jacobson DJ, Agunwamba AA, Wilson PM et al (2015 Sep) High rates of diabetes mellitus, pre-diabetes and obesity among Somali immigrants and refugees in Minnesota: a retrospective chart review. J Immigr Minor Health 28

24.

Njeru JW, Boehm DH, Jacobson DJ, Guzman-Corrales LM, Fan C, Shimotsu S, Wieland ML (2017 Aug) Diabetes outcome and process measures among patients who require language interpreter Services in Minnesota Primary Care Practices. J Community Health 42(4):819–825

25.

Njeru JW, DeJesus RS, St Sauver J, Rutten LJ, Jacobson DJ, Wilson P et al (2016) Utilization of a mental health collaborative care model among patients who require interpreter services. Int J Ment Health Syst 10:15

26.

Stokols D (1996) Translating social ecological theory into guidelines for community health promotion. Am J Health Promot 10(4):282–298

27.

Rosenstock IM, Strecher VJ, Becker MH (1988) Social learning theory and the health belief model. Health Educ Q 15(2):175–183

28.

Hsieh H-F, Shannon SE (2005) Three approaches to qualitative content analysis. Qual Health Res 15(9):1277–1288

29.

Patel K, Auton MF, Carter B, Watkins CL, Hackett M, Leathley MJ et al (2016) Parallel-serial memoing: a novel approach to analyzing qualitative data. Qual Health Res 26(13):1745–1752

30.

National Cancer Institute (1995) Theory at a glance: a guide for health promotion practice. U.S. Dept. of Health and Human Services, Bethesda

31.

Agurs-Collins T, Persky S, Paskett ED, Barkin SL, Meissner HI, Nansel TR et al (2019) Designing and assessing multilevel interventions to improve minority health and reduce health disparities. Am J Public Health 109(S1):S86–S93

32.

Raymond NC, Osman W, O'Brien JM, Ali N, Kia F, Mohamed F, Mohamed A, Goldade KB, Pratt R, Okuyemi K (2014) Culturally informed views on cancer screening: a qualitative research study of the differences between older and younger Somali immigrant women. BMC Public Health 14(1):1188. https://doi.org/10.1186/1471-2458-14-1188
Ethics declarations
Conflict of Interest
The authors declare that they have no conflict of interest.
Ethics Approval and Consent to Participate
This study was approved by the (Mayo Clinic Institutional Review Board) (IRB #17–009432), and interview participants completed oral consent procedures.
Additional information
Publisher's Note
Springer Nature remains neutral with regard to jurisdictional claims in published maps and institutional affiliations.
About this article
Cite this article
Ridgeway, J.L., Njeru, J.W., Breitkopf, C.R. et al. Closing the Gap: Participatory Formative Evaluation to Reduce Cancer Screening Disparities among Patients with Limited English Proficiency. J Canc Educ (2020). https://doi.org/10.1007/s13187-020-01706-4
Keywords
Cancer screening

Limited English proficiency

Community-based participatory research