Abstract
Introduction
Acetaminophen protein adducts in the circulation are a specific biomarker of acetaminophen oxidation, and may be a more sensitive measure of impending hepatic injury following overdose than alanine transaminase (ALT). We performed an exploratory analytical substudy of adducts during a clinical trial (NACSTOP) of abbreviated (12-hour) versus control (20-hour) acetylcysteine to identify any signal of diminished antidotal effectiveness with shortened therapy.
Methods
We measured adducts at 0, 12, and 20 hours from a convenience sample of subjects enrolled in the cluster-controlled NACSTOP trial evaluating a 12-hour ("abbreviated"; 200 mg/kg over 4 hours, 50 mg/kg over 8 hours) vs 20-hour acetylcysteine regimen ("control"; 200 mg/kg over 4 hours, 100 mg/kg over 16 hours). Adducts were assayed using high-performance liquid chromatography/mass spectrometry.
Results
Median ALT 20 hours after the initiation of acetylcysteine was 12 U/L (IQR 8,14) in the abbreviated 12-hour regimen group (N = 8), compared with the control group 16 U/L (IQR 11,21; N = 21) (p = 0.46). Adduct concentrations were similarly low in both groups: abbreviated [(0.005 μmol/L, IQR (0,0.14)] and control [(0.005 μmol/L, IQR (0,0.05)] (p = 0.61).
Conclusions
There were minimal to no acetaminophen protein adducts detected. These findings further support discontinuing acetylcysteine when acetaminophen concentrations are low and liver function tests normal after 12 hours of treatment.
This is a preview of subscription content, log in to check access.
Access options
Buy single article
Instant unlimited access to the full article PDF.
US$ 39.95
Price includes VAT for USA
Subscribe to journal
Immediate online access to all issues from 2019. Subscription will auto renew annually.
US$ 99
This is the net price. Taxes to be calculated in checkout.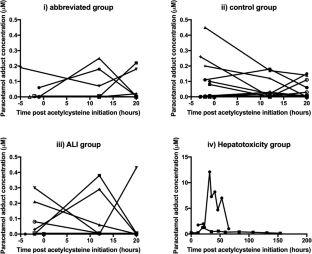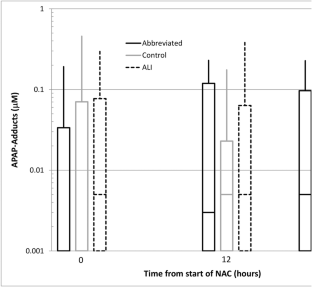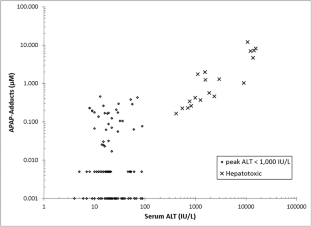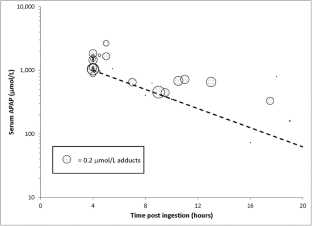 References
1.

Wong A, McNulty R, Taylor D, Sivilotti M, Greene S, Gunja N, et al. The NACSTOP trial: a multicenter, cluster-controlled trial of early cessation of acetylcysteine in acetaminophen overdose. Hepatology. 2019;69(2):774–84.

2.

Pettie J, Caparrotta TM, Hunter RW, et al. Safety and efficacy of the SNAP 12-hour acetylcysteine regimen for the treatment of paracetamol overdose. EClinicalMed. 2019.

3.

Johnson MT, McCammon CA, Mullins ME, Halcomb SE. Evaluation of a simplified N-acetylcysteine dosing regimen for the treatment of acetaminophen toxicity. Ann Pharmacother. 2011;45(6):713–20.

4.

Chiew AL, Isbister GK, Kirby KA, Page CB, Chan BSH, Buckley NA. Massive paracetamol overdose: an observational study of the effect of activated charcoal and increased acetylcysteine dose (ATOM-2). Clin Toxicol. 2017;55(10):1055–65.

5.

Dart RC, Rumack BH. Patient-tailored acetylcysteine administration. Ann Emerg Med. 2007;50(3):280–1.

6.

Rumack BH. Acetaminophen hepatotoxicity: the first 35 years. J Toxicol Clin Toxicol. 2002;40(1):3–20.

7.

Sivilotti ML, Yarema MC, Juurlink DN, Good AM, Johnson DW. A risk quantification instrument for acute acetaminophen overdose patients treated with N-acetylcysteine. Ann Emerg Med. 2005;46(3):263–71.

8.

Mitchell JR, Jollow DJ, Potter WZ. Acetaminophen induced hepatic necrosis. I. Role of drug metabolism. J Pharmacol Exp Ther. 1973;187(1):185–94.

9.

Davern ITJ, James LP, Hinson JA, Polson J, Larson AM, Fontana RJ, et al. Measurement of serum acetaminophen-protein adducts in patients with acute liver failure. Gastroenterology. 2006;130(3):687–94.

10.

Heard K, Green JL, Anderson V, Bucher-Bartelson B, Dart RC. Paracetamol (acetaminophen) protein adduct concentrations during therapeutic dosing. Br J Clin Pharmacol. 2016;81(3):562–8.

11.

Wong A, Graudins A. Simplification of the standard three-bag intravenous acetylcysteine regimen for paracetamol poisoning results in a lower incidence of adverse drug reactions. Clin Toxicol. 2016;54(2):115–9.

12.

McNulty R, Lim JME, Chandru P, Gunja N. Fewer adverse effects with a modified two-bag acetylcysteine protocol in paracetamol overdose. Clin Toxicol. 2018;56(7):618–21.

13.

Schmidt LE, Rasmussen DN, Petersen TS, Macias-Perez IM, Pavliv L, Kaelin B, et al. Fewer adverse effects associated with a modified two-bag intravenous acetylcysteine protocol compared to traditional three-bag regimen in paracetamol overdose. Clin Toxicol. 2018:1–7.

14.

Wong A, Gunja N, McNulty R, Graudins A. Analysis of an 8-hour acetylcysteine infusion protocol for repeated supratherapeutic ingestion (RSTI) of paracetamol. Clin Toxicol. 2018;56(3):199–203.

15.

Chiew A, Fountain JS, Graudins A, Isbister GK, Reith D, Buckley NA. Summary statement: new guidelines for the management of paracetamol poisoning in Australia and New Zealand. Med J Aust. 2015;203(5):215–8.

16.

Cook SF, King AD, Chang Y, Murray GJ, Norris HR, Dart RC, et al. Quantification of a biomarker of acetaminophen protein adducts in human serum by high-performance liquid chromatography-electrospray ionization-tandem mass spectrometry: clinical and animal model applications. J Chromatogr B Analyt Technol Biomed Life Sci. 2015;985:131–41. https://doi.org/10.1016/j.jchromb.2015.01.028.

17.

Curry SC, Padilla-Jones A, Ruha AM, O'Connor AD, Kang AM, Wilkins DG, et al. The relationship between circulating acetaminophen-protein adduct concentrations and alanine aminotransferase activities in patients with and without acetaminophen overdose and toxicity. J Med Toxicol. 2019.

18.

James LP, Chiew A, Abdel-Rahman SM, Letzig L, Graudins A, Day P, et al. Acetaminophen protein adduct formation following low-dose acetaminophen exposure: comparison of immediate-release vs extended-release formulations. Eur J Clin Pharmacol. 2013;69(4):851–7.

19.

Court MH, Zhu Z, Masse G, Duan SX, James LP, Harmatz JS, et al. Race, gender, and genetic polymorphism contribute to variability in acetaminophen pharmacokinetics, metabolism, and protein-adduct concentrations in healthy African-American and European-American volunteers. J Pharmacol Exp Ther. 2017;362(3):431–40.

20.

Heard KJ, Green JL, James LP, Judge BS, Zolot L, Rhyee S, et al. Acetaminophen-cysteine adducts during therapeutic dosing and following overdose. BMC Gastroenterol. 2011;11:20.

21.

Prescott LF. Paracetamol: past, present, and future. Am J Ther. 2000;7(2):143–7.

22.

Prescott LF. Kinetics and metabolism of paracetamol and phenacetin. Br J Clin Pharmacol. 1980;10(Suppl 2):291S–8S.

23.

Wong A, Homer N, Dear JW, Choy KW, Doery J, Graudins A. Paracetamol metabolite concentrations following low risk overdose treated with an abbreviated 12-h versus 20-h acetylcysteine infusion. Clin Toxicol. 2019;57(5):312–7.

24.

Kietzmann T. Metabolic zonation of the liver: the oxygen gradient revisited. Redox Biol. 2017;11:622–30.

25.

Wong A, Nejad C, Gantier M, Choy KW, Doery J, Graudins A. MicroRNA from a 12-h versus 20-h acetylcysteine infusion for paracetamol overdose. Hum Exp Toxicol. 2019;38(6):646–54.

26.

Wong A, Graudins A. Risk prediction of hepatotoxicity in paracetamol poisoning. Clin Toxicol. 2017;55(8):879–92.

27.

Heard K, Green JL, Anderson V, Bucher-Bartelson B, Dart RC. A randomized, placebo-controlled trial to determine the course of aminotransferase elevation during prolonged acetaminophen administration. BMC Pharmacol Toxicol. 2014;15:39.
Ethics declarations
Fully informed consent from participants was obtained to participate in the study. Ethics approval was obtained from the Monash Health Ethics Research Committee.
Conflicts of Interest
None.
Additional information
Publisher's Note
Springer Nature remains neutral with regard to jurisdictional claims in published maps and institutional affiliations.
Supervising Editor: Michael Levine, MD
About this article
Cite this article
Wong, A., Heard, K., Graudins, A. et al. Adducts Post Acetaminophen Overdose Treated with a 12-Hour vs 20-Hour Acetylcysteine Infusion. J. Med. Toxicol. (2020). https://doi.org/10.1007/s13181-020-00757-9
Received:

Revised:

Accepted:

Published:
Keywords
Acetaminophen

Paracetamol

NAC

Acetylcysteine

Poisoning