Human Teaching and Cumulative Cultural Evolution
Abstract
Although evidence of teaching behaviour has been identified in some nonhuman species, human teaching appears to be unique in terms of both the breadth of contexts within which it is observed, and in its responsiveness to needs of the learner. Similarly, cultural evolution is observable in other species, but human cultural evolution appears strikingly distinct. This has led to speculation that the evolutionary origins of these capacities may be causally linked. Here we provide an overview of contrasting perspectives on the relationship between teaching and cultural evolution in humans, and briefly review previous research which suggests that cumulative culture (here meaning cultural evolution featuring a trend towards improving functionality) can occur without teaching. We then report the results of a novel experimental study in which we investigated how the benefits of teaching may depend on the complexity of the skill to be acquired. Participants were asked to tie knots of varying complexity. In our Teaching condition, opportunities to interact with an experienced partner aided transmission of the most complex knots, but not simpler equivalents, relative to exposure to completed products alone (End State Only condition), and also relative to information about the process of completion (Intermediate States condition). We conclude by considering the plausibility of various accounts of the evolutionary relationship between teaching and cultural evolution in humans.
1

Introduction

The role of culture in human behaviour has no parallel in any other species, and it is responsible for many of the characteristics which distinguish us from even our closest evolutionary relatives (Hill et al. 2009; Tomasello 1999). By definition, culture involves the social transmission of information from one individual to another. There is therefore widespread interest from behavioural scientists in the specific role that teaching may play in this process, and the extent to which it may account for the apparently unique features of human culture. Here, we provide an overview of the contrasting accounts of the relationship between teaching and human-specific culture, and consider evidence which provides insights into the role of teaching in cumulative culture. We first introduce the concepts under discussion.
2

An Experimental Investigation of the Benefits of Teaching for Transmission of Simple and Complex Knot-Tying Skills
2.1

Rationale

The aim of this experiment was to identify whether human-specific features of teaching offered some benefit to transmission of a novel skill, and if so, whether such an effect was more pronounced for skills that were more complex, compared with simpler equivalents. In particular, we were interested in the capacity for anticipating and responding to the needs of the learner flexibly in real time. We therefore operationalised teaching (in a Teaching condition) such that naïve learners were given opportunities for coordinated interaction with experienced individuals who were tasked with attempting to pass on their skill. We also ran two control conditions to help isolate the extent to which human-specific features of teaching were effective over and above other sources of information potentially available from incidental exposure to the behaviour or products of an experienced individual's activity. The End State Only condition was intended to establish the effect of learning from the end products alone ("emulation" sensu Wood 1989), and the Intermediate States condition was intended to determine the effect of learning from limited process information, such as one might obtain from eavesdropping on an experienced individual engaging in the target activity.

In addition, to establish the value of instruction relative to the degree of complexity of the skill, several different behavioural products were used as target stimuli. The target solutions all represented examples of a relatively well-defined category (knots), thus permitting fairly direct and valid comparisons of relative difficulty. Two of these examples were selected specifically for the relative simplicity of their completion, and two for their difficulty. It was assumed that the process of completion for the more difficult knots would be more opaque to learners, due to the number of non-intuitive sub-goals involved in completion. Knot-tying has formed the focus of previous experimental studies of cultural evolution for reasons similar reasons to ours (i.e. due to the complex and opaque nature of the actions required). Derex et al. (2013) found that groups that could share information about process of completion, outperformed groups that could only share information about completed products, in a virtual knot-tying task. Muthukrishna et al. (2014) found that expert-taught knot-tying skills survived fewer generations of social transmission, when the transmission occurred between single individuals (one participant per generation) compared with transmission between cohorts consisting of multiple potential models (five participants per generation).

We predicted that, relative to the control conditions, the Teaching condition would be particularly beneficial for learners assigned the more difficult knots.
2.2

Method
2.2.1

Participants

One hundred and fifty-five undergraduate students (115 female) took part in the study as part of a psychology practical class at [name of institution removed due to blind review requirement]. During the Test Trial (see Procedure), 40 participants (31 female) were assigned the role of teacher, and 115 (84 female) took part as learners. The study was approved by the University's Psychology Ethics Committee, and all those taking part provided written consent for their participation.
2.2.2

Apparatus and Materials

Information associated with four different knots, including step-by-step pictorial knot-tying instructions, was obtained from www.animatedknots.com. The two knots specifically selected for their simplicity were the Carrick Bend (a boating knot), and the Improved Clinch (a fishing knot), and the two selected for their difficulty were the Purcell Prusik Loop (a rescue knot) and the Trucker's Hitch (a boating knot). The knots were selected partly according to the number and diversity of the steps involved in tying the knot, and partly according to subjective judgment of perceived difficulty by the experimenter. The step-by-step instructions available on the website consisted of a sequence of pictures of the knot in question in various stages of completion, and the number of pictures was, as might be expected, also approximately in line with the simple/complex categorisation (Carrick Bend 8; Improved Clinch 10; Purcell Prusik Loop 13; Trucker's Hitch 11). For three of the knots (Carrick Bend, Improved Clinch and Purcell Prusik Loop) the final step(s) simply involved tightening the knot, and therefore produced a version of the knot that would have been scored as technically correct. Technically correct (but looser) versions were depicted in Step 6 (Carrick Bend), Step 9 (Improved Clinch) and Step 11 (Purcell Prusik Loop).

Participants were provided with string(s) cut to lengths appropriate to the knot they were being asked to tie, in colours that were a close match to those represented in the relevant target images. They were also provided with metal rings if these were depicted in the images of the relevant knot.

Example images of each of the four completed knots, created using the materials from the current study, can be seen in Fig.

1

. The original images used as stimuli can be viewed at

www.animatedknots.com

. For the purpose of the current experiment the step-by-step pictorial instructions displaying the intermediate states were bound together in the form of a booklet for each of the different knots. The images depicted only string and metal rings. No human body parts (e.g. hands holding the string) were included in these images. The image of the Carrick Bend knot depicted in Fig.

1

represents the image shown in Step 6 of the instructions from

animatedknots.com

(loose version, see above regarding the number of steps involved in tying each knot), as this was the standalone image used to illustrate the knot on the website. This was therefore the single image provided to participants in the End State Only condition (see Procedure). The completed knot provided to participants, in contrast, was a fully tightened version of the Carrick Bend. For the other three knots the image used to illustrate the knot was the same as the (fully tightened) final image in the step-by-step image sequence.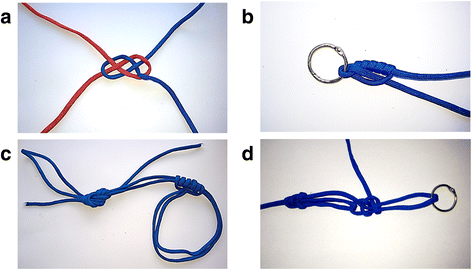 It should be noted that the knots differed in many respects other than just their relative difficulty. Two incorporated metal rings (as shown in Fig. 1), and one made use of two different string colours. The knots are also used for a range of different purposes. Their functions are listed as follows on the animatedknots.com website: boating (Carrick Bend and Trucker's Hitch), fishing (Improved Clinch), and rescue (Purcell Prusik Loop). It is possible that these factors may have influenced the ease of execution and/or learnability of the knots, although this was not systematically investigated.
A camera was used to record each participant's attempt at their assigned knot during the Test Trial.
2.2.3

Procedure

Each participant was recruited from one of ten practical class sessions (each comprising between 13 and 17 students), and all participants in a given class took part in the experiment at the same time. At the start, images of the four knots were displayed using an overhead projector, and all participants confirmed that they had no prior knowledge of how to construct any of the knots. Participants were not questioned regarding their general background experience of knot-tying, beyond these specific examples.
Practice Trial: Assigning Teacher Role
This initial knot-tying phase was used to determine which participants would be assigned the role of teacher for the experimental comparison between different learning conditions (the Test Trial). The experimenter assigned each participant a knot, equally distributed throughout the class to ensure an approximately equal assignment of each of the different knot types, and to ensure that no individual was sitting close to another participant who had been assigned the same knot. This was achieved by cycling through all four different knot types in the same repeating order, as materials were handed out to participants. This ensured that participants could not be sitting next to someone else who was assigned the same knot type as themselves.
Each participant was provided with the learning materials appropriate to their target knot. This consisted of an example completed knot which had been tied by the experimenter (and which they were not permitted to untie), the booklet of intermediate state images intended to guide them through the process of tying the knot, and the image of the completed knot. In order to tie their own knots, participants were also provided with string(s) of appropriate length, and metal rings if required.
Since the aim of this phase was to identify suitable teachers, rather than evaluate performance, participants were permitted to request informal help from the experimenter if they felt this would help them learn to tie their assigned knot. In each practical class, the goal of the Practice Trial was to identify at least one suitable teacher per knot type (to give a total of 40 teachers across all classes; ten per knot). When all four of the knots had each been mastered by at least one individual (and those participants had agreed to take on the role of teacher for the next phase), the Practice Trial was concluded and all knot-tying materials and learning aids were collected from participants. To be assigned the role of teacher, participants were required to have successfully completed their knot at least once. In the subsequent phase of the experiment (Test Trial, see below) those assigned the role of teacher were only ever expected to teach the particular knot for which they had demonstrated mastery during the Practice Trial.
Test Trial: Comparing Learning Conditions
Participants not assigned the role of teacher were provided with a new knot to learn, and were assigned to one of the three different learning conditions: End State Only; Intermediate States; and Teaching. Members of the class assigned the role of teacher swapped places with other individuals to ensure they were seated next to their assigned learner. Learners were assigned to knot types, and learning conditions, such that (as in the Practice Trial) they were not sitting next to another participant attempting to learn the same knot. Thus assignment to knot type and learning conditions was not random. However, it was done in such a way that there should not have been systematic differences between either knot type conditions or learning conditions (e.g. in terms of seating position in the class). Learners that had been assigned one of the simple knots during the Practice Trial were assigned one of the complex ones for the Test Trial, and vice versa. This was for the purely pragmatic motive that as many participants as possible should have the opportunity to attempt knots of both levels of difficulty, given the practical class context.
All participants were provided with the materials needed to tie their knot. In the End State Only condition, participants were also provided with an example completed knot, along with the image of the knot. In the Intermediate States condition, participants were provided with the booklet of intermediate steps for their knot, as well as the completed knot and image of the knot. In the Teaching condition, in addition to the same materials provided to those in the Intermediate States condition, the teacher-learner pairs were provided with an extra set of knot-tying materials for the teacher. Therefore, teachers were potentially able to use their own set of materials to demonstrate the process for the learner, as well as giving verbal instruction and feedback. Teachers were however informed that they should not under any circumstances interfere with their assigned learner's set of materials, which were to be used by the learner alone. This was to ensure that teachers did not complete any part of the knot that was to be recorded as the learner's attempt. In other respects, the teachers were permitted to teach the knot in any way they saw fit. We regarded this as very important given our logic that the potential additive benefits of teaching (over and above process information) were most likely to arise as a consequence of the flexibility of the teachers' behaviour allowing for responsiveness to the learners' needs. So it was critical to ensure that they were permitted this flexibility.
During the Test Trial, participants were given up to 30 min to tie their knot. By the end of this period, most participants had already completed their attempt, and a photograph had been taken by the experimenter. However, those who were still engaged in the task were asked to leave their attempt as close to completion as they had been able to achieve, and these partially completed attempts were recorded in the same way. Photographs were taken with knots oriented such that their structure was clear and they could be readily compared with the target images, as far as was possible.
Three of the 115 knots tied by participants in the Test Trial were not successfully recorded on camera. All were from the End State Only learning condition. Two were not photographed due to experimenter error (one Carrick Bend and one Improved Clinch) but the attempts were recorded on paper as having been entirely successful. The remaining knot (a Purcell Prusik Loop) was not photographed due to the participant electing to submit no attempt, as a result of having given up on the task. This attempt was recorded on paper as entirely unsuccessful.
2.2.4

Data Coding

Task success was measured by comparing the photographs of the produced knots to their target images. Coding was carried out by the same cohort of students in a subsequent series of practical classes. Photographs were identified by unique anonymous participant codes. Raters therefore had no way of knowing the identity of the knot's creator, nor which of the learning conditions that individual had been assigned. The experimenter, who was experienced in tying the knots as a result of running the classes, also rated the photographs in the same way (i.e. blind to participant identity and learning condition).

Raters were asked to give the knots a "success score" between 1 and 5, such that: "5 indicates that the knot is complete with no mistakes. 4 indicates that the knot is more than half complete and correct. 3 indicates that the knot is about half complete and correct. 2 indicates that the knot is less than half complete and correct. 1 indicates that no part of the knot has been completed."

Each knot photograph was rated by between five and 11 different coders. Each student coder rated only a small subset of the photographs, but the experimenter (CC) rated the full set. Student ratings showed a high concordance: from a total of 942 individual (student) ratings, 699 (74%) were the same as the median rating for that knot. These median scores were therefore taken as the value representing the student coders' rating of each knot. There was very high correlation between the median student rating and the experimenter's rating for each photograph (r = 0.926, N = 112, p < .001). The overall median rating (i.e. including the experimenter as one of the coders for every knot) was used for further analysis. The informal records of knot success taken during data collection were used for the three knots for which there was no photograph (with the successfully completed knots converted to scores of 5, and the completely unsuccessful attempt converted to a score of 1).
2.3

Results

Mean success scores for all four knots, for the three different learning conditions, are displayed in Table

1

. Figure

2

shows how many participants were successful (scores of 5), unsuccessful (scores of 1), or partially successful (all other scores), depending on knot type and learning condition.

Table 1

Mean success scores (using a five-point rating scale) for the four knot types, under the three learning conditions. Standard deviations are given in brackets
Learning Condition

Knot Type

Carrick Bend

Improved Clinch

Purcell Prusik Loop

Trucker's Hitch

End State Only

4.78

(0.6)

5.00

(0)

2.67

(1.12)

3.33

(1.22)

Intermediate States

5.00

(0)

4.85

(0.34)

2.00

(1.05)

4.33

(0.87)

Teaching

5.00

(0)

4.80

(0.42)

4.60

(0.70)

5.00

(0)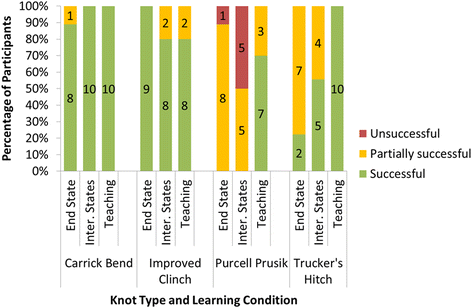 Knot success scores were analysed using linear regression (R Core Team 2013; Bates et al. 2013), with knot complexity (simple, i.e. Carrick Bend or Improved Clinch; or complex, i.e. Purcell Prusik Look or Trucker's Hitch), learning condition, and their interaction as fixed effects, and practice knot, practice success, test knot, and class group, included as random intercepts. Complex knots in the End State Only condition were taken as the baseline, and p-values were estimated from the resultant t-statistics with degrees of freedom being the number of observations minus the number of fixed parameters in the model (Baayen et al. 2008). The model was significantly better than its null equivalent (χ2(5) = 63.322, p < .001). There were significant effects of knot complexity (β = 1.899, SE = 0.583, t(110) = 3.257, p = .001), the Teaching condition (β = 1.799, SE = 0.240, t(110) = 7.486, p < .001), and the interaction between knot complexity and the Teaching condition (β = −1.790, SE = 0.340, t(110) = −5.266, p < .001). There was no effect of the Intermediate States condition or the interaction between knot complexity and the Intermediate States condition (β ≤ 0.031, SE ≥ 0.250, t(110) ≤ 0.124, p ≥ .902). A Tukey multiple comparison of means indicated a significant difference between the Teaching and End State Only conditions (β = 1.799, SE = 0.240, z = 7.486, p < .001), and the Teaching and Intermediate States conditions (β = 1.768, SE = 0.244, z = 7.242, p < .001), but no difference between the Intermediate States and End State Only condition (β = 0.031, SE = 0.250, z = 0.124, p = .992).
2.4

Conclusions

The results permit a number of conclusions. Firstly, our classification of the knots as "simple" and "complex" was supported by the analysis showing that, overall, success scores were significantly lower for the knots classified as complex, compared with those classified as simple. Also, in line with predictions, the Teaching condition was the most effective means of transmission of knot-tying skills for those knots exhibiting differences in success scores across conditions. Specifically, it was found that pairing a naïve learner with an experienced partner was more effective than learning from end state information alone, and that this effect was more apparent for knots that were classified as more challenging and complex. The Teaching condition was also more effective than the Intermediate States condition, in which participants were provided with a series of static images illustrating the process of completion in a step-by-step fashion. This suggests that having access to an experienced teacher provides benefits over and above exposure to stages of the process (as one might obtain as a consequence of contact with experienced individuals in the absence of teaching).

It should be noted that due to the group context in which the data were collected, we cannot completely rule out the possibility that some participants may have been able to catch glimpses of others some distance away (although never in the adjacent seat, see Methods) who were completing the same knot they had been assigned. However, if so then this would have been consistent across conditions, and therefore should not confound comparisons between conditions. Also, in terms of the potentially beneficial effects of (experimentally uncontrolled) opportunities to observe someone else completing the knot, over and above having access to the learning materials provided, this would have been greatest for the End State condition, and most negligible for the Teaching condition. Consequently any such issues would be unlikely to cast doubt on our conclusions, as they would tend to weaken differences between conditions, leading us to underestimate, if anything, the size of any differences.

The enhanced performance observed in the Teaching condition, relative to the other learning conditions, may be due to teachers' ability to be responsive to the needs of learners, which would allow them to provide feedback on the learner's attempts, and/or target their own instructive behaviour towards addressing any apparent shortcomings in the learner's understanding or performance. Neither source of information would have been available from the step-by-step instructions. It should be noted however that this remains a speculative conclusion on the basis of the current dataset, since it was not possible to record the nature of the interactions and communication that occurred between teachers and learners. We believe that future research recording and analysing spontaneous teaching behaviour would be extremely valuable, and would shed light on the information available to learners within such interactions, as compared with non-interactive exposure to process information.

In contrast with the complex knots, the simple knots were reproduced with high fidelity under all conditions. Although it was expected that teaching would increase success rates more for the complex knots compared with the simpler alternatives, this must remain a relatively cautious conclusion based on the current data. Success scores were so high for the simple knots that it was impossible to determine whether teaching also offered some benefits to transmission of these more transparent skills, as this may simply not have been detected here due to participants' ceiling level performance. Nonetheless it can certainly be concluded that there was clear evidence that transmission of the more complex knots was facilitated in the teaching condition, whereas this was not apparent for the simpler types.

In relation to this point, it should be emphasised that investigating this relative degree of benefit from teaching for the simple and complex knots was really the key motivation for the current study. The learning conditions, as operationalised in the current study, incorporated sources of information in an additive fashion. So individuals in the Teaching condition had access to the same materials as those in the Intermediate States condition, in addition to being paired with an experienced partner. Similarly, participants in the Intermediate States condition had access to the same materials as were available to those in the End State Only condition, but with the addition of the step-by-step instructions. Consequently, it should not come as a surprise that more information led to more effective learning. However, the fact that it did so apparently exclusively for the complex knots provides insights into the conditions under which teaching offers particular benefits. Another fruitful avenue for future research might attempt to isolate the effects of information available from intentional teaching from the effects of information available from observation. This could be achieved by, for example, permitting only remote communication between partners. This would make it possible to identify factors influencing whether behaviours were more effectively transmitted via observation in the absence of teaching, or alternatively, via teaching in the absence of observation.
3

General Discussion

Returning to the debate reviewed in the introduction, the study reported here (in combination with the other experimental work reviewed in Section 1.4) does shed some light on the topic, although the limitations of such approaches must not be overlooked (and we return to consider these below). In showing that cumulative cultural evolution can arise from learning from end products alone, Caldwell and Millen's (2009) results certainly cast doubt on the notion of teaching as an essential precursor, and this is reinforced by Zwirner and Thornton's (2015) replication of this finding using a different task. This would imply that some degree of cumulative culture could have existed in hominin populations without these individuals exhibiting propensities for teaching on a par with modern humans. Therefore, of the two alternative unidirectional proposals, it seems to us more plausible that the existence of a rudimentary form of cumulative culture might have either generated the selective advantage required for specialized capacities for teaching to evolve (e.g. Csibra and Gergely 2011), or enabled the cumulative cultural evolution of teaching behaviours themselves (e.g. Heyes 2016b). The evidence from the study reported above lends some additional weight to this idea, since it is clear from these results that teaching can facilitate transmission of skills. Indeed, the results also suggest that such benefits may be most apparent for relatively advanced skills. These are likely to represent outcomes of more extended sequences of accumulation of modifications, which rendered them relatively opaque in terms of the actions required for successful completion.

However, it should be noted that the evidence is not at odds with the two remaining proposals raised in the introduction (i.e. bidirectional coevolutionary causation, and alternative causal influence enabling both capacities). Furthermore, it must also be emphasized that the existing studies can contribute little to the question of the selective pressure (if indeed there was some key event or set of conditions at all) which triggered the development of the precursor trait or traits. Therefore, regardless of which of these interpretations we might favour, questions remain which the experimental evidence cannot speak to: what could have caused early hominins to develop cultural contents more complex than their predecessors and contemporaries, if this was not an outcome of the presence of particular transmission capabilities?; if teaching and cumulative culture are so inextricably linked by mutual influence as to render it impossible to identify one as more fundamental than the other, then what could have prompted the emergence of such a complement?; and if a third factor (such as social metacognitive capacities) enabled both, then is it possible to identify some selective pressure for this trait? It is well beyond the scope of the current manuscript to speculate on such matters, although we note that these questions have been addressed elsewhere (e.g. see Richerson and Boyd 2005, for a proposal linking the evolution of human cultural capacities to Pleistocene climate fluctuations).

In addition, regardless of whether teaching is concluded to be a key precursor of cumulative culture, it should be emphasised that it would be – at most – only one of several such precursors. To provide just two likely examples, the manifestation of cumulative culture has been proposed to be dependent on demographic factors, such as population size and structure (e.g. Derex and Boyd 2016), and technological advances will clearly be dependent on learners having some understanding of physical causality (e.g. Osiurak et al. 2016).

It is also important to note that the study presented in the current manuscript, in contrast to the studies of Caldwell and Millen (2008, 2009), is not a study of cumulative culture per se, since no attempt was made to track improvement in learner performance over multiple generations. The experiment reported here was therefore only a study of the effectiveness of transmission (and hence prevention against loss, rather than improvement). Within the literature on human cultural evolution, the emphasis has typically been placed on the importance of high fidelity transmission, and even blind copying (e.g. Lewis and Laland 2012; Tennie et al. 2009). However, faithful transmission alone is unlikely to result in cumulative culture as we have conceptualized it here. The nature of the innovative element involved in the process of cultural evolution may have a key influence on the outcome of that process (Caldwell et al. 2016). It is quite likely that innovative processes in humans have been relatively overlooked as a potentially significant factor in the distinctiveness of human culture.

In conclusion, teaching behaviour (as manifested in humans) appears strikingly well-designed for the transmission of cumulative culture. Flexibility enables the transmission of novel traits, and a high level of responsiveness to the perceived needs of the learner particularly facilitates the transmission of hard-to-learn skills. Furthermore, it appears that even very young children selectively focus on hard-to-learn skills when teaching others (Ronfard et al. 2016). The evolutionary history of these two features may therefore be linked. Experimental studies of behavioural transmission and accumulation can provide a key source of evidence in understanding this relationship through the manipulation of the availability of sources of information. In this way it is possible to determine limits on transmission and cumulative improvement under different conditions. Future research using such approaches may be able to identify relevant generalizable factors which distinguish the types of skill which can be preserved and/or enhanced under different transmission conditions.
Notes
Acknowledgements
This project has received funding from the European Research Council (ERC) under the European Union's Horizon 2020 research and innovation programme under grant agreement No. 648841 RATCHETCOG ERC-2014-CoG.
Copyright information
© The Author(s) 2017
Open Access This article is distributed under the terms of the Creative Commons Attribution 4.0 International License (http://creativecommons.org/licenses/by/4.0/), which permits unrestricted use, distribution, and reproduction in any medium, provided you give appropriate credit to the original author(s) and the source, provide a link to the Creative Commons license, and indicate if changes were made.