Abstract
To define changes in hydrochemical composition from the recharge to the discharge zone of the complex Kučaj–Beljanica karst massif, located in eastern Serbia, on a quarterly basis within one hydrologic year, a physico-chemical analysis was performed, along with the determination of ions (cations and anions) and isotope 13C content in rainwater, surface and groundwater (cold, sub-thermal and thermal). The multiparameter analysis of parameters was also used to determine the best combination and grouping of similar hydrochemical characteristics, as well as to determine the dependence of chemical parameters of the water, which may indicate the predominant complex geochemical underground processes. The results showed that the Ca2+ and dissolved oxygen O2 content in water decreases with circulation depth; while, the content of all other observed elements increases as a result of complex geochemical processes that occur within the complex karst environment.
This is a preview of subscription content, log in to check access.
Access options
Buy single article
Instant unlimited access to the full article PDF.
US$ 39.95
Price includes VAT for USA
Subscribe to journal
Immediate online access to all issues from 2019. Subscription will auto renew annually.
US$ 99
This is the net price. Taxes to be calculated in checkout.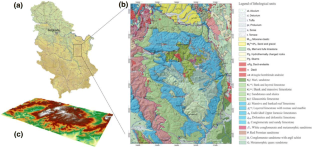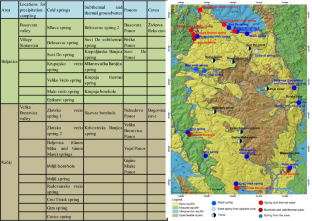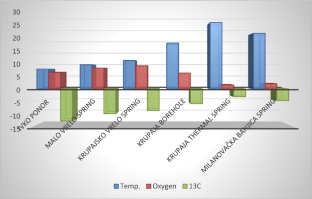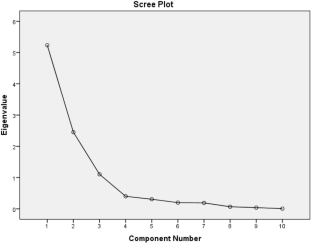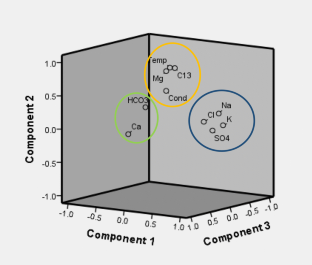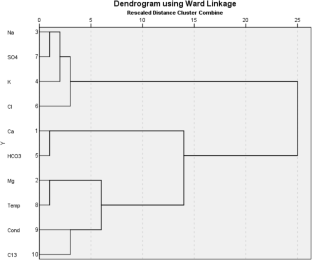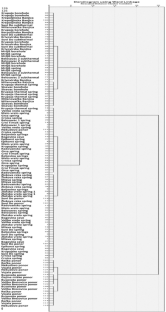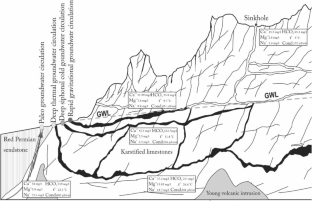 References
Cattell RB (1966) The scree test for the number of factors. Multivar Behav Res 1:245–276

Cloutier V, Lefebvre R, Therrien R, Savard MM (2008) Multivariate statistical analysis of geochemical data as indicative of the hydrogeochemical evolution of groundwater in a sedimentary rock aquifer system. J Hydrol 353:294–313

Drever JI (1997) The geochemistry of natural waters, 3rd edn. Prentice-Hall, Upper Saddle River

Field A (2005) Discovering statistics using SPSS. SAGE Publications Ltd., London

Fleming G (1975) Computer simulation techniques in hydrology. Elsevier, Scientific Publishing Co., Amsterdam

Ghosh A, Mondal S (2019) Application of multivariate statistics towards the geochemical evaluation of fluoride enrichment in groundwater at Shilabati river bank, West Bengal, India. Environ Eng Res 24(2):279–288. https://doi.org/10.4491/eer.2018.178

Güler C, Thyne GD, McCray JE, Turner AK (2002) Evaluation of graphical and multivariate statistical methods for classification of water chemistry data. Hydrogeol J 10:455–474

Hamil S, Arab S, Chaffai A, Baha M, Arab A (2018) Assessment of surface water quality using multivariate statistical analysis techniques: a case study from Ghrib dam, Algeria. Arab J Geosci 11:754

Hamzah FM, Jaafar O, Jani WNFA, Abdullah SMS (2016) Multivariate analysis of physical and chemical parameters of marine water quality in the straits of Johor, Malaysia. J Environ Sci Technol 9(6):427–436

Helena BA, Vega M, Barrado E, Pardo R, Fernandez L (1999) A case of hydrochemical characterization of an alluvial aquifer influenced by human activities. Water Air Soil Pollut 112:365–387

Huang P, Han S (2016) Assessment by multivariate analysis of groundwater-surface water interactions in the Coal-mining Exploring District, China. Earth Sci Res J 20(1):G1–G8. https://doi.org/10.15446/esrj.v20n1.37601

Huang F, Vasić L, Wu X, Jianhua C, Milanović S (2019) Hydrochemical features and their controlling factors in the Kucaj-Beljanica Massif, Serbia. Environ Earth Sci 78:498. https://doi.org/10.1007/s12665-019-8452-4

Jemcov I (2008) Bilans karstnih izdanskih voda i optimizacija rešenja njihovog zahvata na primerima iz Srbije, Doctoral dissertation, Department for hydrogeology, Faculty of Mining and Geology, Belgrade

Kaiser HF (1960) The application of electronic computers to factor analysis. Educ Psychol Measur 20:141–151

Karimi H, Raeisi E, Zare M (2005) Physicochemical time series of karst springs as a tool to differentiate the source of spring water. Carbonates Evaporites 20(2):138–147. https://doi.org/10.1007/BF03175457

Milanović S (2010) Formiranje fizičkog modela karstne izdani na primeru Beljanice (istočna Srbija), Doctoral dissertation, Department for hydrogeology, Faculty of Mining and Geology, Belgrade

Pinneker EV (1984) Underground hydrosphere. Nauka, Novosibirsk, p 157 (in Russian)

Pinneker EV (1985) Strategy for the management of groundwater quality, hydrogeology in the service of man, groundwater quality management, vol 3, no 154. IAHS publ, Cambridge, pp 1–6

Singh KP, Malik A, Mohan D, Sinha S, Singh VK (2005) Chemometric data analysis of pollutants in wastewater—a case study. Anal Chim Acta 532(1):15–25

Stevanović Z (1981) Hidrogeološke karakteristike karsta Kučajsko-beljaničkog masiva sa aspekta mogućnosti korišćenja izdanskih voda za vodosnabdevanje. Master thesis, Department for hydrogeology, Faculty of Mining and Geology, Belgrade

Stevanović Z (1991) Hidrogeologija karsta Karpato-balkanida istočne Srbije i mogućnosti vodosnabdevanja, Monograph. Department for hydrogeology, Faculty of Mining and Geology, Belgrade

Stevanović Z, Papić P (2008) The origin of groundwater. In: Dimkić M, Brauch HJ, Kavanaugh M (eds) Groundwater management in large river basins. IWA Publishing, London, pp 218–246

Stojković J (2013) Hidrogeohemijska valorizacija esencijalnih mikroelemenata мineralnih voda Srbije. Doctoral dissertation. Department for hydrogeology, Faculty of Mining and Geology, Belgrade

Tabachnick BG, Fidell LS (2007) Using multivariate statistics, 5th edn. Pearson Education, Boston

Vasić L (2017) Geneza i uslovi cirkulacije voda kompleksnih karstnih sistema Kučajsko-beljaničkog masiva. Doctoral dissertation, Department for hydrogeology, Faculty of Mining and Geology, Belgrade

Živojinović DZ (2013) Razvoj i primena hemometrijskih metoda za klasifikaciju i procenu kvaliteta vode. Doctoral dissertation, Faculty of Technology and Metallurgy, Belgrade
Acknowledgements
Research presented in this paper was supported by projects from the Ministry of Education, Science and Technological Development, the Republic of Serbia: Project No. OI 176022 ("Groundwater Potential as the Basis for its Sustainable Utilization") and Project No. TR 37005.
Additional information
Publisher's Note
Springer Nature remains neutral with regard to jurisdictional claims in published maps and institutional affiliations.
About this article
Cite this article
Vasić, L., Živojinović, D. & Rajaković-Ognjanović, V. Hydrochemical changes and groundwater grouping data by multivariate statistical methods within one karst system: recharge–discharge zone (Eastern Serbia case study). Carbonates Evaporites 35, 15 (2020). https://doi.org/10.1007/s13146-019-00548-6
Keywords
Karst

Statistical analysis

Ion composition

Mean residence time