Printed Paper–Based Electrochemical Sensors for Low-Cost Point-of-Need Applications
Abstract
Paper-based microfluidics is a rapidly developing field with applications for point-of-care disease and environmental diagnostics. In parallel, printed electronics has grown swiftly, particularly for wearable technologies. By combining these fields, fluidic sample processing and control, as well as automated sensing and readout can be integrated on a single device. Towards this goal, this work highlights the design, manufacture, and testing of paper-based electrochemical sensors, with focus on photo paper and chromatography paper substrates. These substrates are typically used for printed electronics and paper-based fluidics, respectively. The electrochemical sensors were screen printed using manual techniques. For chromatography paper sensors, wax-printed fluidic barriers were used to illustrate the potential integration of the sensors with typical paper-based microfluidic device formats. As an initial example, the detection of heavy metals (Cd(II) and Pb(II)) in buffer solution was demonstrated. Commercial DropSens sensors were used as reference with the limit of detection (LOD) of Cd(II) and Pb(II) on chromatography sensors showing comparable results to commercial DropSens sensors. It is worth noting that the chromatography paper sensors showed a higher repeatability than the commercial DropSens sensors. Tap water samples spiked with Cd(II) and Pb(II) were also tested and showed promising results. Future work will include sensor optimization and exploration of scale-up to provide low-cost solutions for effective point-of-need diagnostics—ranging from environmental monitoring to healthcare applications.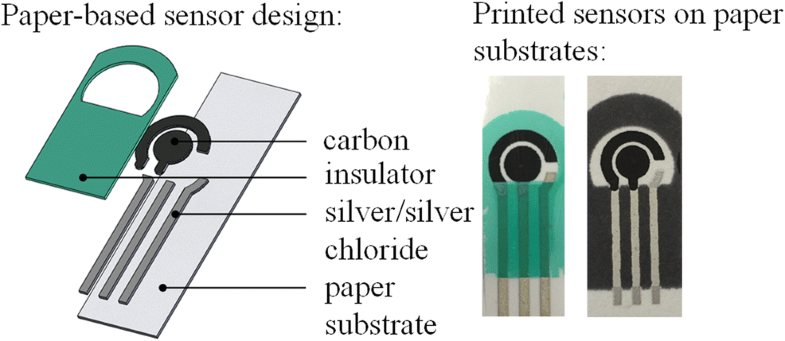 Keywords
Paper-based sensors 
Printed sensors 
Screen printing 
Electrochemistry 
Low-cost 
Point-of-need 
Notes
Acknowledgements
The authors thank Adelaide Oberholzer for assistance with manufacturing of paper-based electrochemical sensors.
Funding Information
This work was funded by the Council for Scientific and Industrial Research (CSIR) in Pretoria, South Africa.
Compliance with Ethical Standards
Conflict of Interest
The authors declare that they have no conflict of interest.
Copyright information
© Springer Science+Business Media, LLC, part of Springer Nature 2019