Kinetics of Toluene Electrohydrogenation on Pt/C Catalyst
Abstract
The kinetics of the toluene (TL) electrohydrogenation on a carbon-supported platinum catalyst (Pt/C) have been investigated as a fundamental study of the cathode reaction in an electrolyzer with water decomposition. Since the TL electrohydrogenation on a Pt wire and Pt/C catalyst is a fast kinetic reaction with a low solubility, and slow mass transfer in an aqueous electrolyte, a potential step sequence was employed to determine its kinetic performance. Based on this method, a non-faradic current and faradic current could be identified and thereafter separated by a capacitance simulation. This experiment was performed in a TL-saturated sulfuric acid electrolyte to minimize the effect of the TL mass transfer. Based on the mass transfer–free TL electrohydrogenation experimental results, the exchange current densities of the TL electrohydrogenation on the Pt/C were 0.48, 0.49, 0.72, and 0.8 mA cm−2 at 25, 40, 50, and 60 °C, respectively. We found that the carbon support has a high impact towards the TL electrohydrogenation on the Pt-supported material. The carbon material works as a sponge by absorbing TL from the solution, and providing a large TL coverage for the Pt surface. Finally, a Tafel plot of the TL electrohydrogenation on the Pt/C catalyst was obtained and the kinetic performance was determined. The apparent active energy of the TL electrohydrogenation on the Pt/C was then calculated as 13.1 kJ mol−1.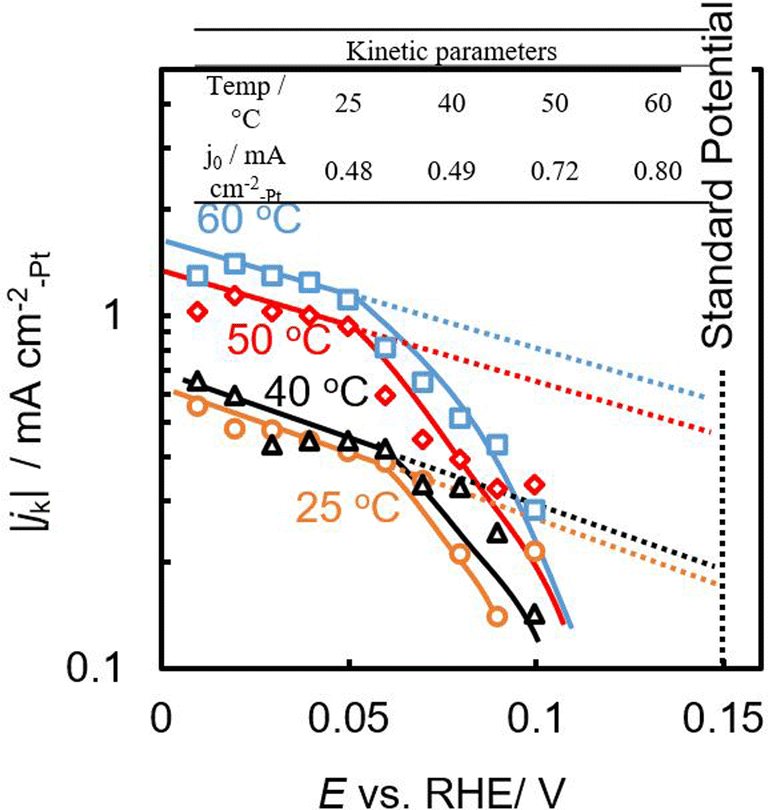 Keywords
Electrocatalyst 
Energy carrier 
Toluene 
Electrohydrogenation 
Water electrolysis 
Exchange current density 
Notes
Funding Information
This study was supported by the Council for Science, Technology, and Innovation (CSTI); Cross-ministerial Strategic Innovation Promotion Program (SIP); and "energy carrier" (funding agency: JST). The Institute of Advanced Sciences (IAS) at YNU is supported by the MEXT Program for Promoting the Reform of National Universities.
Copyright information
© Springer Science+Business Media, LLC, part of Springer Nature 2019