The Modification of Electrochemical Properties of Pd by its Alloying with Ru, Rh, and Pt: the Study of Ternary Systems
Abstract
Pd-rich Pd-Pt-Ru alloys, obtained by electrodeposition, were characterized by microscopic and electrochemical techniques at room temperature (298 K). The influence of the electrode potential and bulk composition on the amount of electrosorbed hydrogen was studied in 0.5 M H2SO4 aqueous solutions and compared with the behavior of Pd-Rh-Ru alloys under identical experimental conditions. The maximum hydrogen absorption capacities gradually decreased with increasing total amounts of both Pt and Ru in the alloy bulk. The effects of both Pd bulk content and the relative proportions between other components in Pd-Pt-Ru and Pd-Rh-Ru electrodes are also responsible for the changes in maximum hydrogen absorption capacity, the decrease in the potential of the alpha-beta phase transition, and the decrease in the absorption/desorption hysteresis. During voltammetric cycling in 0.5 M H2SO4 in the potential range − 0.1÷1.5 V vs. RHE (scan rate 0.1 V/s), the freshly obtained deposits became enriched with Pt due to electrodissolution of Ru and Pd, and the electrode morphology was also altered due to hydrogen electrosorption and surface oxidation.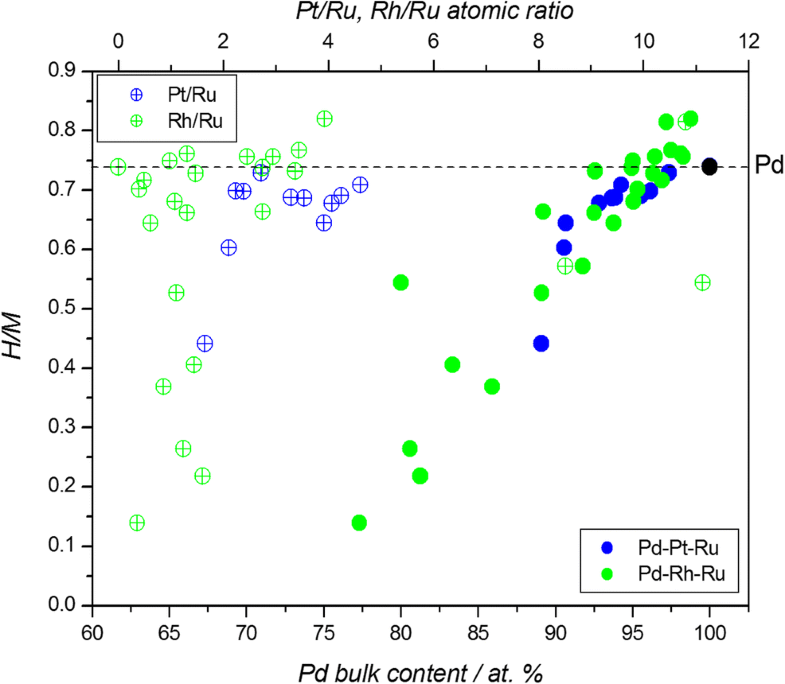 Keywords
Hydrogen absorption and adsorption 
Pd-Pt-Ru alloys 
Pd-Rh-Ru alloys 
Thin layers 
Electrodeposition 
Cyclic voltammetry (CV) 
Notes
Funding Information
This work is financially supported by the National Science Centre (NCN, Poland) grant No. 2015/17/B/ST8/03377 (ID 289956).
Copyright information
© Springer Science+Business Media, LLC, part of Springer Nature 2020