Effects of Crystallographic Structures of Metal-Phthalocyanine on Electrocatalytic Properties of Oxygen Reduction in Acidic Condition
Abstract
Effects of the crystallographic structures of metal-phthalocyanines (metal: Co, Ni, Cu, Zn) between α and β phases on electrochemical oxygen reduction catalytic activities were investigated in acidic condition. As the distances of centered-metal in the structures of α and β phases are 3.8 Å and 4.8 Å, respectively, they were closed to the size of an oxygen molecule (3.6 Å). The phases of metal-phthalocyanines were conducted by an interface deposition method. The obtained catalyst powders were characterized by means of X-ray diffraction and X-ray photoelectron spectra analyses. Electrochemical oxygen reduction performances were mainly measured by using a gas diffusion type carbon electrode loaded with a metal-phthalocyanine. It was confirmed that the catalytic activities of cobalt- and copper-centered phthalocyanines were enhanced by the conversion from β to α phases. The effects of the distance between the metals in the crystallographic structures of metal-phthalocyanines should be explained by the adsorbed oxygen states that depend on the distance between the metals. The α phase has the distance which allows to form the bridge configuration of oxygen molecule which requires two adsorption sites and that eventually produces H2O by the direct 4-electron pathway. Analysis with the rotating disk electrode system showed that the α-phased metal-phthalocyanines enhance the 4-electron reduction pathway.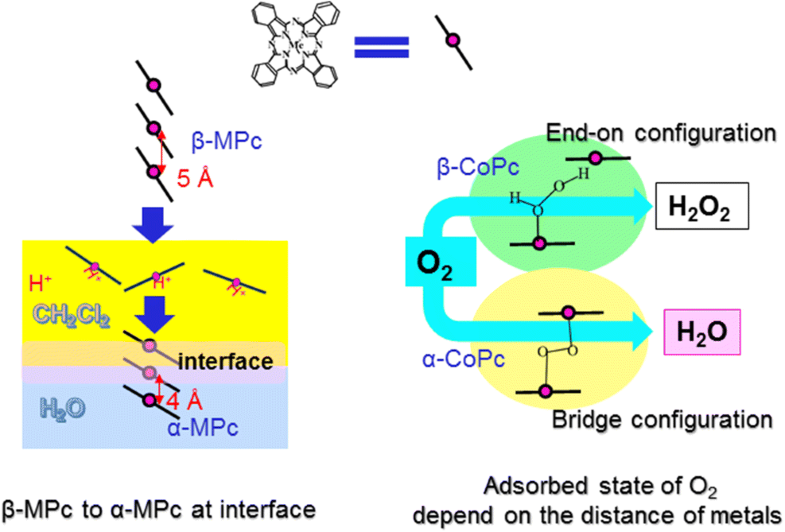 Keywords
Metal-phthalocyanine 
Oxygen reduction reaction 
Crystallographic structure 
α phase 
β phase 
Notes
Funding Information
This work was partially supported by JSPS KAKENHI Grant Numbers JP26410207, JP17750183, and JST A-STEP Grant Number AS232Z00312B.
Copyright information
© Springer Science+Business Media, LLC, part of Springer Nature 2019