Templated Synthesis of Carbon-Free Mesoporous Magnéli-Phase Titanium Suboxide
Abstract
Titanium suboxides, such as the Magnéli-phase TixO2x–1, have attracted much attention as candidates of stable electrode materials because of their high conductivity and stability. The synthesis of porous titanium suboxides with high surface area without the formation of residual carbon is important to achieve active and stable electrode materials. Here, the synthesis of mesoporous Magnéli-phase Ti6O11 without residual carbon is demonstrated for the first time by templating method, using a colloidal crystal template. Highly ordered mesoporous Magnéli-phase Ti6O11 was obtained by reduction of TiO2 framework within the template under H2 flow at 800 °C, followed by the removal of template with a sodium hydroxide solution. The BET surface area was 11 m2/g. The mesoporous Ti6O11 loaded with Pt nanoparticles deposited by the coaxial arc plasma deposition showed oxygen reduction reaction activity comparable to those of commercial Pt/C, though oxide support often reduces catalytic activity of supported Pt nanoparticles. Consequently, the mesoporous Ti6O11 is useful as a carbon-free electrochemical support material for various applications.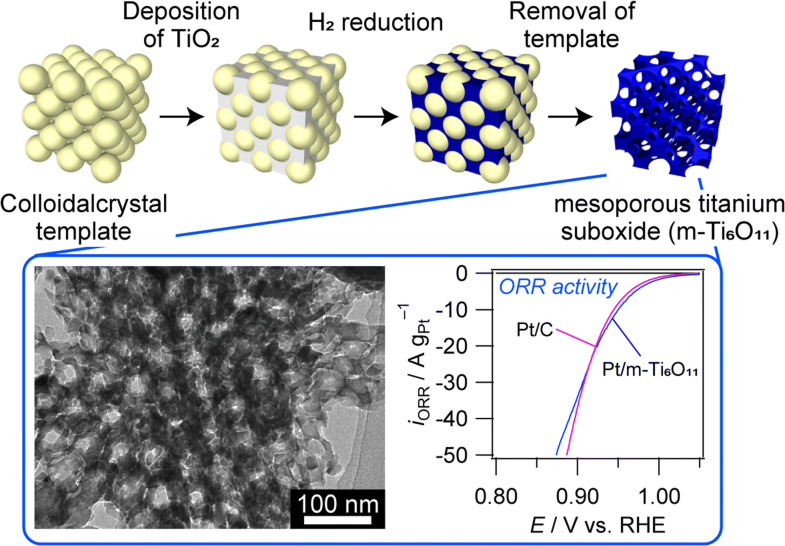 Keywords
Mesoporous materials 
Magnéli-phase titanium suboxides 
Coaxial arc plasma deposition 
Catalyst supports 
Oxygen reduction reaction 
Notes
Acknowledgments
The authors thank Mr. Hirotaka Kajima and Mr. Wataru Shimabukuro for their experimental help.
Funding
This research was supported in part by Strategic International Research Cooperative Program, Japan Science and Technology Agency (JST), the New Energy and Industrial Technology Development Organization (NEDO), Japan Society for the Promotion of Science (JSPS) KAKENHI Grant Number 17K06803, and Kato Foundation for Promotion of Science.
Copyright information
© Springer Science+Business Media, LLC, part of Springer Nature 2019