Inhibition of Aluminium Corrosion Using Benzothiazole and Its Phthalocyanine Derivative
Abstract
Cyclic voltammetry and potentiodynamic polarization techniques were used to study the effects of 4-[4-(1,3-benzothiazol-2yl)phenoxy] phthalonitrile (BT) and tetrakis[(benzo[d]thiazol-2ylphenoxy) phthalocyaninato] gallium(III)chloride (ClGaBTPc) as aluminium corrosion inhibitors in 1.0 M hydrochloric acid. The presence of the inhibitors in the concentration range of 2 to 10 μM was found to retard the aluminium corrosion process such that the inhibition efficiency was found to range from 28.2 to 76.1% for BT and from 71.5 to 82.7% for ClGaBTPc. The latter was a better inhibitor. Scanning electron microscopy and energy-dispersive X-ray measurements reveal effective metal surface protection by the inhibitors, most probably by shielding it from the corrosion attacks of Cl− from the acid. The calculated quantum chemical parameters agreed with experimental results.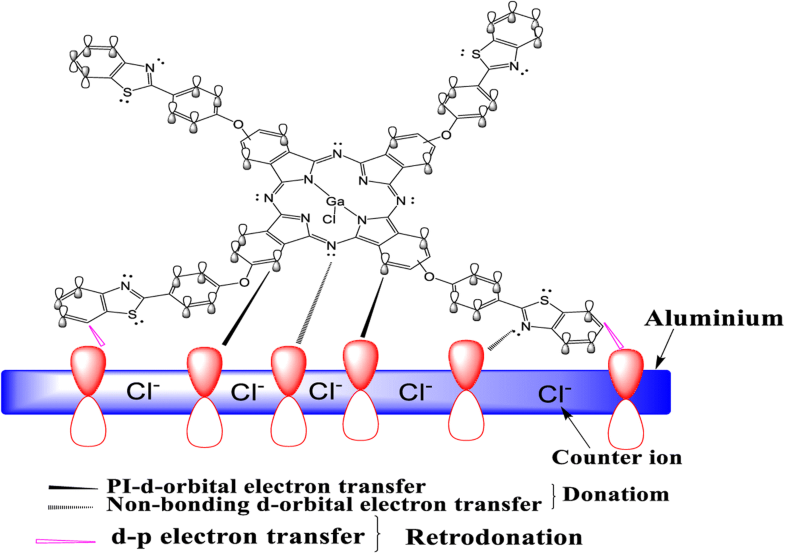 Keywords
Aluminium 
Benzothiazole 
Corrosion inhibition 
Cyclic voltammetry 
Potentiodynamic polarization 
Notes
Acknowledgements
This work was supported by the Department of Science and Technology (DST) and National Research Foundation (NRF), South Africa, through the DST/NRF South African Research Chairs Initiative for Professor of Medicinal Chemistry and Nanotechnology (UID 62620) as well as the Rhodes University/DST Centre for Nanotechnology Innovation, South Africa.
Compliance with Ethical Standards
Conflict of Interest
The authors declare that they have no conflict of interest.
Copyright information
© Springer Science+Business Media, LLC, part of Springer Nature 2019