Oxygen Reduction on Methanol-Tolerant Carbon-Supported PtxSy Nanoparticles Prepared by a Single-Step Low-Temperature Method
Abstract
In direct methanol fuel cells (DMFCs), the methanol crossover from the anode to the cathode is a major cause of power density loss because of the overpotential arising due to the parasitic reaction of methanol oxidation at the cathode. Catalysts modified with S have shown better methanol tolerance; however, the preparation routes often require high temperatures or pressures and very long times, making these expensive and unlikely to be used in large scale. Here, we report on a single-step low-temperature method used to prepare a carbon-supported PtxSy catalyst. Moreover, we show that the catalyst shows lower depolarization in the presence of methanol and study the effect of reductive thermal treatment and electrochemical potential cycling.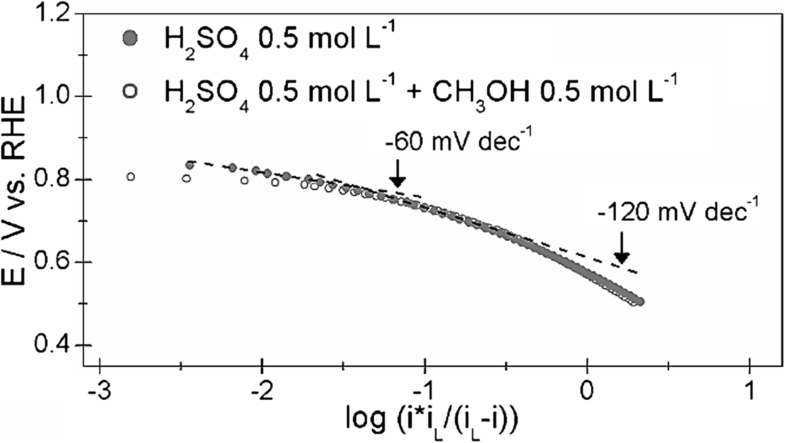 Keywords
Oxygen reduction reaction 
Methanol tolerance 
DMFC 
PtxSy nanoparticles 
Notes
Acknowledgments
The authors would like to acknowledge Fundação de Amparo à Pesquisa—FAPESP—and Conselho Nacional de Desenvolvimento Cientıiífico e Tecnoloógico—CNPq—for the financial assistance. EAC thanks CNPq for the fellowship grant (Proc.142095/2007-9).
Copyright information
© Springer Science+Business Media, LLC, part of Springer Nature 2019