Non-Noble Fe-Nx/C Electrocatalysts on Tungsten Carbides/N-Doped Carbons for the Oxygen Reduction Reaction
Abstract
This work investigates the influence of different nitration protocols of a carbon black, the addition of tungsten carbide (WC), and the presence of iron, in terms of the catalytic activity of electrocatalysts containing Fe-Nx moieties towards the oxygen reduction reaction (ORR) in acidic and alkaline media. The synthesized materials were characterized using X-ray diffraction (XRD), Raman spectroscopy (Raman), energy-dispersive X-ray spectroscopy (EDX), transmission electron microscopy (TEM), X-ray photoelectron spectroscopy (XPS), and cyclic voltammetry (CV) with a rotating ring-disk electrode (RRDE), in addition to durability tests. In acidic media, the performance of the catalysts varied according to the type of nitration protocol, the presence of iron, and the heat treatment temperature, which is accompanied by variations in the ORR mechanism. In alkaline electrolyte, the electrocatalysts presented higher performances, with only an ~0.04-V difference relative to that of a standard platinum on carbon catalyst. The number of electrons transferred per oxygen molecule, the amounts of hydrogen peroxide generated in the ORR, the effect of catalyst loading, and the presence of iron in the catalysts were investigated with the aim of understanding the ORR mechanism and assisting in the production of high-performance and durable materials. Finally, the two best electrocatalysts were submitted to a standard durability test, which evidenced promising high stability at both pHs.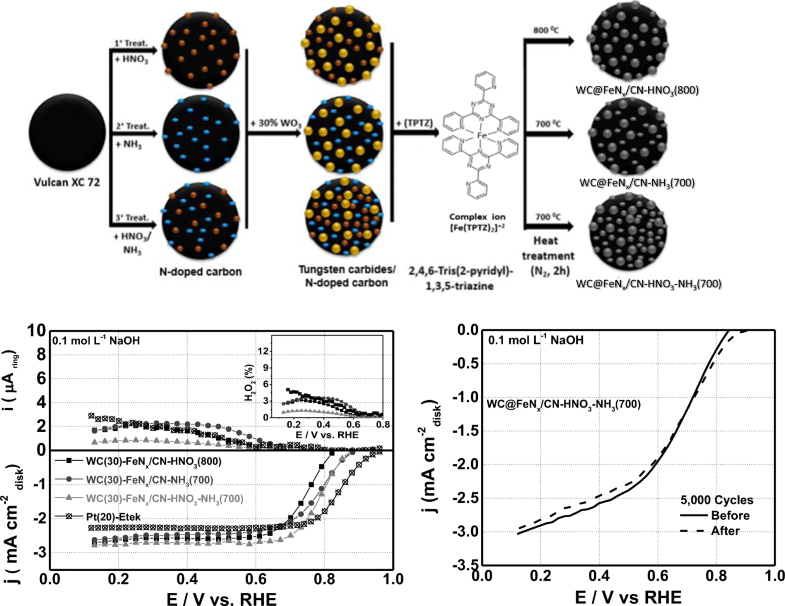 Keywords
Non-noble metal catalysts 
Fe-Nx catalysts 
Oxygen reduction 
Acid media 
Alkaline media 
Notes
Funding
The Coordenacao de Aperfeicoamento de Pessoal de Nivel Superior (CAPES; process number 1423454) and the Sao Paulo Research Foundation (FAPESP) under process number 2013/16930-7 provided the financial support. T.L. was provided support by the Sao Paulo Research Foundation under projects 14/22130-6 and 17/15304-6 for T.L.'s Young Investigator Award (i.e., research fellowship) and the support of project 2014/09087-4. T.L. was also provided support by the RCGI Research Centre for Gas Innovation, sponsored by FAPESP (2014/50279-4) and Shell.
Copyright information
© Springer Science+Business Media, LLC, part of Springer Nature 2018