On an Easy Way to Prepare Fe, S, N Tri-Doped Mesoporous Carbon Materials as Efficient Electrocatalysts for Oxygen Reduction Reaction
Abstract
Recently, precious metal-free and heteroatom functionalized carbon materials are widely considered as the promising candidates for oxygen reduction reaction (ORR). However, it is still a challenge to controllably prepare the carbon-based electrocatalysts with desirable activities. Herein, we demonstrate a simple strategy to synthesize the Fe/S/N tri-doped mesoporous carbon (Fe-S,N-C) materials as electrocatalysts for ORR. The resultant Fe-S,N-C catalyst possesses high content of pyridinic N (also including Fe-Nx), graphitic N atoms, thiophene S atoms, and abundant defects, as well as the high surface area and desirable mesoporous microstructure. Thus, in alkaline medium, the Fe-S,N-C shows an expected high ORR activity with a onset potential of 0.95 V and half-wave potential of 0.83 V. Meanwhile, the ORR proceeded on Fe-S,N-C via the four-electron transfer pathway. What is more, the as-prepared catalyst shows excellent electrocatalytic stability and good methanol tolerance, suggesting its potential applications in fuel cells and metal-air battery.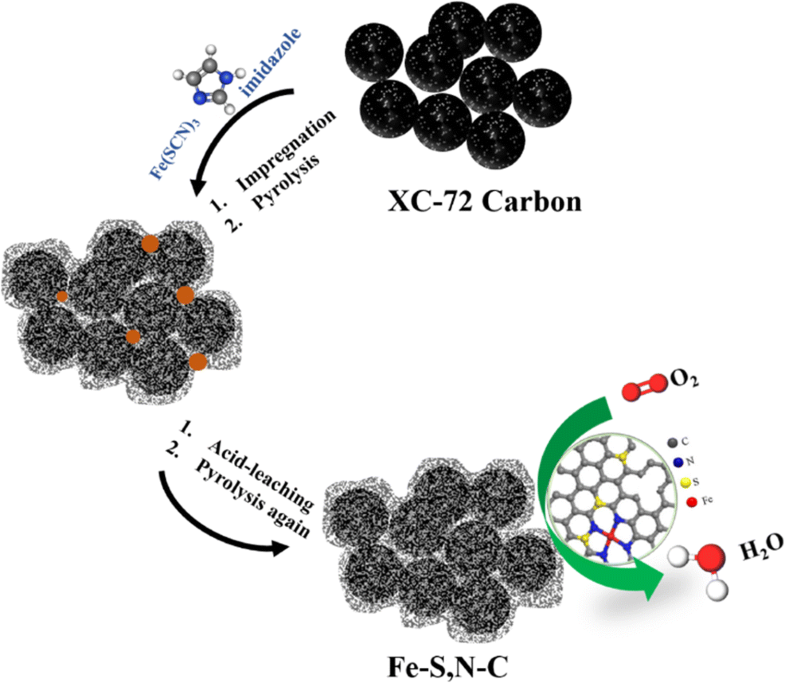 Keywords
Precious metal-free catalysts 
Oxygen reduction reaction 
Fe/S/N tri-doped carbon 
Alkaline medium 
Notes
Funding Information
This work was financially supported by the National Natural Science Foundation of China (No. 21506086, No. 21606033, No. 21606115, and No. 21776119), Postgraduate Research & Practice Innovation Program of Jiangsu Province, Priority Academic Program Development (PAPD) of Jiangsu Higher Education Institutions, and Youth Science Foundation of Jiangsu (No. BK20140232).
Copyright information
© Springer Science+Business Media, LLC, part of Springer Nature 2018