Shape Effect of AuPd Core-Shell Nanostructures on the Electrocatalytical Activity for Oxygen Reduction Reaction in Acid Medium
Abstract
AuPd core-shell nanostructured materials as electrocatalysts for oxygen reduction reaction (ORR) were synthesized, and the effects of size and shape of the nanoparticles were analyzed. The seed growth method was used to obtain three nanostructures: octahedrons, cuboctahedrons, and cubes, by varying the Au:Pd composition. These different nanostructures were confirmed by SEM. The electrochemical surface areas obtained were 29.50, 18.61, and 32.74 cm2 for octahedral, cuboctaedral, and cubic nanostructures, respectively. The cubic nanostructure has the largest ESA due to its smaller nanoparticle size and/or its lower tendency to agglomerate. The electrocatalytic activity for ORR in 0.5 M HClO4 using rotating disk electrode showed that the best electrocatalytic material was the AuPd cubic nanostructure. Consequently, it was possible to establish that the electrocatalytic activity for ORR in acid medium depends on the electronic and geometric effects related to the Au:Pd composition, the size and shape of the nanoparticles, and core-shell configuration.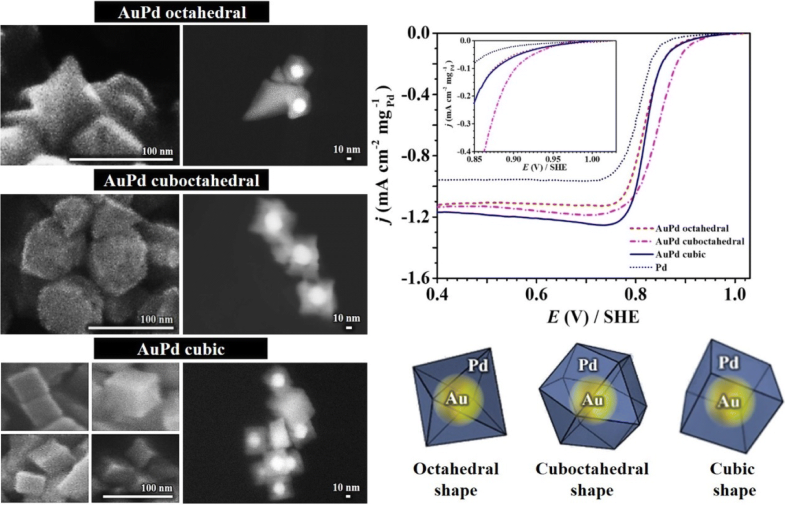 Keywords
Core-shell nanostructures 
Electrocatalysis 
Oxygen reduction reaction 
Notes
Acknowledgments
A.R.H. would like to thank CONACyT for the Ph.D. scholarship granted. The authors also like to thank SIP-IPN (projects 20170509 and 20170630) and BEIFI-IPN granted, and CNMN-IPN for characterization techniques. E.M.A.E., M.E.M.R., and A.E.M. thank the SNI for the distinction of the membership and the stipend received.
Copyright information
© Springer Science+Business Media, LLC, part of Springer Nature 2018